Expert predictions: Orlando Magic
Originally Published:
October 20, 2009
ESPN.com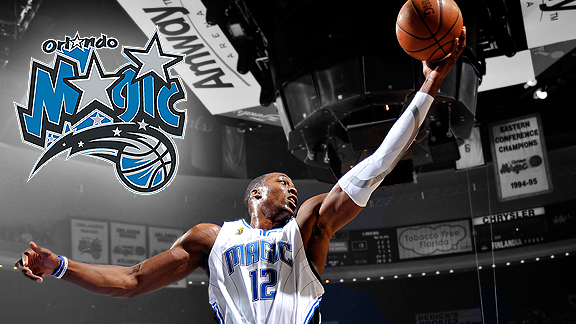 ---
Predicted Finish For Orlando Magic: 2009-10
ANALYST
COMMENT
PREDICTIONS
Rare team that had best year in franchise history yet still needs redemption for coach and star player. But after Dwight Howard's and Stan Van Gundy's shortcomings in the Finals, that's the Orlando Magic heading into a new season.

Southeast: 1

East: 3

The loss of Hedo Turkoglu makes them take a step back. He was their best playmaker. Also, the suspension of Rashard Lewis puts them behind the eight ball. Vince Carter probably feels like he has a lot to prove this season.

Southeast: 1

East: 3

With Vince Carter instead of Hedo Turkoglu, they're more conventional, which is good news against everyone except Cleveland. VC will be great, Brandon Bass adds toughness and the Magic will be as versatile as any crew in the league.

Southeast: 1

East: 2

The Magic have the best big man in basketball, two elite veteran scorers and a healthy Jameer Nelson. And they shored up a weak frontcourt bench by re-signing Marcin Gortat and acquiring Brandon Bass and Ryan Anderson. They have a better chance of dethroning the Lakers.

Southeast: 1

East: 1

Jemele Hill, ESPN.com Page 2 | Hill's picks

Howard will add years to Carter's NBA career, and Barnes and Bass give this team more toughness. The key to Orlando's season is Howard's individual improvement. With a healthy KG and Shaq standing in Howard's way, he better have something other than a putback dunk.

Southeast: 1

East: 3

With additions of Vince Carter, Brandon Bass and three other rotation players, plus the return of Jameer Nelson, the Magic are positively stacked -- four All-Stars start and they're 11 deep. Alas, matchup edge versus Cavs is likely gone.

Southeast: 1

East: 2

Howard will lead the league in rebounds, blocks and dunks. His offense is improving. Carter is an underrated playmaker who will have huge scoring nights. Lewis and Bass will allow the Magic to play big while spreading the floor, and Nelson showed what he can do at the point.

Southeast: 1

East: 2

IMHO, the Magic should have kept last season's group together. Hedo Turkoglu was so key to what they did in fourth quarters, and he was more consistent in the clutch than Vince Carter has been over the past 2-3 years.

Southeast: 1

East: 3

I recite this stat because it explains why the East champs were wise to be so proactive with changes: Last season's Lakers were the first team since '89 to lose in the Finals and then win it all a season later. That last step is the toughest.

Southeast: 1

East: 1

It's possible that the additions made this offseason will push Orlando up a notch. But anyone who saw this team last year knows that the Magic were built around staunch defense first. Can they commit to defending as a group again? If so, they're good enough to win it all.

Southeast: 1

East: 2


AVERAGE RANKING Southeast: 1.0 | Standings East: 2.2 | Standings



Click below to see more predictions
Follow our NBA coverage on Twitter here.