Expert predictions: Dallas Mavericks
Originally Published:
October 21, 2009
ESPN.com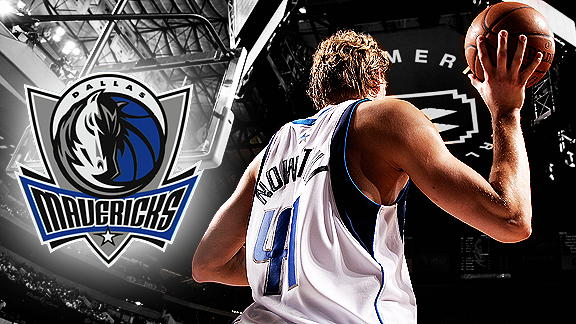 ---
Predicted Finish For Dallas Mavericks: 2009-10
ANALYST
COMMENT
PREDICTIONS
Funky format, featuring forwards. Fascinating. Finals? Fuhgedaboutit. Kidd's got one more productive run. Too bad he's signed for three years.

Southwest: 2

West: 5

The addition of Shawn Marion is a good move. He is a good defender who doesn't need to score much. Put him with Josh Howard and Dirk Nowitzki and that's a quality frontline. I love Jason Terry, but he is better suited coming off the bench, so the Mavs still need a shooting guard.

Southwest: 2

West: 5

They improved significantly, but they're still what they've been for the past nine years: good but not good enough. Rookie Beaubois is going to be dynamite some day.

Southwest: 2

West: 5

The Mavs spent millions re-signing Kidd and adding Marion. Kidd will provide leadership and Marion will bring defense, rebounding and athleticism, but both players, like the rest of the Mavs' core, are over 30 and on the downslide. It's now or never for Dallas and I'm leaning toward never.

Southwest: 2

West: 6

Jemele Hill, ESPN.com Page 2 | Hill's picks

It's another now-or-never season for the Mavs. Biggest X factor is Josh Howard, who is coming off a troublesome ankle injury and is in a contract year. Solid pieces here, but can you see the Mavs beating the Lakers, Spurs or Nuggets in the playoffs?

Southwest: 2

West: 5

As with their Texas rivals, age issues are a huge concern. The Mavs made enough moves to keep things interesting and still have a big weapon in Erick Dampier's expiring deal, but the current cast looks no better than last season's.

Southwest: 3

West: 7

On the offensive end Dirk is the most gifted all-around PF in the NBA. Marion provides a boost to this team with his speed, scoring, defense and rebounding. Terry is the barometer of the team and makes big shots. Can Josh Howard play at an All-Star level?

Southwest: 2

West: 3

Love their starting five, but the love ends there. Will be a tough opponent for someone in the playoffs (maybe even in the second round, but no further). Extra prediction: Mark Cuban somehow jumps the shark at A-S Weekend.

Southwest: 3

West: 6

If you insist on singling out a dark-horse pick to win the West, you could do worse than volunteering Dallas. Even after the disappointment of missing out on Gortat, Dallas significantly boosted its talent and depth over the summer.

Southwest: 2

West: 4

This is a team that believes it can be great. They are loaded with veterans, and rookie Rodrigue Beaubois is an exciting blur of a guard. I also think Nowitzki is ready to enjoy life again after a tough spring.

Southwest: 2

West: 5


AVERAGE RANKING Southwest: 2.2 | Standings West: 5.1 | Standings



Click below to see more predictions
Follow our NBA coverage on Twitter here.