Expert predictions: New Jersey Nets
Originally Published:
October 20, 2009
ESPN.com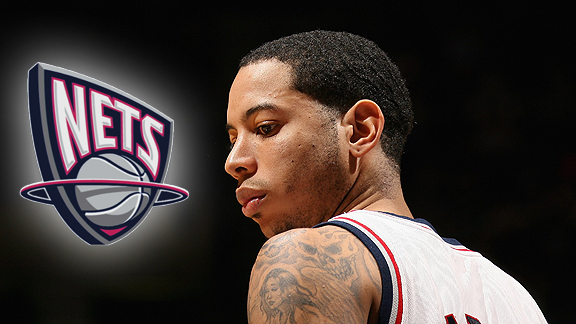 ---
Predicted Finish For New Jersey Nets: 2009-10
ANALYST
COMMENT
PREDICTIONS
Hard to imagine a tougher job in the NBA than trying to sell tickets in New Jersey for the Vince-less, (eventually)
Brooklyn-bound Nets.

Atlantic: 5

East: 15

Is this an NBA roster? It is going to be a long season for these guys. Forget moving to Brooklyn, maybe they should just move them to Moscow.

Atlantic: 5

East: 14

Devin Harris and Brook Lopez are nice. It's the rest of the roster that's the problem. There's young talent in Terrence Williams, Courtney Lee and maybe Yi Jianlian. But this crew was bad with Vince Carter. Without him, they'll be horrible.

Atlantic: 5

East: 15

The Nets have intriguing young players from Harris to Lopez to newly acquired Lee. But the real intrigue is whether the Nets, with a potential new Russian billionaire owner and a new arena planned, can win the LeBron sweepstakes.

Atlantic: 5

East: 14

Jemele Hill, ESPN.com Page 2 | Hill's picks

The biggest story regarding the Nets has nothing to do with the product on the floor. The Nets have a nice collection of young players, but with the move to Brooklyn iffy at best, you wonder how much the uncertainty will impact them.

Atlantic: 5

East: 15

Fortunately the Nets' prospective owner is used to long, depressing winters. While the Mikhail Prokhorov purchase could revitalize the franchise, it does little for the immediate future. With VC exiled and nary a free-agent addition, the Nets are badly undermanned.

Atlantic: 5

East: 15

Move to Brooklyn? Devin Harris is one of the top point guards in the East. Chris Douglas-Roberts will prove his worth and surprise a lot of naysayers.

Atlantic: 5

East: 15

If his relationship with Devin Harris doesn't take the same type of detour it did last season, we can see Lawrence Frank finishing out the season. Harris and Brook Lopez will have to carry them, and fourth-quarter scoring will be tough.

Atlantic: 5

East: 14

If they can get Russian billionaire Mikhail Prokhorov approved as their new owner, you have to believe that pretty much nothing else matters this season. This looks like it could be that big of a break for the Nets.

Atlantic: 5

East: 15

I love some of the young talent on this squad -- Yi, Lee, Roberts, Lopez, Williams. But they are scary to bank on, as of now. They could be a scary team after the break. Yi is the key: If he can outplay other 4s, it sets up everyone else.

Atlantic: 4

East: 11


AVERAGE RANKING Atlantic: 4.9 | Standings East: 14.3 | Standings



Click below to see more predictions
Follow our NBA coverage on Twitter here.