Expert predictions: Denver Nuggets
Originally Published:
October 21, 2009
ESPN.com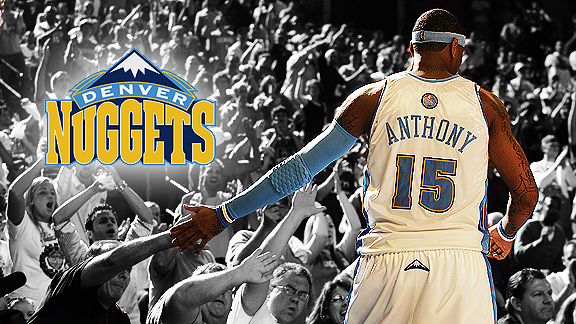 ---
Predicted Finish For Denver Nuggets: 2009-10
ANALYST
COMMENT
PREDICTIONS
They got to the conference finals last season, but they didn't get better this past summer. Even the champs gotta make moves. Melo will be flirting with the MVP award.

Northwest: 2

West: 4

They didn't make any major moves in the offseason, but they still can win in the regular season. Chauncey Billups is getting a full training camp in Denver and they have enough pieces in place to be in the West's upper echelon.

Northwest: 2

West: 4

I hate to see the exit of "Dirty Dahntay'' Jones because his gritty, get-on-your-nerves defense was crucial to last season's playoff success. But there's still enough left for a deep playoff run. Anything beyond that might seal Chauncey Billups' spot in Springfield, Mass.

Northwest: 2

West: 4

Everything went right for the Nuggets last season and they were one of the most dangerous teams in the league. I'm a little skeptical that everything will go right again. Billups is getting older. Kenyon Martin and Nene have serious injury histories, and J.R. Smith and Carmelo Anthony are volatile.

Northwest: 2

West: 5

Jemele Hill, ESPN.com Page 2 | Hill's picks

We saw how much Carmelo Anthony blossomed with Chauncey Billups last season, so a full season together means Melo will produce the most serious MVP campaign of his career. If J.R. Smith can stop being a knucklehead, this team can return to the West finals or possibly go beyond.

Northwest: 1

West: 3

Lots of things had to go right for the Nuggets' Cinderella run to the West finals, and some of them won't necessarily repeat. But clever additions (Lawson, Afflalo) to a superb starting five should keep them in West's upper crust.

Northwest: 2

West: 4

Melo and Billups get a full season to wreak havoc. Nene is as efficient as any center in the league. J.R. Smith shows flashes of greatness. Andersen and Martin provide energy and toughness. Karl is in the final year of his deal.

Northwest: 1

West: 4

At the end of the day, I'd be happy either way with a Cavs- or Celtics-vs.-Lakers final. But what I really, really want is a rematch of the Kenyon Martin-Mark Cuban playoff theatrics. Plus J.R. Smith and Chris Andersen on my fantasy team.

Northwest: 1

West: 3

Living up to last season's everything-went-right script ain't going to be easy. But I have to say that I'm surprised to hear how many folks see the Nuggets as one-hit wonders. Still the class of the Northwest Division to me.

Northwest: 1

West: 3

Billups arrived last year and helped the Nuggets grow up, practice and compete like pros. If his message does not wear thin, this team can be extremely dangerous in the spring. I would not be surprised to see them explode out of the blocks. Can they keep it up?

Northwest: 2

West: 4


AVERAGE RANKING Northwest: 1.6 | Standings West: 3.8 | Standings



Click below to see more predictions
Follow our NBA coverage on Twitter here.