Expert predictions: Indiana Pacers
Originally Published:
October 20, 2009
ESPN.com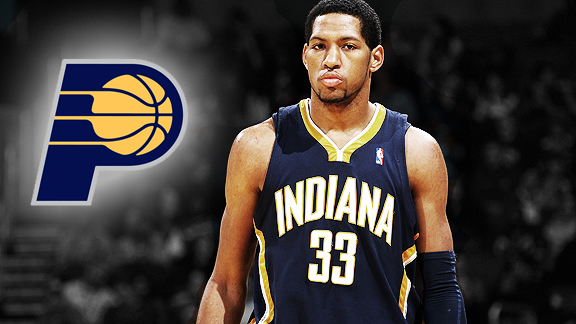 ---
Predicted Finish For Indiana Pacers: 2009-10
ANALYST
COMMENT
PREDICTIONS
Somehow the Pacers beat the Celtics, Lakers, Cavaliers and Magic last season. Probably says more about those teams snoozing than about the Pacers' talent.

Central: 4

East: 13

Danny Granger is a big-time player and Brandon Rush had a great rookie season. They need Dunleavy to be healthy. They will play hard and be that team that nobody wants to play.

Central: 4

East: 12

Jim O'Brien will get some wins out of this club, regardless of when Dunleavy returns. But wins over top-flight squads will be nullified by losses to bottom-feeders. Pacers have enough to provide a bit of hope, but not enough to make good on it.

Central: 4

East: 11

The Pacers were the best team no one paid attention to last season. Riddled with injuries, the team still almost made the playoffs and could score on anyone. They didn't add star power this summer, but they did shore up their defense. If Mike Dunleavy gets healthy, they'll surprise a lot of people.

Central: 4

East: 8

Jemele Hill, ESPN.com Page 2 | Hill's picks

Granger's a star, but the Pacers won't sniff the playoffs unless they shore up last season's gaping defensive holes. They took a step in the right direction by adding bulldog Dahntay Jones and drafting Tyler Hansbrough.

Central: 4

East: 11

If this was football they'd be awesome -- Pacers have five guys who can score and five who can defend. They just aren't the same five. Weird offseason didn't help -- Dahntay Jones' four-year, $11 million deal was the summer's worst.

Central: 4

East: 11

Danny Granger has emerged as a top small forward. Troy Murphy is automatic from 3 at or near the top of the key. Mike Dunleavy hopes to shake the injury bug.

Central: 4

East: 12

I guess I'm down with the idea that if you miss the playoffs with Marquis Daniels and Jarrett Jack, both are expendable. But to let 'em both walk and get nothing back? Oh well, at least there's the reliability of Murphy from the top of the key.

Central: 4

East: 11

Probably should be applauding Danny Granger's optimism and how he thinks the Pacers can be a "top-six team" in the East. But my snide side takes over and wonders if Indy can even match its usual ninth-place finish.

Central: 4

East: 11

When a driven coach is dealing with an inferior roster, he might be able to get them to catch fire and believe they can work miracles. But more likely, he'll get frustrated that the lack of talent can not prosper in his system. Such is the case here, with some quality scorers but not much else.

Central: 4

East: 12


AVERAGE RANKING Central: 4.0 | Standings East: 11.2 | Standings



Click below to see more predictions
Follow our NBA coverage on Twitter here.