Expert predictions: Detroit Pistons
Originally Published:
October 20, 2009
ESPN.com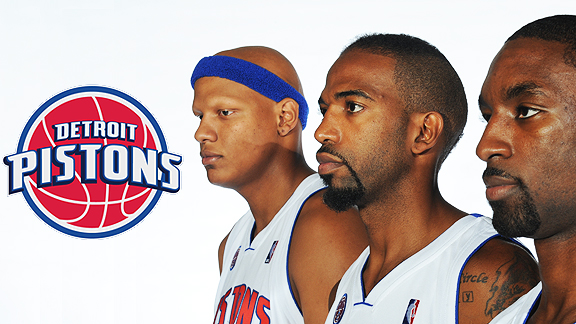 ---
Predicted Finish For Detroit Pistons: 2009-10
ANALYST
COMMENT
PREDICTIONS
The "D" was always the critical part of Deee-troit basketball, and that's not the forte of pickups Gordon and Villanueva. New team identity, new coach and new result: no playoffs.

Central: 3

East: 9

What happened to that stable of frontcourt talent they always seemed to have? It's gone. I don't think the combination of Richard Hamilton and Ben Gordon is going to work well.

Central: 3

East: 9

A playoff spot isn't out of the question, but their "donut'' makeup probably won't get it done -- their backcourt is explosive but their frontline has holes. The big question is: Can Villanueva stay healthy and improve upon last season's play -- or was it your typical "contract year'' performance?

Central: 2

East: 9

The Pistons didn't hit the free-agent jackpot, but they'll be better than you think. Gordon can take over a game and Villanueva is a younger, less-volatile version of Sheed. However, Detroit's lack of size and toughness will hurt.

Central: 2

East: 6

Jemele Hill, ESPN.com Page 2 | Hill's picks

The Pistons got better by adding a go-to scorer in Gordon and an athletic big man in Villanueva. But that won't translate to a better postseason because the top teams improved at a more rapid rate and the jury is still out on whether Rodney Stuckey can be the point guard of the future.

Central: 3

East: 8

AI wasn't the answer because "What can we get for Chauncey Billups?" was the wrong question. The Pistons are now left trying to split minutes among four scorers in the backcourt while patching together a quilt of mediocrity up front.

Central: 2

East: 8

Prince is steady. Hamilton and Gordon will light up the scoreboard. Charlie V not only has versatility, he also has the ability to score in bunches. Daye will be a productive rookie.

Central: 3

East: 9

Hate to dwell on what-ifs, but what if they had never traded Chauncey Billups and decided to bring back Rasheed Wallace and Antonio McDyess? I'd still take C, Rip, Tay, Sheed and McDyess as no worse than the fourth-best team in the East.

Central: 3

East: 9

The Pistons are still transitioning from one era (Rip, Tayshaun and Big Ben) to the next (Villanueva, Gordon, Stuckey and Daye). Which suggests that they'll have to endure another bumpy ride in the .500 range.

Central: 3

East: 10

If Stuckey takes a big step forward, as so many expect, then combined with an up-tempo flavor, the Pistons should have a backcourt that can score in bunches. I'm not convinced he's ready for that, and I also worry about the spirit of their veterans, who must have trouble seeing a great near-future.

Central: 3

East: 10


AVERAGE RANKING Central: 2.7 | Standings East: 8.7 | Standings



Click below to see more predictions
Follow our NBA coverage on Twitter here.