Expert predictions: Toronto Raptors
Originally Published:
October 20, 2009
ESPN.com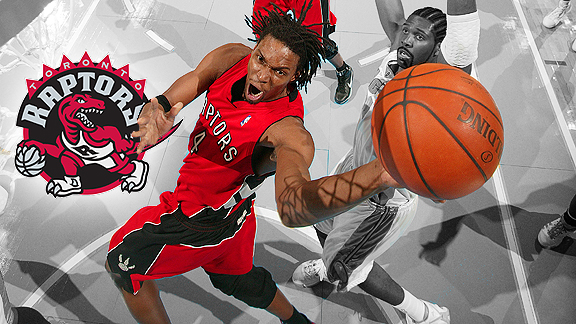 ---
Predicted Finish For Toronto Raptors: 2009-10
ANALYST
COMMENT
PREDICTIONS
November is their most important month. If they fall out of the gate, they could scrap this squad and start post-Bosh life. But this unorthodox roster just might work.

Atlantic: 2

East: 8

With Hedo Turkoglu, Andrea Bargnani and Chris Bosh, the Raptors have a big-time frontline. Jose Calderon is a good point guard. They lack some perimeter shooting but that frontline will be tough to deal with.

Atlantic: 2

East: 7

The Raptors should be able to score with the best of them, but they'll give up buckets just as quickly. Their "Euro-ball'' will be fun to watch and at times dangerous, but they're a first-round playoff team (if that) and nothing more.

Atlantic: 3

East: 7

The Raptors spent a lot of money this summer, but they only got marginally better. Turkoglu will help, but the development of Bargnani and rookie DeMar DeRozan will ultimately determine whether Bosh will re-sign or leave next summer.

Atlantic: 2

East: 10

Jemele Hill, ESPN.com Page 2 | Hill's picks

Bosh, Bargnani and now Turkoglu give the Raptors troublesome size. But can Turk be what he was in Orlando without a powerful center like Dwight Howard and a bevy of 3-point shooters? Bosh's future in Toronto depends on it.

Atlantic: 2

East: 5

Colangelo's crazy hodgepodge of non-defending shooters may just work, especially if Jose Calderon's hammy holds up. But too many questions linger about defense, rebounding and a bench to confidently predict such an outcome.

Atlantic: 3

East: 10

The signings of Hedo and Jack will get this team back into the postseason. Calderon doesn't make turnovers. Bosh will be 20 and 10 (thinking about 2010 -- should he stay or go?). Expect his shot-blocking and defense to improve.

Atlantic: 2

East: 8

It gets muddled trying to guess the one- or two-game difference that'll separate the East's 4 through 6 teams. A key for the Bosh Farewell Year is whether they'll get 3-point shooting from Bargnani, Belinelli, Calderon and DeRozan.

Atlantic: 2

East: 4

Still such a big fan of newcomer Hedo Turkoglu -- even as I heartily endorse and applaud Orlando's willingness to shake up a team that went to the Finals -- that I expect a big jump here. Into the Eastern Conference's top six, even.

Atlantic: 2

East: 6

The Raps know the formula for how they can succeed, thanks to Orlando's run last season. Now, they have to execute it. They will also resemble past Suns teams, where offense carries the D. This is the year Bosh breaks into the MVP hunt.

Atlantic: 3

East: 8


AVERAGE RANKING Atlantic: 2.3 | Standings East: 7.3 | Standings



Click below to see more predictions
Follow our NBA coverage on Twitter here.