Expert predictions: Houston Rockets
Originally Published:
October 21, 2009
ESPN.com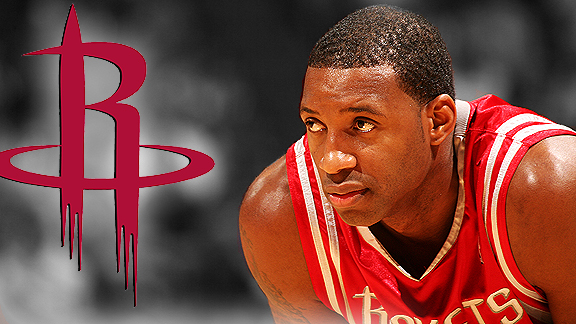 Predicted Finish For Houston Rockets: 2009-10
ANALYST
COMMENT
PREDICTIONS
No need for one of GM Daryl Morey's stat formulas. There's no one over 6-9 or with a points-per-game average over 13 in Houston's opening-night lineup. That won't = many wins.

Southwest: 4

West: 10

With the injury to Yao Ming and not knowing what Tracy McGrady is going to bring, this team will be hard-pressed to score. If they think Trevor Ariza is a No. 1 or No. 2 option, they are going to be sadly mistaken.

Southwest: 4

West: 9

I have trouble picking a Rick Adelman team to finish in the lottery, but execution and great rapport can take a team only so far. The two leading men (Yao and T-Mac) are on the shelf. Ariza should've been content as a supporting actor and gone to Cleveland or stayed in L.A.

Southwest: 4

West: 11

Don't want to doubt Daryl Morey, but this roster, with Yao out for the season and McGrady coming back from major surgery, sure looks like something a computer, not a GM, would put together. Someone, either Trevor Ariza, Aaron Brooks or Luis Scola, needs to have a huge year.

Southwest: 4

West: 10

Jemele Hill, ESPN.com Page 2 | Hill's picks

No Artest. No Yao. And no McGrady early on. As much as I love Brooks, Scola and Battier, the Rockets have lost too much to compete with the superpowers. And Ariza will return to Earth when he doesn't get all those wide-open looks that Kobe and Pau created.

Southwest: 4

West: 8

The Rockets have enviable depth and clever management, but they're missing anything resembling star quality. Role players can keep them on the playoff fringes, but they likely need a strong T-Mac comeback to crack West's top 8.

Southwest: 4

West: 9

No Yao for possibly the entire season. T-Mac is recovering from surgery. And both players could be free agents after the season. Ariza was a good signing, but wins will be hard to come by this season. Brooks will have a breakout year.

Southwest: 5

West: 14

Best things we can say: We'll see a lot of Aaron Brooks' speed, Luis Scola's ability to score in the low post, and Shane Battier finally getting back to doing more than standing in the corner waiting for a kick-out 3.

Southwest: 5

West: 12

The way they've played through countless injuries -- for years -- makes me hesitant to issue a blanket dismissal of Yao-less Houston's ability to be a nuisance in the conference race for the No. 8 slot. Somewhat hesitant.

Southwest: 4

West: 10

It brings me joy watching the Rockets on defense. Their toughness inside is tops in the league. But replacing Yao, who anchored every good rotation Houston played, is just too much. However, I see this team as a sleeper after the break, especially if T-Mac has his hops.

Southwest: 4

West: 10


AVERAGE RANKING Southwest: 4.2 | Standings West: 10.3 | Standings



Click below to see more predictions
Follow our NBA coverage on Twitter here.