Expert predictions: San Antonio Spurs
Originally Published:
October 21, 2009
ESPN.com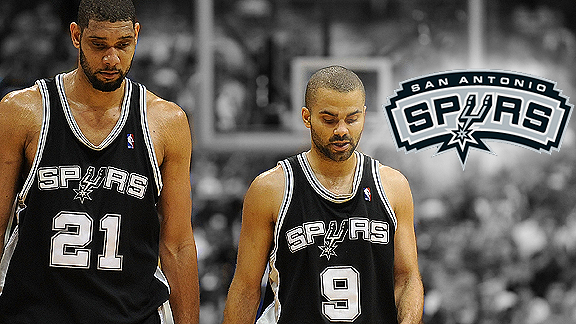 ---
Predicted Finish For San Antonio Spurs: 2009-10
ANALYST
COMMENT
PREDICTIONS
Counting out the Spurs means counting out Duncan and Parker and Manu and Popovich ... and I can't count that high. Should be refreshed after a shorter-than-normal season plus a productive summer.

Southwest: 1

West: 2

They are reloaded. As long as the big three of Tim Duncan, Manu Ginobili and Tony Parker are healthy, they'll be championship contenders. Richard Jefferson and Antonio McDyess will play big roles.

Southwest: 1

West: 2

Their biggest opponent is the injury bug, but if healthy, the Spurs could raise banner No. 5. Richard Jefferson was just what the doctor ordered (no pun intended), Antonio McDyess will provide much-needed aid up front, and DeJuan Blair could prove to be their latest draft-night steal.

Southwest: 1

West: 2

The Spurs had the most productive summer of any team. They stole Jefferson in a trade and Blair in the draft. Last year's first-round pick, George Hill, continues to improve. And Parker, Ginobili and Duncan are all finally healthy. If they can avoid injuries, they can beat the Lakers.

Southwest: 1

West: 2

Jemele Hill, ESPN.com Page 2 | Hill's picks

They get written off and then come back better than ever -- the unofficial Spurs mantra. But unlike past offseasons, the Spurs reloaded with impressive youth, adding RJ and stealing DeJuan Blair in the draft. And just for good measure, they brought in the steady 'Dyess.

Southwest: 1

West: 2

Decrepit supporting cast got needed upgrade with additions of Richard Jefferson, Antonio McDyess and second-round steal DeJuan Blair. But there'll be no fifth ring unless Tim Duncan and Manu Ginobili regain their former mojo.

Southwest: 1

West: 3

They are motivated and healthy; they added quality depth with Jefferson, McDyess and Blair; and Pop has his championship-caliber core back in TD, Parker and Manu.

Southwest: 1

West: 2

Loved the McDyess and Jefferson deals, but this second-place pick only holds up as long as Ginobili's ankle does -- and I've seen Manu roll that ankle too many times since the 2002 worlds to think it won't happen again.

Southwest: 1

West: 2

It all comes down to where Timmy and Manu stand healthwise in the playoffs, as always, but rest assured that if any other team in the Western Conference is in Kobe Bryant's thoughts at night, it's the reloaded Spurs.

Southwest: 1

West: 2

Managing the health of this team is priority one, from the big three to rookie DeJuan Blair and his ACL-less knees. But this team is built for a long postseason run. It has needed some athletic energy off the bench for years, and George Hill will be a big factor here.

Southeast: 1

West: 2


AVERAGE RANKING Southwest: 1.0 | Standings West: 2.1 | Standings



Click below to see more predictions
Follow our NBA coverage on Twitter here.