Expert predictions: Phoenix Suns
Originally Published:
October 21, 2009
ESPN.com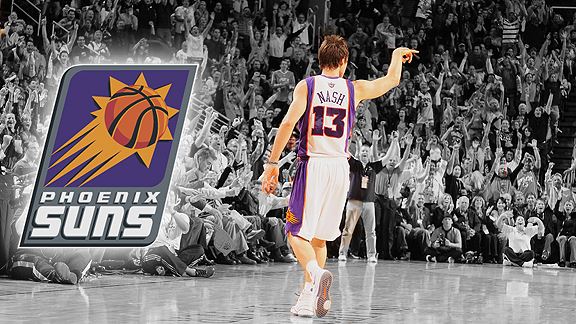 ---
Predicted Finish For Phoenix Suns: 2009-10
ANALYST
COMMENT
PREDICTIONS
Can their system work? At least they have a system again, which is more than they could say in their identity-crisis 2008-09 season. And doubt Amare at your own risk.

Pacific: 3

West: 9

There is one run left for this group. The Suns are very talented and committed to the run-and-gun offense in which Nash thrives. Also, I expect big things from Amare.

Pacific: 2

West: 7

With Shaq gone and Amare healthy, Fun Ball returns. But orchestrator extraordinaire Steve Nash is getting to the age (35) when his idea of fun may be to take his foot off the gas, settle into a nice halfcourt set and chuck 3s.

Pacific: 2

West: 7

The Suns have faded in the West. Is this the season the flame is extinguished? They're determined to play up-tempo again, but the overall lack of talent, along with Nash's age and Amare's injuries, keep them from being a major threat.

Pacific: 3

West: 9

Jemele Hill, ESPN.com Page 2 | Hill's picks

Nash isn't getting any younger, and unfortunately for him, Steve Kerr isn't getting any wiser. The Suns are back to being the Fun 'n' Gun offense, but the results are markedly different from what they once were.

Pacific: 2

West: 9

Retina injuries are scary business, and Amare already had one unscheduled follow-up surgery, so I've tempered my expectations. Be fun to see Suns go back to run-and-gun style, but the talent has withered since the glory days.

Pacific: 2

West: 8

This is where the overall balance of the West takes a dip. Will Amare be traded? (New York in 2010?) Nash still can drop dimes and put up numbers on the offensive end. Leandro Barbosa gets his game back to his sixth man of the year form. Can the fun-and-gun style win a title?

Pacific: 2

West: 8

The tricky thing about making Suns predictions is that owner Robert Sarver changes his mind as often as the wind changes directions. This team is not deep enough to go far in the playoffs, too talented to be blown up. Nash seems doomed to years of mediocrity after signing his extension.

Pacific: 3

West: 10

If you asked me to pick a team to exceed expectations, these Suns would be the choice. Not suggesting they'll be back in the title mix, but too many folks are dismissing them even with Amare back and their running game restored.

Pacific: 2

West: 6

Watching Nash run this offense is one of the best things about the NBA. Thank goodness he'll be allowed to do so. Also, I see a different Amare, perhaps both humbled and re-energized after dealing with such a grueling recovery. Those two guys alone give this team a playoff shot.

Pacific: 2

West: 7


AVERAGE RANKING Pacific: 2.3 | Standings West: 8.0 | Standings



Click below to see more predictions
Follow our NBA coverage on Twitter here.