Expert predictions: OKC Thunder
Originally Published:
October 21, 2009
ESPN.com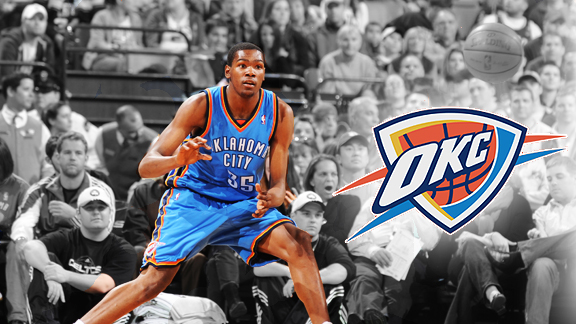 ---
Predicted Finish For Oklahoma City Thunder: 2009-10
ANALYST
COMMENT
PREDICTIONS
Sure, they're supposed to be the "next" team. But next isn't now. Kevin Durant, Jeff Green and now James Harden have to keep waiting. Ask the Trail Blazers.

Northwest: 4

West: 11

I love this young group of talented players. Kevin Durant was terrific last season and is only going to get better, but the Thunder are still a couple of years away.

Northwest: 4

West: 12

This is the supposed team of the future, but the future is still, well, the future. Even though Kevin Durant will show more growth, as a whole, they're still young and learning, and a year away from being in the playoff mix.

Northwest: 5

West: 12

The Thunder aren't ready for the playoffs, but they aren't that far away. Durant is already an elite player. Westbrook, Green and rookie James Harden form a potent core and coach Scottie Brooks has done a terrific job. They'll be fun. Next season, dangerous may be a better word.

Northwest: 4

West: 11

Jemele Hill, ESPN.com Page 2 | Hill's picks

The Thunder could be the new Trail Blazers, but not just yet. The Durant-Green-Westbrook triumvirate clearly is this team's future, but the Thunder will gain respectability only with better defense and a supporting cast.

Northwest: 4

West: 11

The young Thunder are likely a year away from breaking into the West's top 8, but they're pretty close already after adding yet another strong component (James Harden) to the emerging Durant-Green-Westbrook nucleus.

Northwest: 4

West: 10

They have a young exciting core in Durant, Westbook and Green. Rookie Harden will slash to the basket and perform like a top rookie in this year's class.

Northwest: 5

West: 13

I guess Kevin Durant learned a little about the importance of plus-minus recently; he was a plus-24 against the Suns on Oct. 13. Also: Harden, sleeper ROY pick.

Northwest: 4

West: 9

The focus will soon shift from Durant's plus/minus figures to what the Thunder are doing in the standings ... and I'm not sure that'll be any more pleasant. Lots of folks are expecting too much from such a young group.

Northwest: 4

West: 11

It's easy to drool over the expected growth of Durant. But I'm also excited about Westbrook. We saw what Rondo's freakish athleticism did in Year 2, so expecting something amazing from Westbrook is fair. Management and coaching are stressing defense -- will we see it?

Northwest: 4

West: 11


AVERAGE RANKING Northwest: 4.2 | Standings West: 11.1 | Standings



Click below to see more predictions
Follow our NBA coverage on Twitter here.