Expert predictions: Minn. Timberwolves
Originally Published:
October 21, 2009
ESPN.com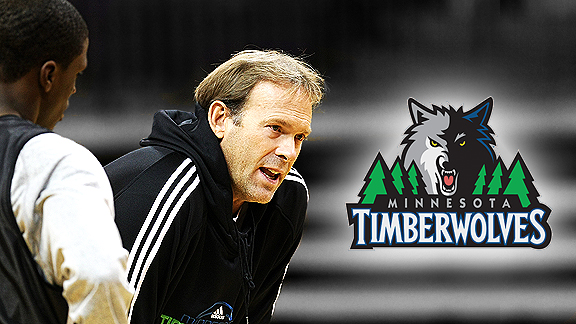 ---
Predicted Finish For Minnesota Timberwolves: 2009-10
ANALYST
COMMENT
PREDICTIONS
While they're waiting on Rubio there's plenty to like (Love) or love (Flynn), and Sessions was the underrated free agent of the summer. Team's still short on athleticism.

Northwest: 5

West: 13

If a stable of point guards means wins, the Timberwolves are your 2009-10 NBA champions.

Northwest: 5

West: 14

They have some big names -- Al Jefferson, Kevin Love, Jonny Flynn -- but who out West, other than the dreaded Kings, are they better than? The three aforementioned players should put up some very impressive individual numbers, but it won't amount to many victories.

Northwest: 5

West: 14

New GM David Kahn overhauled the roster, but I'm not sure it will translate into more wins. Jefferson and Love form a solid core in the paint and newcomers Sessions and Flynn should energize the backcourt, but when stacked up against the rest of the West, the Wolves still fall short.

Northwest: 5

West: 14

Jemele Hill, ESPN.com Page 2 | Hill's picks

It'll take a lot more than Jefferson's losing 30 pounds on the Jared Subway diet to make this team relevant. The Wolves are still under major construction with a rookie coach and a lot of new faces. Let's see how well the vaunted triangle works with Ryan Hollins and Sasha Pavlovic.

Northwest: 5

West: 14

Closest I can come to a true sleeper pick is picking Wolves to win low to mid-30s. Sessions and Flynn offer a huge upgrade at PG and Love was last season's most underrated rookie. So if Jefferson comes back strong, they'll surprise.

Northwest: 5

West: 13

With a healthy Jefferson, don't be surprised if they beat out the Suns and/or Clips to make the playoffs. Sessions is a stud and will be the league's most improved player. Love will average a double-double. Rambis put together one of my favorite coaching staffs (Laimbeer/Theus).

Northwest: 4

West: 11

Bending over backward to be positive, we'll say this: Jefferson, Love and Sessions will all provide tremendous value at a reasonable cost on your fantasy draft night. Memo to Kahn: Please bring back the old black road unis.

Northwest: 5

West: 15

They'd obviously be infinitely more watchable if Rubio was here, but a core trio of Al Jefferson, Kevin Love and Ramon Sessions has some promise. The Wolves will be worth following for the first time since Kevin Garnett left.

Northwest: 5

West: 13

If Love was healthy, this ranking would be higher. Sessions is going to be very good for them, Jefferson will be an All-Star, Brewer looks like he found his sea legs, and Love sets the tone with his board work. Until he returns, they will be a man short, but will still be tough to beat.

Northwest: 5

West: 12


AVERAGE RANKING Northwest: 4.9 | Standings West: 13.3 | Standings



Click below to see more predictions
Follow our NBA coverage on Twitter here.