Expert predictions: Port. Trail Blazers
Originally Published:
October 21, 2009
ESPN.com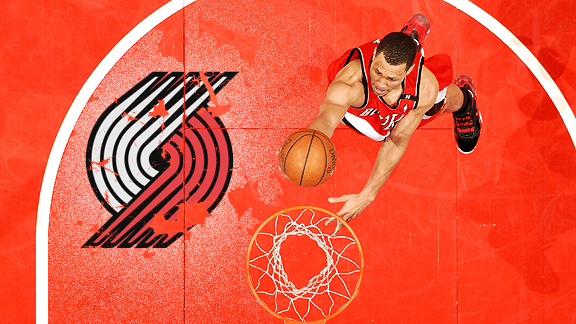 ---
Predicted Finish For Portland Trail Blazers: 2009-10
ANALYST
COMMENT
PREDICTIONS
They "settled" for Andre Miller when he's the type of player they should have targeted all along; great fit for this "old-acting" young team. Time for this crew -- especially Greg Oden -- to deliver on its potential.

Northwest: 1

West: 3

They are ready to take that next step. They need Oden to be a defensive force. They don't need him to score, just rebound and play defense. I love Aldridge and Roy, and with the addition of Miller, they are ready to contend.

Northwest: 1

West: 3

Oden will be greatly improved, and Andre Miller will form a formidable backcourt tandem with Roy. Not yet a team that can win the West, but it can certainly win the Northwest.

Northwest: 1

West: 3

The Blazers are coming off a fantastic season that ended in disappointment. But not to worry. This young team is rapidly gaining experience and confidence. The addition of Miller combined with the emergence of a more confident (and healthy) Oden should put them among the elite.

Northwest: 1

West: 3

Jemele Hill, ESPN.com Page 2 | Hill's picks

If Nate McMillan starts Steve Blake over Andre Miller, he's not the coach I thought he was. That's no disrespect to Blake, but Miller could have a Billups-like effect if given the reins. Either way, it's tme for the Blazers to graduate from being known as that rising young team in the West.

Northwest: 2

West: 4

Playoff flop was a bummer, but young Blazers were West's second-best team at the end of the regular season. Now they've added Miller and a full offseason for Oden. If anyone can challenge L.A., it's these guys.

Northwest: 1

West: 2

Oden will need to develop into an anchor who can stay out of foul trouble. He has to contest every shot and go after every rebound. Roy is the third-best SG in the game -- behind Kobe and Wade. Aldridge has All-Star potential.

Northwest: 3

West: 6

The longer the season goes with the Blake-Miller timeshare in place, the more they'll rue that July day when Hedo bolted on them. Oden looked spry at Team USA camp, and when was the last time anybody said "Oden looked spry"?

Northwest: 3

West: 7

Even if Andre Miller's transition to Portland was super smooth, I'd still hesitate to say this team will automatically take the next step. Moving up a level from where the Blazers were last season is one of the hardest steps.

Northwest: 2

West: 5

No team has a better starter/backup tandem at the point guard and center spots. Now, can Miller and Blake, and the coach, get along? Oden looks ready to be a beast. Last season's playoff loss to Houston should provide plenty of reference points for this season.

Northwest: 1

West: 3


AVERAGE RANKING Northwest: 1.6 | Standings West: 3.9 | Standings



Click below to see more predictions
Follow our NBA coverage on Twitter here.