Expert predictions: Washington Wizards
Originally Published:
October 20, 2009
ESPN.com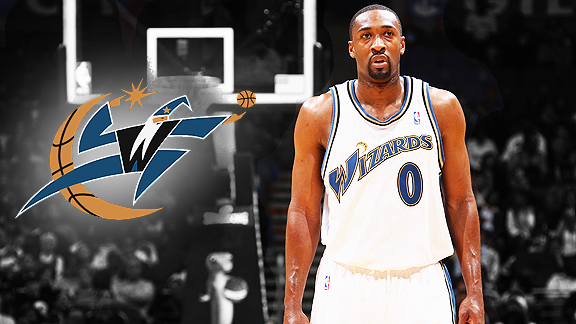 ---
Predicted Finish For Washington Wizards: 2009-10
ANALYST
COMMENT
PREDICTIONS
They'll have the team they wanted last season ... and will discover it's a lot like the team they had a few years ago. Middle of the playoff pack in the East, only with fewer blogs.

Southeast: 3

East: 6

I loved their offseason. Miller and Foye are great additions and if Arenas can stay healthy, this is small ball at its finest. A couple of years ago, this team was off the charts. They are going to be a matchup problem for everyone.

Southeast: 3

East: 6

Obviously, Gilbert Arenas must stay healthy. Without him at full strength, the Wiz may not even make the playoffs. But with him at full-bore, they're just a notch below the EC elite. Says here Agent Zero will stun many with his playmaking abilities and prove he's still one of the league's best.

Southeast: 2

East: 4

The Wizards were awful without Arenas. But now that he's healthy they have a chance to be dangerous in the East. Arenas is a game-changer, Caron Butler and Antawn Jamison are excellent sidekicks and the additions of Randy Foye and Mike Miller really strengthened the bench.

Southeast: 3

East: 5

Jemele Hill, ESPN.com Page 2 | Hill's picks

Agent Zero has promised to be less mouthy, but this still strikes me as a team that would rather talk a big game than win one. As long as Arenas' knees hold up, the Wizards are assured to double last season's win total. Going further depends on their moody superstar.

Southeast: 3

East: 6

I'm a big Flip Saunders believer, but I also believe the Wiz have overrated their talent -- who else goes all-in after winning 19 games? Look for yet another .500-type campaign from the Arenas-Butler-Jamison nucleus.

Southeast: 3

East: 6

New coach Flip Saunders will make sure he tailors his offense to suit Agent Zero, Butler and Jamison. This will be the most improved team in the league.

Southeast: 3

East: 6

We'll miss you, Hibachi/Agent Zero/Uberblogger -- if you stick to your guns and keep your mouth closed all season. But the guess here is the mime act/silent treatment ends by mid-January en route to 44 wins and the playoffs.

Southeast: 4

East: 8

Even as a longtime Flip fan, allow me to tap the breaks. The Arenas/Butler/Jamison core had a limited ceiling even at their youthful and healthiest best. Playoffs? For sure. But you can't automatically call the Wiz a top-10 team.

Southeast: 3

East: 7

If there's a dark horse team, it's this one. New coaching will help on both sides of the ball and Arenas makes a difference. But if Foye and Blatche, two guys with talent and something to prove, can step forward, then all of a sudden they'll go from obscurity to the playoff hunt.

Southeast: 4

East: 9


AVERAGE RANKING Southeast: 3.1 | Standings East: 6.3 | Standings



Click below to see more predictions
Follow our NBA coverage on Twitter here.

ESPN.COM PARTNER: NBA.COM