Coverage: TNT
8:00 PM ET, October 28, 2014
AT&T Center, San Antonio, TX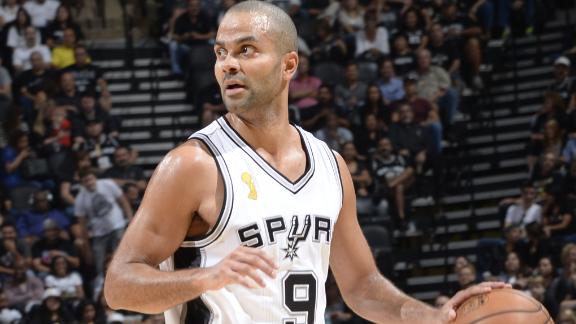 Spurs Edge Mavs In Season Opener
Tony Parker scored a team-high 23 points in the Spurs' 101-100 win over the Mavericks
Spurs Edge Mavs In Season Opener
VIDEO PLAYLIST
While the San Antonio Spurs are looking forward to defending their title with last season's team virtually intact, they'll have to get by without a key piece in Tuesday night's opener.
The Dallas Mavericks enter 2014-15 with championship aspirations of their own after a couple big moves this summer.
Kawhi Leonard won't be available as San Antonio kicks things off against Dallas in a rematch of last season's first-round playoff series.
"It's all about starting at the beginning every year. Not skipping steps," coach Gregg Popovich said. "You've heard me say that a million times. It really is the truth. You have to build it all over again. You can't just assume you're going to start where you left off. Luckily, I've got a group that understands that and allows me to start at the beginning."
The Spurs (62-20) were pushed to seven games by the Mavericks before eventually beating Miami in five for their fifth title in 16 years. Leonard was named Finals MVP after averaging 23.7 points and 9.3 rebounds while shooting 68.6 percent in the last three games.
The emerging star is expected to take a big step forward this season, but the 23-year-old forward will have to wait at least one game due to an eye infection that's kept him out of action for over two weeks.
Though Leonard's absence will surely be missed, the Spurs should still be in good shape with their core veteran trio back for another go-round. Tim Duncan, Tony Parker and Manu Ginobili are ready to play meaningful games after a disappointing 2-5 preseason.
"We haven't played well, but it's preseason," Duncan, entering his 18th season, told the team's official website. "We'll hopefully chalk it up to that. We'll show up for the first game and we'll figure it out, and we'll have 81 after that."
The Mavericks (49-33) are hoping to contend in the loaded Western Conference after bringing Tyson Chandler back for his second stint with the team. The All-Star center spent the previous three seasons in New York after helping lead Dallas to the title in 2010-11.
"I don't think anyone knew what to expect the first time around," he said. "But clearly this time around and having the success and winning the championship here, the expectations are a little different on the return."
Dallas also lured Chandler Parsons from Houston on a $46 million, three-year deal that the Rockets wouldn't match. Parsons averaged career highs of 16.6 points and 5.5 rebounds last season.
"I feel like we got better again," 12-time All-Star Dirk Nowitzki said. "I think every summer, that should be the franchise's goal. I feel like we got better and took a great step forward, but we all know how tough the West is. It's going to be tough to break into the top four."
Nowitzki averaged a team-leading 21.7 points in 2013-14 -- his highest mark in three seasons -- while Monta Ellis was second at 19.0. Veterans Shawn Marion and Vince Carter are gone, but longtime Orlando point guard Jameer Nelson should provide a spark after signing a two-year deal.
"We've got a good and deep team now, and we just want to make our own destiny," Nowitzki told the Mavericks' official website. "We can't always live in 2010-11. That was a great year for us, but this is almost a completely new team."
The Mavericks have dropped 13 of their last 15 regular-season meetings against the Spurs, including nine straight by an average of 14.8 points.
"We're expecting to win," Parsons said. "We know they're a great team and the most respected team in the league, and they're at where we want to be. They're champions and we have respect for them, but we want to go in there and compete and play as hard as we can."
Dallas will try to spoil the debut of San Antonio's Becky Hammon, who was hired as the NBA's first full-time female assistant coach in the offseason.