12:00 PM ET, January 27, 2002
Wells Fargo Center, Philadelphia, PA
Top Performers
Los Angeles: S. O'Neal 26 Pts, 11 Reb, 2 Ast, 1 Blk
Philadelphia: D. Mutombo 13 Pts, 18 Reb, 2 Blk
PHILADELPHIA (AP) -- All in all, Phil Jackson wasn't exactly thrilled with the idea of coming back to Philadelphia in two weeks for the NBA All-Star Game.
Winter briefly at hospital
PHILADELPHIA -- Lakers assistant coach Tex Winter had chest pains and was taken by ambulance to a hospital after Sunday's game against the Philadelphia 76ers, though hospital officials said he did not have a heart attack and released him that night.

The 79-year-old Winter was eating a sandwich after the Lakers' loss to the 76ers when he appeared to be choking, team spokesman John Black said.

Two doctors were sent to the coaches' dressing room, and Lakers players rushed off the team bus and ran back inside after hearing something was wrong.

"It doesn't appear to be serious," Black said. "He didn't want to go" to the hospital.

The Lakers headed straight to the airport after the game for a flight to Atlanta. Assistant general manager Jim Buss stayed behind in Philadelphia with Winter as he was taken to Methodist Hospital.

Black said Winter was bothered recently by "walking pneumonia" and only decided at the last minute to accompany the team on its five-game road trip.

Known as the innovator of the triangle offense, Winter has been an assistant to Phil Jackson for nine seasons. He has said he plans to retire after this season.
-- Associated Press

Thanks to the 76ers, he won't have to.
Allen Iverson, Derrick Coleman and Dikembe Mutombo led Philadelphia to a 93-87 victory over Los Angeles on Sunday, preventing Jackson from earning the coaching spot for the Western Conference team.
Playing a sleep-deprived Lakers team that was starting a five-game road trip, the 76ers got 29 points from Iverson and strong all-around games from their big men in a rematch of last season's NBA Finals.
"This game meant a lot to us -- the Lakers beat us so bad in the finals last year," Mutombo said. "If we see each other again, we have a chance to put up a good fight."
The loss left the Lakers with a record of 29-12, meaning Dallas Mavericks coach Don Nelson will guide the West when the All-Star Game is held at the First Union Center on Feb. 10. The Mavericks are 32-12.
Sacramento (33-10) has the West's best record, but Kings coach Rick Adelman is ineligible because he coached the conference's All-Stars last year.
Nelson previously coached at the All-Star Game in 1992, when he was with Golden State. Byron Scott of New Jersey will coach the East. The Nets lead the conference with a 29-14 record.
Before the game, Jackson discussed the possibility of coaching in the All-Star Game for the fourth time. And while he wasn't openly cringing at the thought, it was clear he wasn't enamored of the idea.
Jackson said his best All-Star coaching memory was from when he was a coach in the CBA, adding that the NBA rule that determines the coaches based on their records two weeks before the game is not his favorite.
"I think baseball does it right. The teams that were in the World Series, they go. It's not like this crazy stuff," Jackson said before Sunday's game. `"You don't know if you're going, it's the only break you have in the season for four days and you can't even make plans to go to Cabo and get sun."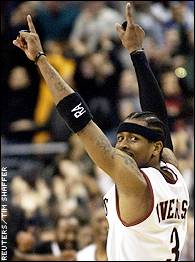 Sixers guard Allen Iverson raised his arms when victory was secured.
Jackson's postgame comments centered on a foul call against Shaquille O'Neal that sent Iverson to the line for a pair of free throws with 45 seconds left. Iverson, who scored 14 points in the fourth quarter, made both shots for an 87-84 lead after he came around a screen and slammed into the 7-footer.
"Why do you want to make a critical call like that at that time?" Jackson said.
Derek Fisher then missed a reverse layup with 35 seconds left, and the 76ers worked the clock down to 14.5 seconds before Mutombo hit a 12-foot jumper for an 89-84 lead.
"I knew that Shaq was not going to come out. He left me wide open," Mutombo said.
Coleman had 18 points and 12 rebounds, and Mutombo added 13 points and 18 rebounds for Philadelphia, which outscored Los Angeles 30-20 in the fourth quarter after trailing for much of the first three quarters.
Iverson failed to reach 30 for the first time in eight games. Matt Harpring added 14 points, and Eric Snow had 10 points and 10 assists as Philadelphia moved a game above .500 for the first time since Dec. 1.
O'Neal scored 26, and Kobe Bryant had 25 for the Lakers, who might have been thrown off by the noon ET starting time. Los Angeles played at home Friday night, and Jackson said the players had not yet adjusted to the time change.
"It's almost an impossible situation for these guys -- play a game late Friday night, fly all day long," Jackson said. "These guys had to be up at 5:30, their time, this morning, and with most of them it's at least 1 or 2 a.m. before they go to sleep."
"That means their circadian rhythms are probably putting them in a deeper sleep at 4 in the morning, which means they may have gotten a few moments of REM sleep," Jackson added.
Iverson gave Philadelphia the lead for good by hitting a 10-foot jumper to make it 71-69 with 10:20 left in the fourth. Coleman grabbed an offensive rebound that led to a short corner jumper by Mutombo for an 83-79 lead with 3:22 left, and Iverson hit a wide-open jumper from the corner to make it 85-79 with 1:47 left.
"They really wanted to win that game, and they deserved it," Lakers forward Rick Fox said. "I wouldn't be surprised if we met them again in the finals."
Game notes
The Lakers will visit the White House on Monday, giving Jackson a chance to visit a former sister-in-law who works there as a curator. ... Bryant had his old uniform, No. 33, retired at Lower Merion High School on Saturday night. Several teammates, including O'Neal, attended the ceremony. ... Sixers guard Aaron McKie sat out with a strained left Achilles' tendon. His status is day-to-day. ... Lindsey Hunter started his second straight game for the Lakers but shot just 2-for-9 and scored five points. ... The teams split the season series.
Copyright by STATS LLC and The Associated Press
Team Stat Comparison
| | LAL | PHI |
| --- | --- | --- |
| Points | 87 | 93 |
| FGM-FGA | 36-85 (.424) | 34-82 (.415) |
| 3PM-3PA | 3-17 (.176) | 1-7 (.143) |
| FTM-FTA | 12-18 (.667) | 24-29 (.828) |
| Rebounds (Offensive-Total) | 10-42 | 14-54 |
| Assists | 20 | 21 |
| Turnovers | 9 | 11 |
| Steals | 4 | 4 |
| Blocks | 6 | 3 |
| Fast Break Points | 11 | 13 |
| Fouls (Tech/Flagrant) | 24 (0/0) | 22 (0/0) |
Next 5 Games
Los Angeles
Philadelphia
01/29 @ATL 7:30pm
01/30 @ORL 8:00pm
02/01 @MEM 7:00pm
02/03 @DAL 1:30pm
02/06 CHI 7:30pm

01/29 @NY 7:30pm
01/30 MIN 7:00pm
02/02 @MIL 4:30pm
02/04 TOR 7:00pm
02/05 @DET 7:30pm

Complete Schedule: Los Angeles | Philadelphia