7:30 PM ET, October 29, 2002
STAPLES Center, Los Angeles, CA
LOS ANGELES (AP) -- The San Antonio Spurs won ugly because the Los Angeles Lakers played even uglier.
Reserve Malik Rose had 16 points and 11 rebounds to lead a balanced attack Tuesday night as the Spurs opened the season with a 87-82 victory over the short-handed Lakers.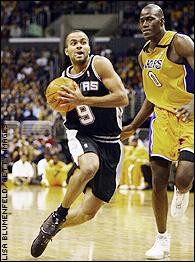 Tony Parker's 0-for-10 start to the season wasn't what he had in mind, but the Spurs won anyway.
The three-time defending NBA champions, who played without Shaquille O'Neal and Rick Fox, shot a miserable 31.8 percent (27-of-85) while losing their first season-opener in 11 years.
The Spurs, who have won six straight openers, weren't much better, shooting 36.6 percent (26-of-71).
``We might have set basketball back 10 years,'' Rose said with a smile. ``It was just nice to get the win. It would have been bad if we didn't since they were without Shaq and Fox.''
Tim Duncan had 14 points and 10 rebounds for the Spurs, but shot only 3-of-14. And San Antonio point guard Tony Parker missed all 10 of his shots.
``It was ugly, but we won the game,'' Duncan said. ``That's all that matters. We had a tough shooting night, that's how it goes sometimes.''
David Robinson, playing his final season, had 13 points and 10 rebounds for the Spurs, but didn't play after picking up his fourth foul with 8:02 left in the third quarter.
Speedy Claxton also had 13 points and Steve Smith added 12 for San Antonio.
``We played terrible, it was a terrible game,'' Spurs coach Gregg Popovich said. ``I'm thrilled that it'll count as a victory as the season goes on and disappointed in our play.''
Popovich said Rose played a very solid game and also complimented the effort of newcomers Claxton and Emanuel Ginobili, who had seven points, two rebounds, three assists, four steals and one blocked shot in 20 minutes.
Popovich said his decision to bench Robinson for the final 18 minutes had nothing to do with the veteran's health.
Smith injured his groin early in the fourth quarter and was in pain afterward. He said he would be examined Wednesday.
Kobe Bryant had 27 points and 10 rebounds for the Lakers, but shot only 9-of-29 at least in part due to the defensive effort of Bruce Bowen.
``He's a great player,'' Bowen said. ``That's enough to get you motivated to play. You get to show what you can do against a player like that.
``I'm just trying to get some acknowledgment for first team All-D this year, that's my goal.''
Bryant said his 29 shots were ``way too many.''
``I shouldn't be shooting the ball that many times,'' he said. ``We know it's going to be hard, I think everybody knows that. But we made it harder on ourselves just by not hitting shots.''
Slava Medvedenko added 11 points and Devean George 10 for the Lakers.
O'Neal, MVP of the last three NBA Finals, is still recovering from surgery on his arthritic right big toe. He's expected to be sidelined another two weeks.
Fox was suspended for the season's first six games for his part in a fight with Sacramento's Doug Christie in an exhibition game Friday night.
The Lakers were presented their championship rings in a ceremony before the game. Fox was allowed to take part before having to leave the arena -- the rule for players under suspension.
``I hope that was as enjoyable to watch as it was for me to coach, that's all I can say,'' Lakers coach Phil Jackson said sarcastically. ``As bad as it is, it's probably better to win ugly than it is to lose ugly, which was the case tonight.''
Rose made a basket and free throw to give the Spurs a 77-70 lead with 5:54 remaining, and Duncan made two free throws with 3:38 left for an 82-72 lead -- the largest of the game.
The Lakers didn't pose a serious threat after that.
Neither team led by more than four points in the third quarter until the Spurs scored nine straight for a 65-60 lead. A basket by Bryant made it 65-62 entering the final period.
A free throw by Bryant and a 3-pointer by Robert Horry gave the Lakers a one-point lead, but Danny Ferry's 3-pointer triggered a 7-0 run by San Antonio, making it 72-66 and putting the Spurs ahead for good.
Game notes
The game was played before a crowd of 18,997 -- the Lakers' 77th straight sellout at Staples Center dating back to Feb. 2, 2001. ... The Lakers declined to pick up the $1.5 million option on forward
Mark Madsen
's contract for next season. ... The Lakers began their season the same day the Angels celebrated their World Series championship. ... The Lakers entered having won 11 of the last 13 games against the Spurs, including eight of nine in the playoffs the last two years. ... Marge Hearn, the widow of longtime Lakers announcer Chick Hearn, received her championship ring first in the 14-minute pregame ceremony. ... A moment of silence was observed before the game in memory of Hearn, who died in August at age 85.
Copyright by STATS LLC and The Associated Press
Team Stat Comparison
| | SA | LAL |
| --- | --- | --- |
| Points | 87 | 81 |
| FGM-FGA | 26-71 (.366) | 27-85 (.318) |
| 3PM-3PA | 3-10 (.300) | 4-13 (.308) |
| FTM-FTA | 32-46 (.696) | 24-30 (.800) |
| Rebounds (Offensive-Total) | 11-52 | 17-48 |
| Assists | 15 | 16 |
| Turnovers | 20 | 18 |
| Steals | 15 | 10 |
| Blocks | 11 | 5 |
| Fast Break Points | 5 | 7 |
| Fouls (Tech/Flagrant) | 26 (1/0) | 34 (1/0) |
Next 5 Games
San Antonio
Los Angeles
10/30 @GS 7:30pm
11/01 TOR 7:30pm
11/04 @MEM 7:00pm
11/05 GS 7:30pm
11/09 POR 7:30pm

10/30 @POR 6:30pm
11/01 @LAC 7:30pm
11/03 POR 6:30pm
11/05 @CLE 7:00pm
11/07 @BOS 7:30pm

Complete Schedule: San Antonio | Los Angeles