Final
San Antonio wins series 4-2

8:30 PM ET, June 13, 2003
IZOD Center, East Rutherford, NJ
EAST RUTHERFORD, N.J. -- The six-time All-Star who admittedly can't shoot had no choice but to jack up shots.
The two-time MVP who's been criticized for not being flamboyant enough again let his game do the talking.
Next season, the two might get to discuss these problems as teammates.
Life won't necessarily be better for Jason Kidd if he decides to leave the New Jersey Nets and sign with the San Antonio Spurs as a free agent this summer. However, life will be a whole lot easier for the planet's best point guard as the sidekick to Tim Duncan.
In what may have been his last home game as a Net, Kidd did all he could, playing 48 minutes and taking nearly a third of New Jersey's shots to score 29 points. But Duncan was his usual dominant self, also scoring 29 points on 10-of-18 shooting to go with 17 rebounds, four assists and four blocks in the Spurs' 93-83 victory in Game 5 of the NBA Finals.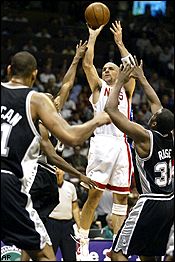 Jason Kidd shot 10-of-23, but the rest of the Nets were 16-for-51.
The win gave the Spurs a 3-2 lead as the series returns to San Antonio on Sunday (ABC, 8 p.m. ET). It may have well clinched the franchise's second NBA championship in five seasons, for no road team has ever won Games 6 and 7 in the Finals' 2-3-2 format.
Duncan's performance, which also included 9-for-10 shooting from the free-throw line, served as another reminder of what awaits in San Antonio for Kidd, who hits the market on July 1.
"I gave it everything I had," Kidd said. "I tried to compete at the highest level, and I'll sleep good tonight because I left everything out there."
"I thought I played a pretty good game, if that was my last game here," Kidd added. "So we'll see."
Contrary to public opinion, someone in these Finals can make a jump shot. Unfortunately for the Nets, the guy wasn't wearing one of their slick-looking, retro-ABA jerseys.
For the second time in this year's playoffs, Steve Kerr provided the shots to the body to floor the opponent in the fourth quarter. Kerr sank a 3-pointer from the left wing for an 83-76 Spurs lead, and then later drained a 15-foot jumper for an 87-78 cushion with 1:41 remaining. Two weeks ago in Dallas, Kerr produced similar heroics with four fourth-quarter 3-pointers in a series-clinching Game 6 victory over the Mavericks.
But it was Kerr's steal of a pass by Kenyon Martin that initially derailed the Nets' hopes of a late comeback from a 76-67 deficit. That turnover -- the first of three straight by the flu-ridden Martin -- prevented New Jersey, down 80-76, from making it a one-possession game and helped set up Kerr for what he does best.
"I know that people are struggling in this series," said Kerr, owner of four championship rings and veteran of 26 Finals games. "I think it's the two best defensive teams in the league and New Jersey has done a great job on us ... But that's my role. I can come in, and if I'm open, I can make a few shots now and then."
"Steve was fantastic," Spurs head coach Gregg Popovich said. "We got a little bit of trouble there, and we put Steve out in a couple of situations where they have to make a couple of decisions double-teaming wise. He's the consummate pro."
Before Kerr's emergence, the game became a battle of superstars with Duncan dueling Kidd.
Kidd scored 12 points (on 11 shots) to Duncan's eight first-quarter points, but San Antonio led 19-18 going into the second period. Kidd got hot in the third quarter, hitting for 14 points, including two of his four 3-pointers. However, Duncan had nine points, including four during a 12-3 run to close the third for a 66-57 Spurs advantage.
| | | |
| --- | --- | --- |
| | " | We're really not that concerned. We need to go there and win Game 6. We are not worried about Game 7. We're worried about Game 6. " |
| | | — Richard Jefferson |
Kidd was left to shoulder the scoring load because of the illness to Martin, New Jersey's leading playoff scorer who missed the morning shootaround due to nagging flu-like symptoms. Clearly, Martin wasn't himself in managing just four points on 2-for-8 shooting and committing eight turnovers, but wouldn't pin his poor performance on a lack of energy, chalking it up as just a "bad game."
Nets coach Byron Scott wasn't buying it. "Obviously, it affected him," Scott said. "He was not 110 percent out there tonight. But with K-Mart, you know he's going to try and go out and play as hard as he can."
Richard Jefferson added 19 points, 11 in the fourth quarter, for the Nets. San Antonio's Tony Parker and Malik Rose rebounded from poor shooting efforts in Game 4 by scoring 14 points each. Manu Ginobili had 12 points off the bench.
"We're really not that concerned," Jefferson said. "We need to go there and win Game 6. We are not worried about Game 7. We're worried about Game 6."
Ridiculed for their plodding, low-scoring games, the Spurs and Nets did nothing to change that perception by trudging through another uneventful first half. But don't hate the players. Hate San Antonio's game plan.
Up by one after one quarter, the Spurs protected their lead by going once again to a 3-2 zone defense for the first nine minutes of the second period. The Nets missed seven of their first eight shots against the scheme, managing only three points while the Spurs took a 29-21 lead. Only after New Jersey manufactured points on its next three possessions did San Antonio switch back to man-to-man.
Jefferson and Martin finally attacked the basket to get the Spurs out of the zone. Jefferson then scored five straight points to bring New Jersey within 35-34, but San Antonio responded with a 7-0 run to close out the half, Duncan sinking a turnaround fadeaway jumper from the baseline for a 42-34 halftime advantage.
Fatigued settled in for Kidd in the final quarter. With 26 points through three, Kidd didn't attempt a single shot from the field in the fourth.
Perhaps next season, he won't have to work so hard. Especially if he's wearing San Antonio black and silver.
"It's do or die," Kidd said. "You have to go out there and leave it all out on the court. Make or miss, you've got to be aggressive. That's what was on my mind for 48 minutes tonight."
Joe Lago is the NBA editor at ESPN.com.
Copyright by STATS LLC and The Associated Press
Team Stat Comparison
| | SA | NJ |
| --- | --- | --- |
| Points | 93 | 83 |
| FGM-FGA | 33-69 (.478) | 26-74 (.351) |
| 3PM-3PA | 3-9 (.333) | 4-16 (.250) |
| FTM-FTA | 24-29 (.828) | 27-34 (.794) |
| Rebounds (Offensive-Total) | 8-39 | 17-42 |
| Assists | 15 | 15 |
| Turnovers | 17 | 16 |
| Steals | 10 | 7 |
| Blocks | 9 | 5 |
| Fast Break Points | 5 | 5 |
| Fouls (Tech/Flagrant) | 29 (0/0) | 25 (3/1) |