Coverage: ABC
3:40 PM ET, February 23, 2014
AmericanAirlines Arena, Miami, FL
MIAMI -- LeBron James watched from the bench in a stylish gray suit, and with the game deadlocked at halftime, he took off his necktie.
Soon the tie on the scoreboard was gone, too. Stout defense plus Chris Bosh's outside shooting and a boost from Miami's reserves helped the Heat overcome the absence of their MVP on Sunday to beat the Chicago Bulls 93-79.
More Heat-Bulls Coverage
It's not so much the idea of a big man hitting a bunch of 3s. It's that these were coming from Chris Bosh, who took a total of 60 3s in his first two seasons in Miami, Israel Gutierrez writes. Story
---

After all the battles between Chicago and Miami over the years, the Bulls shouldn't have folded the way they did Sunday afternoon, Nick Friedell writes. Story
• Heat Grades | Bulls Reaction
• Heat Index | Bulls Blog
"We were missing a pretty big man," Dwyane Wade said. "There's nothing we can do to replace the best player in the world, but we just had to go out there and play team basketball on both ends of the floor."
James was a late scratch after he broke his nose in Thursday's win at Oklahoma City, and his teammates picked up the slack. Former NBA No. 1 draft pick Greg Oden replaced James for his first NBA start since December 2009, and reserves Chris Andersen, Michael Beasley and Ray Allen helped the Heat pull away in the second half.
"You don't want to see guys out," said coach Erik Spoelstra, who earned his 300th career victory. "But when guys are out, I'm always curious to see how you respond as a team. We've have several of these games that could have been excuse games, but guys have stepped up."
Bosh tied a career high with four 3-pointers and had 28 points and 10 rebounds. Wade added 23 points, 10 rebounds and seven assists, while Mario Chalmers contributed 12 points and nine assists.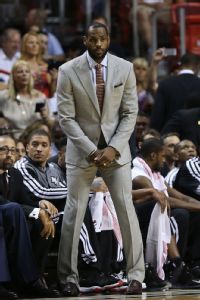 Robert Mayer/USA TODAY Sports
LeBron James, having suffered a broken nose on Thursday, took in Sunday's action from the bench.
Defense did the rest against the offensively challenged Bulls.
"We're starting to put it together defensively," Bosh said. "We got off to a slow start early in the season, but I think right now we're starting to get it, starting to click."
Like the Heat, the Bulls were also short-handed, with starter Jimmy Butler a late scratch because of bruised ribs. They shot 36 percent, went 6 for 21 from 3-point range and were called for a 24-second violation at least six times, including twice in a row.
"We weren't playing with a good enough thrust," guard Kirk Hinrich said. "We were slow getting into our stuff. We didn't make quick decisions, and we got stuck fighting the clock."
Joakim Noah had 20 points, 15 rebounds and four blocks for the Bulls, who had won five in a row.
"Those guys have ended our seasons a lot," Noah said. "You've got to hate playing those guys, and every time we play them our intensity has to be high. We did it in spurts, it wasn't good the whole time, and that's what's disappointing."
Miami, playing at home for the first time in 20 days, extended its winning streak to five games.
Wade sealed the victory by sinking a jumper with less than three minutes left, giving the Heat their first 18-point lead. Earlier two of his points came on free throws after he improvised a backward somersault when fouled hard in the lane.
Otherwise there weren't a lot of acrobatics from the typically high-flying Heat, who shot 42 percent and had only seven fast-break points.
Contributing to the workmanlike effort was the 7-foot Oden, playing his 11th game after being sidelined by knee trouble for 3 1/2 years. He had five points and five rebounds in 13 minutes.
"Greg was great," Spoelstra said. "He's an active player for somebody that big, and he's very intelligent. He has a good grasp of what we want to do."
The 300-Win Club

Erik Spoelstra got his 300th win Sunday, becoming the sixth coach in NBA history to win 300 games before his 150th loss.
Fewest Losses at Time of 300th Win
Pat Riley*
116
Phil Jackson*
119
Billy Cunningham*
130
K.C. Jones*
134
Larry Costello
145
Erik Spoelstra
148
* In Basketball Hall of Fame (Cunningham and Jones as players)
-- Elias Sports Bureau
The stoic Oden shrugged off the milestone of returning to the starting lineup.
"I'm starting to feel a little more comfortable out there, and I think guys are starting to feel more comfortable with me," he said. "It's something we can build on. Being able to put me in that starting lineup showed some confidence in me."
James, missing a game for only the second time this season, drew a big ovation when he was shown on the video scoreboard during an early timeout. During another timeout in the fourth quarter, when the Heat had built a big cushion, he danced to music blaring over the public address system while his teammates huddled.
They scored on seven consecutive possessions during a 16-2 run at the end of the third quarter that put them ahead 65-52. The catalysts were unlikely: In quick succession, Andersen dunked on an alley-oop, Allen hit a runner and Beasley banked home a basket.
"It doesn't matter if LeBron's out," Bulls coach Tom Thibodeau said. "They're a good team. That team has other players. Chris Bosh and Dwyane Wade -- those are All-Stars, too. The bench is deep. That's a championship team."
Game notes
Spoelstra earned his 300th victory in his 448th game. Only five coaches reached the milestone more quickly, including his boss, Pat Riley, who did it the fastest at 416 games. ... Wade's seven offensive rebounds were a career high. ... The Bulls fell to 24-6 when leading after one quarter. ... Miami improved to 8-1 in February.
Copyright by STATS LLC and The Associated Press
Photo Wire
MIAMI, FL - February 23: Derrick Rose #1 of the Chicago Bulls arrives for the game against the Miami Heat at the...
(Photo by Issac Baldizon/NBAE via Getty Images)
Around The Association
MVP: With LeBron James sidelined, Dwyane Wade and Chris Bosh stepped up to make up for the King's absence. Bosh had a game-high 28 points, while Wade had 23 points, 10 rebounds, seven assists and two steals.
X factor: Miami's defense, which forced 12 individual turnovers and seven shot-clock violations. Miami was particularly fierce on D.J. Augustin, who was 0-for-10 from the field, by far the worst of Chicago's 35.8 percent effort from the field.
Defining moment: The game was tied at 40-40 at halftime, but Miami absolutely dominated the third quarter, using a key 11-0 run to trigger a 25-12 advantage in the quarter. The Heat won the other three quarters by only one point.
Research Notes
The Heat shot 9 of 13 and scored 23 points off
Mario Chalmers
pick-and-rolls Sunday with most of the production coming in the second half. Chalmers ran the pick-and-roll 11 times in the second half (four in the first half), producing 16 points on 6 of 9 shooting.
[+]
The Heat shot a season-low 48.7 percent from inside the paint Sunday, but taking away the interior opened up the floor for
Chris Bosh
. Bosh attempted 23 shots Sunday, 18 of which were catch-and-shoots from 10-plus feet out.
[+]
During his first two seasons in Miami, the Heat were awful when
LeBron James
did not play. They've been much better without James over the last two seasons.
[+]
From Elias: Erik Spoelstra earned his 300th win today, becoming just the sixth coach in NBA history to win 300 games before his 150th loss.
[+]
Greg Oden
started an NBA game today for the first time since Dec. 5, 2009, a span of 1,541 days...
Kevin Durant
, drafted a spot behind Oden, has 9,998 points since then and has scored 40 points 30 times since then, both most in the NBA... Doug McDermott was a senior in high school... He's now 11th in scoring in Division I men's basketball history.
Greg Oden
is starting today for the Heat. Oden hasn't started a game since December 5, 2009.
ESPN Stats & Information