FANTASY
Prepare for your draft with mocks and more.
MUST READ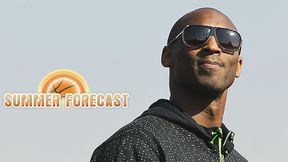 Who will be crowned NBA champs in 2010-11? MVP? Rookie of the Year? Our panel of NBA experts weighs in. Summer Forecast »
MEDIA
Podcasts
Radio
Henry Abbott, NBA
Play Podcast ESPN TrueHoop Blog's Henry Abbott covers Kobe Bryant's role in the Lakers' fall from grace, Bryant's influence throughout the organization and his relationship with Steve Nash.
Kevin Hart, NBA
Play Podcast Comedian Kevin Hart talks about his stage names, his top five athletes in his phone contact list and whether the Cavaliers will win the NBA championship this season.
Bryon Scott, Lakers
Play Podcast Lakers coach Byron Scott comments on his future with the team, Kobe Bryant's recovery, expectations for Bryant, Julius Randle's abilities and whether L.A. will make the playoffs.