Mechanics in place for a repeating engine
Updated:
November 2, 2004, 4:12 PM ET
By
Chad Ford
| ESPN Insider
AUBURN HILLS, Mich. -- "Respectful confidence."
That's Pistons president Joe Dumars' description of the World Championship Pistons as they embark on their defense of their World Championship.
The beat reporters here call it "Camp No News" – a GM and coach's greatest dream. Everyone is healthy. Everyone is happy. The players are clicking on the court.
Even his head coach, Larry Brown, is smiling again. After being worn to a nub by an Olympic team with several bad seeds and questionable effort, Brown is delighted to be home coaching his Pistons.
"I haven't been disappointed with their effort one day," Brown said. "We play the right way. We try to defend, we share the ball, we play with enthusiasm."
The Pistons are the anti-Lakers.
After winning their championships the last few years, the Lakers usually descended into a quagmire of petty jealousies and chaos once training camp began. Even after Kobe and Shaq's messy divorce, the Lakers still can't seem to get rid of the controversy.
The Pistons, on the other hand, have a genuine family atmosphere that dominates camp.
"When you're pushing the team concept like we are it forces everybody to depend on each other," Dumars said.
"Each guy knows it's not about him. It's about us."
"Everyone's working extremely hard," Finals MVP Chauncey Billups says with a toothy grin.
"No training camp is that enjoyable, but for us, we've had a fun week. We know the plays. We like each other. We trust each other. It's been pretty fun for us."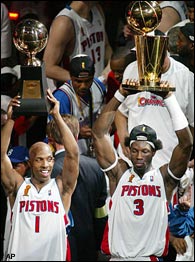 The message from Billups (left) and Ben Wallace, 'Never underestimate a team with desire.'
Even Rasheed Wallace is holding group hugs at center court this season.
"This is a great group of guys," Sheed says as he high fives and waves to players as they head into the locker room.
"Everyone respects each other's game and the abilities that they bring to the table as a whole. It's just about respect."
The Pistons might respect each other and the 29 opponents that will be attempting to take their title away this year. . . but does the rest of the league really respect them?
"This is a team that has never been anointed," Dumars said.
"Even after winning a championship, we have not been anointed. We still feel as though we have to prove it. You can't talk your way through a championship. You have to get on the floor and do it."
Somehow, you know that's exactly what the Pistons will do.
Brown and his players already claim that the team is light years ahead of where they were last season at this time.
With Sheed in the fold, Brown is finally able to mix him more seamlessly into the offense, something he never really had the luxury of doing when the Pistons acquired him in late February.
"Coach Brown knows how to play me, but sometimes I was still trying to figure out my teammates out," Wallace said.
"I was kind of thrown into the fire last year. This year, I've got more time to figure things out."
New addition Antonio McDyess has brought a sense of veteran toughness to the interior.
The Pistons often struggled to score point in the paint last season, but with a healthy McDyess (who was catching alley oop lobs in practice on Wednesday) the Pistons are looking at one of the biggest, toughest and most versatile front lines in the league.
Billups claims that's he's more comfortable too.
He and Brown had a love-hate relationship last season. This year, Billups seems more relaxed playing the way Brown expects him to play. And Brown seems more willing to let Billups throw away the script when his instincts tell him to.
Even a rookie is getting into the act.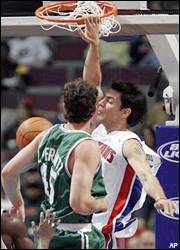 As the Celtics learned, Delfino can hurt foes inside and out.
Carlos Delfino has come into camp swinging, quickly earning the respect of his teammates and his coach. His game-winning three-point shot in the Pistons' first exhibition game already has everyone in Detroit buzzing.
"His game is a lot more advanced than I thought," Brown said.
"He has a great understanding of how to play. He seems to have the respect of all of his teammates. He has the opportunity to really help us."
How can the Pistons be so good and so good at the same time?
That tranquility amidst excellence is the envy of every coach and GM in the league.
"I love them," Celtics head coach Doc Rivers said.
"They are so mentally tough. They are a group of guys that has an unbreakable family-like relationship. They play hard, they play together, they share and they root for each other. I think the Pistons are great for sports."
Rivers isn't alone.
Dumars' philosophies about teamwork and chemistry are literally changing the way other GMs around the league are going about rebuilding their teams.
Dumars' ability to pluck players in free agency and the draft that weren't marquee names, but who had the inner fight in them to succeed, has destroyed long held myths about how to build a contender.
For years, the obsession of almost every GM in the league was about finding one or two guys who could be superstars -- the next Shaq or KG.
Dumars proved the past several years that a collection of talented, hard-working, unselfish players who are willing to fight through adversity can do it even better.
Dumars understands the concept better than most because he's lived it as a person and a player his whole life.
Dumars grew up in rural Louisiana, the son of a father who worked in a local poultry factory.
While he was naturally gifted at sports, he never wanted to rely on it as a crutch to better his situation. After practice each day he'd sneak into the library to read books, a no-no for jocks in his community.
Dumars eventually became a late first-round draft pick from McNeese State in 1985. Over the course of his career he epitomized everything he looks for in his players. His tough, versatile, intelligent and unselfish approach to the game helped the Pistons bring home two world championships under his watch.
Before his 14-year career ended, he began planning for the future – a future that initially didn't include the NBA.
"I had no intention of getting involved in the league when I retired," Dumars said.
"I just went out and starting looking for something that challenged me and would help me succeed after my playing days were done. Basketball was my job, but it wasn't necessarily my life."
Dumars started his first business, Joe Dumars' Fieldhouse, in 1994, six years before he retired.
The Fieldhouse is an indoor-recreational facility that gave kids and adults access to basketball and hockey courts for round the clock pick-up games or organized leagues.
The business has blossomed to the point that last year the Fieldhouse hosted 182 different local basketball teams in tournaments and another 50,000 pick-up games.
His new facility, set to open in just off the Eight Mile road in Detroit later this month, has the potential to even be bigger.
Two years later, Dumars founded DTI, Detroit Technology Inc. The business sells interior parts like leather seats and trunk systems to automakers like GM, Ford, Chrysler and Toyota.
If you own a P.T. Cruiser, Lincoln Navigator, a Ford Expedition or a Toyota Camary, chances are you sitting on something created by Joe Dumars.
By the time owner Bill Davidson approached Dumars about taking over the Pistons in 1999, Dumars wasn't even sure he wanted the job.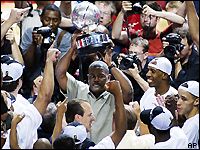 Dumars has the elements in place to add a few more NBA titles to the trophy case.
"I had already put a lot blood and sweat into those two businesses and I didn't want to give them up," Dumars admits.
"However, Mr. D told me I didn't have to give them up. He said he wanted was my focus, vision and leadership. I felt like the lessons that I learned running my businesses might actually help me rebuild the Pistons."
With a wealth of experience on the court and six years of business experience off it, Dumars decide to buck conventional NBA wisdom and build the Pistons based on proven business principles.
"There's a sense of discipline about running an automotive business that I thought would translate," Dumars said.
"It's a tough, cutthroat culture with payoffs that are three or more years down the road. You learn patience, accountability, quality and how to deliver on time. You learn what it takes to create a team, how to build the right culture to succeed. I thought those things could apply just as equally to basketball."
"Joe's ability to assess people is remarkable," said Brian Siegel, a business associate of Dumars. "He can quickly assess an individual's strengths and then figure out how to maximize them in a team setting."
While still spending significant time running the fieldhouse and DTI, Dumars slowly began weeding out the bad seeds in Detroit and began hunting for players who had struggled throughout their careers, but whom Dumars believed would blossom in the right environment.
Over the course of the past four seasons that core would be created from four castoffs - Billups, Richard Hamilton, Ben Wallace and Rasheed Wallace - along with several late first and second-round draft picks like Tayshaun Prince and Mehmet Okur that other teams had slept on.
"Everyone here comes from a difficult road here," Sheed said. "Chauncey came from a tough road. Rip had a tough situation. So did Ben and myself. But our paths all met at the end. . . . Joe D saw something in all of us that others couldn't see."
It's a quality that Dumars' associates say extends beyond the basketball realm.
"Some people have the ability to see down the road," Mark Hoppen, Vice President of DTI, said. "Joe has the ability to see around the corner."
It's hard to argue with the results. When Dumars took over in 2000, the Pistons' star player, Grant Hill, bolted for Orlando and all looked lost in Detroit.
Four years later, Dumars is being fitted for his third World Championship ring and the Pistons appear poised to win many more.
With a solid veteran cast and a budding young core of talent led by Prince (24), Delfino (22) and Darko Milicic (19), Dumars appears to have built a team that not only can win now, but also might contend for the next decade - a feat most champions have failed to achieve.
"Say what you will about us," Dumars said, "but know that we're not trying to follow the pack. We're trying to lead it."
Respectful confidence. It isn't a sexy slogan but it's the right one to describe this team and the man who built them.
Chad Ford covers the NBA for ESPN Insider.
EDITORS' PICKS
The Warriors routed the Griz in a meeting of West's top 2.
Wallace »

Another surgery will keep KD out the rest of the season.
J.A. Adande »

Who are the best -- and worst -- owners in the league?
Rankings »

MOST SENT STORIES ON ESPN.COM