Kwame Brown's powering forward as Laker big man
Originally Published:
October 13, 2006
By
Ric Bucher
| ESPN The Magazine
LOS ANGELES -- Within minutes, Kwame Brown mentioned Michael Jordan's name and did not flinch, then referenced his struggles grasping the Lakers' triangle offense and laughed.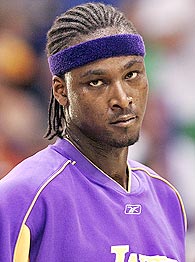 AP Photo/Khampha BouaphanhKwame Brown's got a whole new look going on in L.A.
What, no more beaten-puppy eyes raised by the memory of disappointing the greatest player ever?
No chin-on-his-chest head shake over disappointing -- at least initially -- arguably the greatest coach ever?
Apparently not. On and off the court this fall, Brown is exuding a level of comfort and confidence that didn't seem possible for someone who, just a year ago, was still serving as Exhibit A in commissioner David Stern's successful campaign to prohibit high school players from being drafted.
Brown's bravado is partly why, despite seriously upgraded competition in the West and offseason surgeries that have the Lakers preparing for the season without the presence of coach Phil Jackson (hip surgery) or the involvement of Kobe Bryant (knee surgery), the team is brimming with confidence that it can improve on last season's 45-win effort.
"There's definitely a good vibe going around," Luke Walton says. "I feel it."
Such is the power of a team believing it can be greater than the sum of its parts. Or, in Brown's case, greater than the bulk of his past.
Credit the transformation, in large part, to Jackson making him an integral part of the game plan that had the seventh-seeded Lakers on the brink of upsetting the second-seeded Phoenix Suns. While some interpreted the Lakers' collapse after taking a 3-1 series lead as proof that Brown, Walton and Smush Parker were simply too much for Phil, Kobe and Lamar Odom to carry further, no one in purple and gold sees it that way. They're of the mind that going toe-to-toe with the league's most explosive offense while still getting a handle on Jackson's beloved triangle speaks of vast untapped potential.
"That series did a lot for me," Brown said. "It prepared me for playing under pressure. Before that, I'd get jittery in close games. I'd step to the side and be like, 'OK, Kobe, do your thing.' I just need to slow down and keep that confidence. When I start rushing, it doesn't look good. All it takes is one person to do something wrong to screw up the triangle.
"I know," he added, grinning, "because I was usually that person."
The fact that he's no longer that person was given prime-time exposure by Lakers legend James Worthy, the halftime TV analyst for Thursday night's 104-101 exhibition win over the Seattle Sonics at Anaheim's Honda Center (formerly Arrowhead Pond). Worthy's highlight breakdowns from the first half were of Brown's perfect fast-break trail for a layup and foul, and of his aggressive but perfectly paced post-up of Seattle rookie Mouhamed Sene.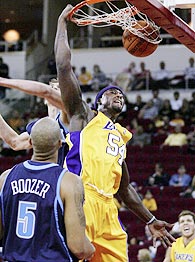 AP Photo/Gary KazanjianThe Lakers will need some more improvement from Kwame.
"We have to have that kind of improvement because a lot of other teams have gotten better," said assistant coach Kurt Rambis, who is holding the reins until Jackson returns. "What got us in the playoffs last year won't get us in this year."
If nothing else, general manager Mitch Kupchak has provided Jackson with more buttons to push. Longtime small forward Devean George signed with Dallas after never quite filling his projected role of defensive stopper and spot-up shooter. His role will be split between Maurice Evans, a bona-fide defensive specialist acquired on draft night for a second-round pick from the salary-dumping Pistons, and sharpshooter Vladimir Radmanovic, a career 38 percent shooter from beyond the arc.
While Houston, Golden State and Utah are all more talented on paper, the Lakers believe the experience of making a successful late-season surge for a playoff spot and battling the Suns is something those other teams don't have -- an edge that will be more than enough to keep them among the West's top eight.
"We learned how to stay within ourselves," says Bryant, who is going through fitness training and individual skill drills but has not set a date for testing his knee in a full-blown scrimmage. "Our focus is not on the end goal of making the playoffs. It's just on playing better each day. That's probably why you don't sense any panic or concern about Phil and me not being part of training camp or about how much better other teams might be. We grew up a lot in that series against the Suns. We figured things out and all our core guys are still here."
With Brown decidedly being part of that core. He may never live up to being the first pick of the 2001 draft and the highest-drafted high schooler ever, but his surprising agility for someone nearly 7-foot and 270 pounds remains tantalizing. (The fact also remains that for all the talk about Brown being a horrendous first pick, it's not as if the 2001 draft has produced a slew of superstars. So far, Pau Gasol and Tony Parker are its lone All-Stars.)
He is slated to be the Lakers' starting center for the season opener even if Chris Mihm recovers from right ankle surgery in time. As his air-balled free throw and two turnovers in the opening minutes of the win over the Sonics demonstrated, there's still plenty of room for improvement. But in his four seasons as a Washington Wizard -- team president Jordan's initial building block, only to be shunted aside for Popeye Jones when his Airness attempted yet another comeback -- a start like that would have either inspired him to try too hard, resulting in more mistakes, or distracted him from following the game plan, earning him a seat on the bench.
Instead, against the Sonics, he didn't commit another turnover, made a nifty pass to rookie Jordan Farmar for a back-cutting layup and took it to Sene the way veterans once abused him. Final line: 11 points on 5-for-7 shooting, two assists and four rebounds in 20 minutes.
"He's clearly more poised this year," Rambis says. "He's learned to relax offensively and by the end of last year he was our best post defender, moving his feet and doing a good job on some quality players."
As Rambis spoke in the hallway outside the locker room, Brown walked past him.
"He just has to stop worrying about his offense and focus on what he has to do for us defensively," said Rambis, directing his voice toward Brown.
Looking back over his shoulder as he stepped through another doorway, Brown laughed and said, "You must be talking about Andrew [Bynum]."
A few seconds later he was back, somewhat sheepishly. He'd gone the wrong way -- again -- but had turned himself around. Again.
Ric Bucher covers the NBA for ESPN The Magazine.
NBA Reporter, ESPN The Magazine Senior Writer
Senior writer for ESPN The Magazine
Co-authored "Yao: A Life in Two Worlds"
Full-time beat writer/NBA analyst since 1992
SPONSORED HEADLINES
MORE NBA HEADLINES
MOST SENT STORIES ON ESPN.COM
LOS ANGELES LAKERS
TRAINING CAMP
Toyota Sports Center, El Segundo, Calif.
Start Date: Oct. 3
•
Bucher: Kwame key
•
Bucher: Camp notes
2005-06 RECORD
45-37 (Reached West playoffs)
• Roster | Schedule | Camp Index
---
HOLLINGER'S TEAM PREVIEWS
ATLANTIC
• Boston Celtics
• New Jersey Nets
• New York Knicks
• Philadelphia 76ers
• Toronto Raptors

CENTRAL
• Chicago Bulls
• Cleveland Cavaliers
• Detroit Pistons
• Indiana Pacers
• Milwaukee Bucks

SOUTHEAST
• Atlanta Hawks
• Charlotte Bobcats
• Miami Heat
• Orlando Magic
• Washington Wizards

SOUTHWEST
• Dallas Mavericks
• Houston Rockets
• Memphis Grizzlies
• NO/OC Hornets
• San Antonio Spurs

NORTHWEST
• Denver Nuggets
• Minnesota Timberwolves
• Portland Trail Blazers
• Seattle SuperSonics
• Utah Jazz

PACIFIC
• Golden State Warriors
• Los Angeles Clippers
• Los Angeles Lakers
• Phoenix Suns
• Sacramento Kings