King-sized challenges for earnest Artest, coach Muss
Updated:
October 16, 2006, 10:28 AM ET
By
Marc Stein
| ESPN.com
You needn't circle Jan. 13 on your calendars. The schedule indeed sends Houston to Sacramento that night, but Ron Artest swears he isn't going to kill Bonzi Wells.
"Nah," Artest says. "I was just joking around."
Great physical harm, you'll recall, was the threat from Artest in early July if his buddy Bonzi dared to sign with anyone else..
"Oh, man," he says now, struggling to mask his disappointment over the outcome of Wells' contentious free-agent negotiations with the Kings.
"I said all that assuming he was coming back for sure."
All that includes the more benign scare tactic where Artest simply vowed, with Mike Bibby's assistance, to take Bonzi "into the bathroom, tie him up and whale on his legs" for even suggesting a move elsewhere. It was easy to crack jokes back then, when Artest was hardly alone in figuring that Wells would eventually lower his financial demands and re-up with the team that he -- not No. 93 -- carried in the playoffs against San Antonio.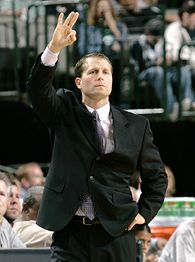 Tim Heitman/NBAE via Getty Images Musselman won the coaching job long held by Rick Adelman when he impressed the Maloof brothers with his preparation.
But that was then. As Artest prepared for Thursday's exhibition opener against the Dallas Mavericks, he seemed anything but jokey at his locker stall. He looked and sounded as serious as I can remember, especially given his penchant, since becoming a King, for routinely making racy proclamations.
When sub-.500 Sacramento traded for Artest in January, he guaranteed a playoff berth. In April, Artest promised a first-round upset of the mighty Spurs. Then at the summer league in Las Vegas, undaunted by San Antonio's 4-2 escape in Round 1, Artest prefaced his Whale On Wells plans by telling ESPN.com that "we're going to win a championship next year and continue from there."
A few months later, "championship" never came up in two conversations with Artest. It's true that, with Artest being Artest, he's liable to read this and predict a three-peat tomorrow, but on this night?
We were introduced to Realistic Ron-Ron.
He must see that the Kings have only Bibby left from their glory days and much-less-accomplished successors at all but two positions: Bibby's spot and Artest's.
"We've got a long way to go," Artest said of the Kings' 2006-07 prospects. "I definitely have really, really high expectations, but I don't know what that is exactly right now."
Pragmatism might prove to be a rather sensible approach for Artest, who's trying to live up to his claim that "I'm getting more mature by the day." All the bravado in the world can't change the reality that the Kings are counting on two largely unproven youngsters to fill the Bonzi void -- Kevin Martin and John Salmons -- and a coach not named Rick Adelman for the first time in nine seasons.
New coach Eric Musselman is asked to describe how different the Kings will look post-Adelman and, to his credit, doesn't pretend to ignore the uncertainty as he steps into a pretty big shadow.
"That's a great question," Muss says, "because we don't know yet."
There is undeniable optimism from the Kings' loyal subjects in the stands after a 25-11 rush following the Artest trade and the scare they gave the Spurs. Trouble is, as Musselman quickly notes, losing their most effective playoff weapon (Wells) and a shortage of quality size (and proven rebounders) aren't Sacramento's only concerns.
"Some of the teams that didn't make the playoffs are better, so you're going to have to fight in the West," Musselman said. "Hopefully our guys understand that we have to get off to a good start."
It's more than "some," actually. Houston, New Orleans/Oklahoma City, Utah, Golden State and Minnesota are all better than they were, with the Los Angeles Lakers, Memphis, Denver and, yes, Sacramento under the greatest threat.
The good news?
Sacramento's outlook was considerably bleaker when Artest arrived, which didn't stop Ron-Ron from making a decent run at an immediate fairy tale.
I still wonder where the Kings will be if Artest backslides, but the gambling brothers who brought him to town -- co-owners Gavin and Joe Maloof -- still aren't listening. They continue to make Artest feel more wanted than ever before and have been rewarded for their gumption. So moved, Joe Maloof dubbed Artest their "face of the franchise" over the summer.
Bibby, meanwhile, took the initiative to drop some 20 pounds to give himself a head start in the quest to finally make an All-Star team. Veteran center Brad Miller, if not quite the West's answer to the snub-loving Gilbert Arenas, doesn't deny that the limited minutes he received during his Team USA stint "motivated me to get ready for the season." The Maloofs and the fans, furthermore, were ready for a coaching change, even after eight successive trips to the postseason in Adelman's eight seasons.
In other words, there is some tangible optimism.
It certainly won't hurt if Artest, nearly 27, maintains this more serious approach. In his Indy days, Artest undeniably struggled to accept his third-wheel status behind Reggie Miller and Jermaine O'Neal ... and even his second-fiddle status to O'Neal after Miller's retirement. Brad Miller, who played with Artest in Chicago and Indiana, contends that Artest's royal status in Kings Country lessens the odds of a trouble-making relapse.
"He's matured a lot," Miller insists. "Back in Chicago, both of us were a couple of knuckleheads just trying to figure out what the heck we were supposed to do. He's definitely assumed more of a role of that top guy on the team.
"You come out here to Sacramento and the slate starts clean. The fans here are just so good about opening up and letting what happened in the past stay in the past."
Veteran forward Shareef Abdur-Rahim echoes the idea that Artest's Kings teammates, unlike the Pacers, are not on edge waiting for the next eruption. "He hasn't done anything disruptive since he's been here," Reef said. "He works harder than anybody."
Artest already has Musselman working to update his playbook, after Muss discovered that his lockdown defender has some point forward in his game. From afar, Musselman figured Artest would be at his best setting screens for Bibby and slipping into the paint to post up little guards on pick-and-roll switches. Don't be surprised to see Artest keeping the ball on pick-and-rolls to let Bibby -- Sacramento's best shooter -- roam for shooting opportunities.
"We're going to have to adjust a little bit, because he's a lot better handling the ball than I ever imagined," Musselman said. "It's a good example of how you never know guys until you coach 'em.
"We understand it's only training camp, but we've worked to develop a rapport with him. [Artest's participation in] summer league was great. We got to sit with him by the pool at The Palms in a casual atmosphere.
"I haven't talked a lot of basketball with Ron. We talk a lot about family, rap stuff. ... Hopefully, in time, he and I will really form a bond and a trust. If we already had it, that wouldn't be good, either, because it would be fake. With anybody, it takes time."
Switch the subject from Bonzi to Muss and Artest, again, swears that there won't be any issues.
"Muss is definitely like a friend," Ron-Ron said. "I respect anything he does."
Yet you should know that Artest passed on his first chance to lessen some of the pressure on the new guy.
"He's got a tough job to do," Artest said, serious as ever.
Marc Stein is the senior NBA writer for ESPN.com. To e-mail him, click here.
Senior Writer, ESPN.com
• Senior NBA writer for ESPN.com
• Began covering the NBA in 1993-94
• Also covered soccer, tennis and the Olympics

MOST SENT STORIES ON ESPN.COM