Commentary
Stern foresees 'an NBA China'
Updated:
October 21, 2007, 7:32 PM ET
By
John Hollinger
| ESPN Insider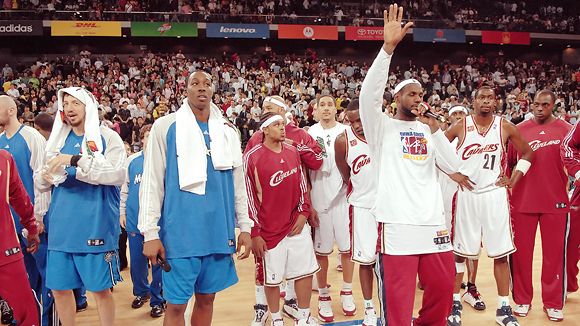 Andrew D. Bernstein/Getty ImagesLeBron James and the NBA are committed to bringing their league -- and their merchandise -- to China.
MACAU, China -- David Stern has a message for China, and it's similar to the one he has been delivering in Europe: Build it and we will come.
The NBA has marketed itself heavily in Asia and Europe, and those efforts have begun to bear some serious fruit on both continents -- particularly here in China, where the game rapidly is pushing to establish itself as the country's No. 2 team sport behind soccer.
[+] Enlarge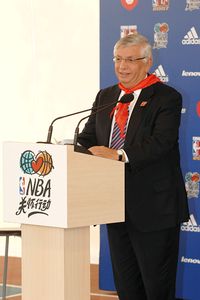 Andrew D. Bernstein/Getty ImagesStern's legacy might become his forays into international waters.
In our conversation during halftime of Orlando's 100-84 win over Cleveland here on Saturday, Stern made it clear the lack of NBA-ready buildings is the next hurdle for Asia to overcome in its relationship with the league.
The mere fact we're here in Macau shows Stern is serious. The reason the games ended up in Macau rather than, say, Beijing or Hong Kong, is the presence of a new facility here that was more in line with the standard NBA-caliber arena.
"We've got a new facility in Shanghai. We've got a new facility in Macau. That enables us to show our fans in those cities something more authentic in terms of the NBA experience," Stern said.
Translation: If you're a Chinese city and you want the NBA to come, you need an edifice that can support it.
Thus, Macau got the games this week despite having less history with the game than many of the cities in mainland China and a somewhat tepid fan base. Although both games were announced as sellouts, Thursday's game wasn't nearly full and Saturday's had some empties in the lower bowl. (It looked like a rarely seen "upper bowl" sellout, as Chinese fans apparently economized and bought up all the nosebleed seats.)
HOLLINGER'S CAVS-MAGIC NOTES
MACAU, China -- If you're waiting for news on Anderson Varejao or Sasha Pavlovic, don't hold your breath. Talks remain at an impasse, and the Cavs might start looking at other alternatives if they can't work out something with Varejao soon. As for Pavlovic, Cleveland sounds ready to move on. The Cavs felt they put a fair offer on the table, but every preseason bucket by Shannon Brown (who had another strong game off the bench Saturday) and Daniel Gibson makes keeping Pavlovic a little less important. • Coach Mike Brown went out of his way to praise center Dwayne Jones after the game. Jones had six offensive rebounds off the bench and stands to take over as the fourth big man in Cleveland's frontcourt rotation if Varejao doesn't sign. • If LeBron James looked sluggish today, there was a reason; Cavs sources told me he felt ill before the game. But he looked good shooting his jumper, and that's a nice sign for the season. • If you haven't seen Dwight Howard yet this year … holy moly. He is even bigger and more ripped than ever, and Orlando folks tell me he's shooting the ball more consistently after working on his touch in the offseason. • Orlando's Rashard Lewis didn't play, but he worked out before the game and looked to be in good shape. If it had been a regular-season game, I imagine he would have taken the floor.
But in the end, Stern pronounced the Macau games a success because of the venue.
"[The games] have been very well received, and this arena is, I think, a precursor to arena development across China," he said of the Venetian Macau's 11,527-seat facility.
Stern sounded a similar note when I broached the topic of bringing regular-season games or an All-Star Game to China.
"I think a regular-season game is a possibility," he said. "Certainly after the Beijing Olympic basketball arena is completed and upgraded, it will be NBA-ready, and that will give us the opportunity to contemplate that post-Olympics."
However, the economics of bringing regular-season games here are very different, which prevents the league from playing here at the moment.
"It's an economic limitation in order to pay our teams for their home gate, in effect, for a regular-season game, we need to be in a situation where we can generate substantial revenue in the arena configuration," Stern said. "And the economic situation outside of Japan [where the league played two games in 2003] hasn't been conducive to that."
[+] Enlarge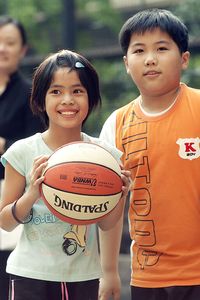 Randy Belice/Getty ImagesChina might rival the U.S. as the NBA's best market by the time these kids are grown.
In the short term, Stern didn't sound optimistic that the league would return here next year for preseason play, mainly because the U.S. Olympic team will be here for the Summer Games, but he alluded to other possibilities involving the D-League and the WNBA.
Of course, the reason the league is here is at all is because of the rapid expansion of its business operations in China, and that continues apace. China's growth as an NBA market is also why Stern is so geeked about getting new arenas.
That said, just how big the market is remains a question for debate.
For instance, the oft-parroted claim that 300 million Chinese play the game appears to be a wild overstatement. That would be almost a quarter of China's 1.3 billion population.
The claim seemed even less credible during the timeouts at the game in Macau, when most of the young, able-bodied males pulled out of the crowd for promotional contests fairly clearly had never shot or dribbled a ball before.
But other indicators are more positive because the sheer size of the nation of 1.3 billion people makes even a small incursion into the market a huge windfall for the league. One sign of the potential was the overwhelming presence of the Chinese media here taping and filming darn near everything -- one guy filmed the media buffet. The coverage should only grow if the country's economy keeps expanding.
HOLLINGER: WHAT IS MACAU?
Macau is in China ... sort of. A Portuguese colony for 442 years, it reverted to Chinese rule only eight years ago and still operates as a country-within-a-country of half a million people with its own passport controls and government. Consisting of the tiny peninsula of Macau, hanging off the mainland of Southeast China, and the equally small islands of Taipa and Coloane, it's one of the most densely populated places on earth. And there's nowhere else quite like it. For starters, the mix of Portuguese and Chinese culture is as weird in practice as it sounds on paper. Classical Chinese gardens with mosaic floors and Portuguese tiles; faded Mediterranean villas with joss and incense burning out front; nuns walking in and out of noodle shops; colonial churches with jade vases around the altar -- walk up any street and you'll do a double take at the weird juxtapositions. And don't even get me started on the food. Recently, Macau has become more famous as the Las Vegas of Asia. Gambling has been legal here for more than 150 years -- it's the only place in China to gamble legally -- thus torrents of Chinese come over the "border" on weekends to roll the bones here. In a roundabout way, that's how the NBA's "China Games" ended up here, too. The brand-new Venetian Macau is one of several new megacasinos built by the heavy hitters in Vegas to tap the Asian market, and the 11,572-seat arena on its premises became host to these games by offering perhaps the best facility in China.
Moreover, the fact that 20 percent of NBA.com's Web traffic comes from China is a strong indication that China is probably the league's No. 2 market -- or should be soon. In the long term, the fan base here could surpass the U.S. fan base in volume.
That last fact has some interesting long-term implications for the league's future plans with this country. But Stern doesn't see NBA teams here as much as a cooperative venture in which a parallel league operates in China.
"What we would like to contemplate in cooperation of our friends in the CBA [China Basketball Association] and the Sports Ministry is the possibility of an NBA-CBA venture that brings the NBA to China," Stern said. "Sort of an NBA China."
Meanwhile, this isn't the only Asian country Stern has his eye on. He also left open the possibility of going to the Philippines, which, under the radar, has become a very promising market.
"That's been a most popular market for us in terms of TV and the like, and the economy is improving, so that's something we're looking at, as well," Stern said. "But it's hard to bring games to every place that wants them these days."

John Hollinger writes for ESPN Insider. To e-mail him, click here.
EDITORS' PICKS
Steve Nash will miss the entire 2014-15 season with a back injury.
Adande »

Gravity, Part 3

As our countdown hits the top 10, our ranking get animated.
#NBArank animations