Commentary
Raptors need Garbajosa's versatility for a healthy outlook
Jorge Garbajosa rushed back from his leg injuries to play for Spain. The Raptors are counting on Garbajosa to stay healthy and help build on last year's success, Ian Whittell writes.
Updated:
October 10, 2007, 2:26 PM ET
By
Ian Whittell
| Special to ESPN.com
TREVISO, Italy -- Count them. There are 1 million good reasons the Toronto Raptors should be anxious about their hopes of holding on to their Atlantic Division crown as they come to the end of their first week of training camp in Italy.
One million good reasons -- one for every dollar the Spanish Basketball Federation (FEB) was forced to pay out as an insurance premium (covering the investment of Toronto, which signed him to a three-year, $12 million deal last year) before Raptors forward
Jorge Garbajosa
was allowed to drag himself and his still-healing fractured left fibula, dislocated left ankle and torn ligaments through the EuroBasket tournament held in his homeland last month.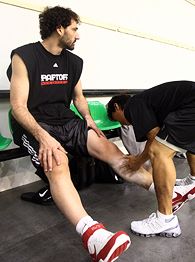 Garrett W. Ellwood/NBAE via Getty ImagesJorge Garbajosa receives treatment on the left leg that had been injured earlier this year.
Health and fitness will have been a burning issue at every NBA training camp from Hawaii to Istanbul this week, but it is safe to assume there are few teams for which the issue will have burned quite as brightly as it does for Canada's finest.
It is obvious, from the most cursory glance around the La Ghirada training facility the Raptors called home this week, that the first Italian word Raptors trainers learned when they landed here Sept. 30 was "ghiaccio" (ice). The foot injury that forced All-Star forward
Chris Bosh
to withdraw from his own national team commitments, with the USA, this summer is one thing, but it is the fallout from that horrendous accident suffered by Garbajosa, when he landed awkwardly in a game at the
Boston Celtics
in late March, that dominates preseason thoughts and forecasts. By all reasonable estimates, Garbajosa's attempts to play in Spain, barely five months after the injury, were preposterous. But these were not reasonable times. For the majority of Euro players in the NBA, representing their national team is viewed as a far greater honor than it is for their American counterparts, and with EuroBasket being hosted by world champions Spain, Garbajosa had added incentive to defy the medical prognosis and decline surgery that certainly would have ruled him out of the tournament. He also had the great fortune to be a naturally quick healer and to play for the Euro-Raptors, a team headed by Bryan Colangelo and Maurizio Gherardini that appreciates the importance of national team duty probably more than any of its NBA brethren. Still, the FEB's insurance company needed convincing to the tune of $1 million that Garbajosa was in shape to play. And still … "Of course, we were concerned," said VP/Assistant GM Gherardini of Garbajosa's hasty return to action. "It was a very significant injury. But the times involved for the recovery were cut short by Garbajosa's unbelievable attitude. He's an unbelievable guy, and it was some sort of miracle he made it back. "On the other hand, we know the situation was not 100 percent … ." And there is the rub. Toronto doctors diagnosed the need for surgery to fully repair an injury, which in their opinion, was not knitting together properly by the time he left to join the Spanish squad. Those same experts still say that the injury is not knitting and that Garbajosa should have an operation, a diagnosis contradicted by surgeons in Spain and by the player himself, who claims he is practicing completely free of pain. "We feel
relatively
comfortable," is Gherardini's only comment on the delicate state of affairs, but it is safe to assume that every awkward landing, every darting twist and turn made by the 6-9, 245-pound forward this season will see Raptors management with their hearts in their mouths. Why such an emphasis on a second-year NBA player who will turn 30 in December and averaged 8.5 ppg and 4.9 rpg last season? Gherardini -- who watched Garbajosa throughout his impressive 11-year European career, including four seasons with Gherardini's own Benetton Treviso -- knows why. "A healthy Garbajosa gives you the opportunity to play in so many different versions, you can't believe," Gherardini said. "Having him on the court, he can play the 3, the 4, the 5; he has the knowledge of the game to play all those three positions and be a factor at those three positions. That is why he is such a key piece for us. "And his leadership is being felt more and more. Everybody appreciates he is a quiet leader, a player who leads by example. Everybody appreciates now that he knows the game. "How good could he be? All I can say is that it is too bad he got to the NBA this late. He can still be an impact player in this league but I would have liked him to be here two or three years earlier."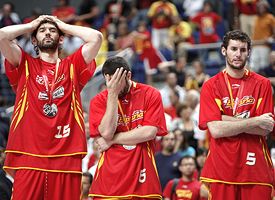 Jasper Juinen/Getty ImagesJorge Garbajosa, left, rushed back from his injury to face a disappointing finish for Spain.
Garbajosa himself concedes that the Raptors, although not exactly enthusiastic about his decision to play nine games of top-class international basketball against the better judgment of their medical experts, were ultimately supportive, and he believes there will be no lasting ill effects from his summer in Spain.
"When I started rehab, I said that if I was not ready or if there was any small risk for me or my leg, then I would not play for Spain," Garbajosa said. "I asked the Toronto Raptors to help me do this and, of course, they wanted to cover themselves. After the injury, it was not an easy position for them. That's why I appreciate a lot what they did for me, even if they did not completely agree. They supported me, which was very important for me. "But this is not an easy injury. When this kind of injury happens, there are a lot of different opinions, and you have to come to an agreement between the doctors in Spain, the doctors at the Raptors, the general manager, myself, my agents … it is not easy. They ask my feelings, what can I say? I am pain-free, practicing as hard as I can without pain; I am doing everything the other guys are doing. I see no reason for surgery, but it is not only my decision." None of which will be an issue if Garbajosa suffers no adverse reaction to his "miracle" comeback and the Raptors can come close to matching, or even improve upon, last season's stunning 47-win performance. There was certainly no sign of anything more worrying than some standard preseason rustiness in his 20-minute outing in Saturday's 89-85 exhibition loss to the Celtics. For both Garbajosa and his fellow Toronto and Spanish teammate
Jose Calderon
, there is also the added incentive of putting behind them the bitter memory of losing one of the most incredible EuroBasket games ever, a 60-59 final loss to Russia that saw the hosts relegated to the silver medal. "It was a disappointment, for sure," said Calderon, who was constantly by Garbajosa's side throughout camp and acted as a "spy" for Raptors coach Sam Mitchell, often reporting back on what Garbo was really saying about his injury. "But only for the first few days after the final. Now, the future seems brighter every day. We had high expectations, but silver medal is not bad, and now we will fight for the gold at the Olympics next year." Before then, Calderon, Garbajosa and the NBA's most international, cosmopolitan group of players -- in what is officially the world's most cosmopolitan city (100 languages and dialects are spoken in Toronto, which the United Nations calls the world's "most diverse city") -- hope to have experienced a playoff run that extends beyond the first-round playoff exit suffered by the injury-hit Raptors against the
New Jersey Nets
last season. Colangelo and Gherardini insist they have no active policy of signing only international players, even though it might seem that way sometimes to the casual viewer. The Raptors' way, they say, is to pick up the best available player, regardless of his passport, although the new names coming into Toronto this summer --
Jason Kapono
,
Carlos Delfino
,
Maceo Baston
and
Giorgos Printezis
-- at least sound international even if Kapono hails from California and Baston is a Texan. "I think we got players who will be helpful to the philosophy we tried to start last year," Gherardini said. "Players like Delfino, Baston are, let's say, 'international players.' Delfino, because of his Argentine background and playing in Italy, knows what international ball is all about, and Baston spent so many years overseas that he knows exactly what we're talking about." Kapono, too, fits the international profile -- and not just because of his exotic name. After signing a four-year, $24 million contract, Kapono also will be pushing for a starting position and to prove his game is about more than 3-point shooting (which he has made at a rate of 45.9 percent throughout his career). "Everyone gets pigeonholed in this league," Kapono said. "If you're not starting, you have a certain role. That's why you're in the league. But last year, less than half my shots were 3s and I made more 2s than 3s, a lot more. "I'm an off-the-ball guy; you rarely see me create my own shot off the dribble, so I have to get better at creating plays, be able to come off screens, draw the defense, kick it to guys for their shots. This system allows you to do that." The Raptors might not have had a spectacular summer of trade activity enjoyed by rivals such as Boston, but the few small tweaks made to the roster should be enough to see them remain an Eastern Conference contender, especially if they stay clear of injuries such as the plantar fasciitis that hobbled Bosh this summer and has forced him to adopt a specially prepared exercise program requiring him to stretch for 15 minutes two times every day. "I still have light pain, but it's not heavy," Bosh said. "It doesn't hinder me from doing anything, and the stretching helps me keep on top of it. "My personal goals for this year are the same as last year -- be an All-Star, make All-NBA -- but my main thing is to help this team get better. We are not going to catch anyone by surprise this year; we might have a better season and actually not win as many games. But winning the Atlantic, trying to get past the first round, all these things we tried to do last year, we expect to do them again … and then some."
Ian Whittell covers the NBA for the London Times.
NBA TRAINING CAMP 2007
2007 NBA training camps are now open, get the latest previews and notes from around the league.
Training Camp Index
Teams
Atlanta Hawks
•
Insider: Hollinger Team Forecast
•
Hollinger: Hawks are talking playoffs
Boston Celtics
•
Whittell: Allen's shooting a trio preview
•
Whittell: Garnett firing up new team
•
Hollinger: The nameless Boston trio
•
Insider: Five observations on Celtics
•
Insider: Hollinger's Team Forecast
Cleveland Cavaliers
•
Windhorst: Cavs have quiet offseason
•
Insider: Hollinger's Team Forecast
•
Insider: Five observations on Cavaliers
Golden State Warriors
•
Bucher: Warriors look to move forward
•
Insider: Hollinger's Team Forecast
•
Insider: Five observations on Warriors
Los Angeles Lakers
•
Bucher: Lakers lost on an island
•
Insider: Hollinger's Team Forecast
•
Insider: Five observations on Lakers
Miami Heat
•
Insider: Hollinger's Team Forecast
•
Sheridan: Heat look to rebound
Minnesota Timberwolves
•
Whittell: It's a PG season for Minny
•
Insider: Hollinger's Team Forecast
•
Insider: Five observations on Wolves
Memphis Grizzlies
•
Whittell: Spain embraces Grizzlies
Phoenix Suns
•
Stein: Sunny days are ahead
•
Insider: Hollinger's Team Forecast
•
Insider: Five observations on Suns
•
Ford's Podcast: Stein on Suns, West elite

Toronto Raptors
•
Whittell: Raps have healthy ambitions
•
Insider: Hollinger's Team Forecast
•
Insider: Five observations on Raptors
Fantasy
•
McKitish: Point guard top Grizzlies question
•
Lake: Bobcats' power forward question
•
McKitish: How Hill's arrival affects Suns rotation
•
Cregan: Haywood in bigger Wiz role
•
Index: 30 questions