Commentary
Looking for a commitment? Try these Blazers
Originally Published:
October 9, 2008
By
J.A. Adande
| ESPN.com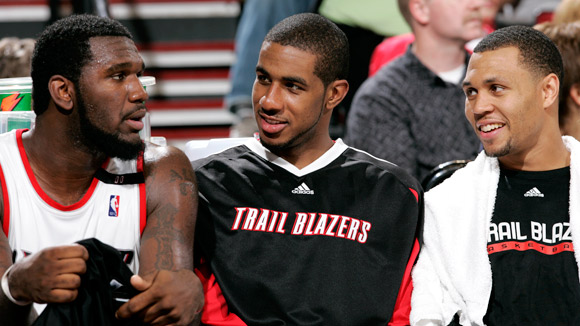 Sam Forencich/Getty ImagesThe Blazers' big three of Greg Oden, LaMarcus Aldridge and Brandon Roy give Portland a fresh hope.

The Portland Trail Blazers are about to put one of the world's oldest quandaries into play: should you value looks or personality?

Uncommitted basketball fans who fell in love with the dazzling Phoenix Suns and Golden State Warriors are single again. Those squads aren't the way they used to be. The Suns are now Shaquille O'Neal in the low post, not Mike D'Antoni on the sideline, frantically waving them down court. Steve Nash is another year older and gone are the days when they averaged 111 points per game.
Blazers Camp

They can score, but can they play D? J.A. Adande makes five observations from Trail Blazers camp. Insider



• Hollinger: Portland's future is bright


Golden State lost Baron Davis, is missing Monta Ellis and added Corey Maggette, whose weapon of choice is the free throw.

And there are the Blazers, sitting alone at the bar, inviting your attention. They're young and don't have any baggage. They flirted with you last year, when they won 13 consecutive games in December and looked like playoff material before fading in the second half of the season. Now they have a little more experience and a lot more talent with Greg Oden and Rudy Fernandez -- their two main acquisitions from the summer of 2007 -- finally in uniform.

But they won't be running nonstop into your heart. They'd rather take it a little more slowly.

Their best player and leader, Brandon Roy, admits that he plays an old man game and their coach says he wants the emphasis this season to be on defense. They're not trying to give the scoreboard operators carpal tunnel syndrome. They won't do anything wild and crazy to get attention. This isn't "Flavor of Love" or "I Love New York."

"We're not going to really woo you," Roy says. "But we're going to be a little bit more exciting this year. We're young, and people kind of want to cheer for the young team."

Not just the young team, the nice team. People crave good guys, athletes you can root for without explanation or apology. After too many headlines dominated by Barry Bonds, Roger Clemens and Pacman Jones, isn't it time for a squad like the Trail Blazers?

You won't find so much as a scowl in their locker room. They play ping-pong together and take group trips to the movies. They're involved in the community, not a threat to it.

And if any city in America deserved this crop of kids, it's Portland. This is the city that suffered through Isaiah Rider, Gary Trent, Zach Randolph and the worst of Rasheed Wallace. (The low point was captured in this 2001 Sports Illustrated article, which was accompanied by a photo of disinterested Portland players ignoring kids and talking on their cell phones during a community outreach event.)

Blazers fan Arri Maskell said he used to check The Oregonian's Web site every day for news of the team, telling himself, "I hope nobody got arrested today."

General manager Kevin Pritchard has purged all of the bad guys and in the process assembled one of the most talented rosters in the NBA.

It's already won over the locals. The night before the limited amount of single-game tickets available (about 500 per game) went on sale, Fans camped out, Krzyzewskiville-style. They bought about 6,000 tickets in the first day.

[+] Enlarge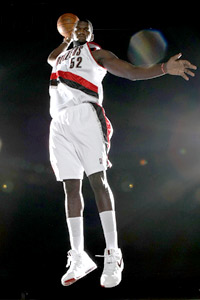 Jonathan Ferrey/Getty ImagesWith Oden ready to go, the Blazers plan on dumping the ball inside more often.

Fans in line struck up impromptu conversations and couldn't contain their excitement.

"God, I'm so excited for our team," one fan told a stranger standing next to him. "We're coming back. We're coming back with a bang."

Army private Nathan Emery was back in town from Iraq for 21 nights. He bought tickets to spend two of those nights at the Rose Garden watching Blazers exhibition games.

"To me, it's remembering the good old days," Emery said. "I'm 29 now, so I remember Terry Porter and Clyde Drexler and all that. Seeing these young guys get up, they're really trying now. It's nice to see them back in it."

In a place as small as Portland, there's no way for the players to escape the fan frenzy. They're the biggest names in town.

"It's crazy," Roy said. "I never felt excitement like this for a season. We had our fan fest, there were like 12,000 people in there. Not just how many people, it was the energy."

The fans are already acting like it's the playoffs. True story: They were chanting "De-fense" in the second quarter of the first exhibition game.

That's the same message coach Nate McMillan is trying to sell to his team.

"Our attitude, the focus is on the defensive end of the floor," he said. "Getting better defensively, and offensively trying to establish a post game. We want to go inside. We're going to take advantage of that. That was one of the things we didn't do last year, was get points in the paint.

"We're not going to walk the ball up the floor, but we're not going to run-and-gun. We want to run, and if there's nothing there, we want to execute a half-court offense establishing a low-post presence. We feel we have that this year. It's fundamental basketball."

Fundamental basketball is for the people who would rather read the book than watch the movie adaptation. And if you like the fundamentals, you'll like this team. It plays intelligently and unselfishly. No one's obsessed with touches or shots. The focus is on making the best play every time down the court, a tone set by Roy.

They have just about every component you could ask for: low-post defenders in Oden and backup Joel Przybilla. An up-and-coming power forward in LaMarcus Aldridge, who could be even more effective now that Oden's around to handle the big-boy work. Fernandez provides the fun factor, whether he's making slick passes or throwing down alley-oops from Sergio Rodriguez.

The Blazers improved by an average of 10 victories per season in McMillan's second and third seasons. Another 10 W's in Season 4 would get them to 51, which would have enabled them to sneak into the playoffs with the eighth spot in last season's ultra-competitive Western Conference.

They won't be sneaking around on anyone this season, not with everybody talking about them as the league's up-and-coming team. It's a dangerous combination of inexperience and expectations -- people expect them to make the playoffs, even though only two of their top players (Przyzbilla and Steve Blake) have ever played in the playoffs.

"We have some young talented players with potential," McMillan said. "But right now it's potential. What we have to do is put them out there and allow them to grow, allow them to blossom and build with this group."

In other words, the Blazers might not make your jaw drop right away. Give them time. This could turn into a long-term relationship.
J.A. Adande joined ESPN.com as an NBA columnist in August 2007 after 10 years with the Los Angeles Times. Click here to e-mail J.A.
ESPN.com senior writer since 2007
Around The Horn panelist
Formerly at Los Angeles Times
2008 NBA Training Camp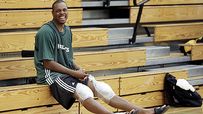 Camps have opened, and all 30 NBA teams are geared for a fresh start.
Training Camp Index
Celtics Camp

Reunited, and it feels so good. Especially after a summer spent basking in the glow of a title run. Now, the Celtics are back and eyeing another trophy.
•
Sheridan: Champs return for more
•
Insider: C's five camp questions
•
Watch: Can the Celtics win back-to-back titles?
Lakers Camp

Think the Lakers are soft after last season's Finals run-in with the C's? Have a look at Andrew Bynum, whose broad shoulders carry the weight of L.A.'s new title hopes.
•
Adande: Expectations for Bynum
•
Insider: Five camp observations
•
Watch: Lakers prepare to defend West
Heat Camp

His head coach is young, and so are his point guards. But is Heat shooting guard Dwyane Wade looking forward to a long and bright future in the Sunshine State?
•
Sheridan: Wade eyes Miami future
•
Insider: Five camp observations
•
Watch: Wade's gold standard
•
Watch: The Rookie, Episode 9
Hornets Camp

James Posey won titles at his previous two stops. New Orleans is counting on the versatile swingman to push it to similar territory.
•
Hollinger: Striking a Posey
•
Insider: Five camp observations
Blazers Camp

They're young, talented and a bunch of good guys. If you're looking for a team to love, these Trail Blazers might just be the right team.
•
Adande: Blazers in bloom
•
Insider: Five camp observations
Warriors Camp

John Hollinger checks out Warriors camp, where Golden State could trot out an impressive tall-ball lineup.
•
Insider: Five camp observations
Rockets Camp

Ron Artest doesn't want to be the No. 1 guy in Houston. He would be the sixth man if it meant the Rockets would make a title run.
•
Stein: Artest is worth the risk
•
Insider: Five camp observations
Suns Camp

You might think it's a shame the Suns are changing their approach. But Steve Nash and Co. aren't convinced it's such a bad idea.
•
Stein: Adjusting to new game plan
•
Insider: Five camp observations
•
Watch: O'Neal on the Suns
Cavs Camp

The Cavs didn't make any blockbuster moves this offseason, but LeBron & Co. could be better than you might think.
•
Windhorst: LeBron's outlook
•
Insider: Five camp observations
Bobcats Camp

Now that the Bobcats have Larry Brown at the helm are they finally ready to take that next step toward a playoff birth?
•
Bobcats' hopes hinge on May
Hollinger Team Forecasts

John Hollinger gives us a team-by-team rundown of all the offseason moves and predicts how each team will perform this season. Will it be another Celtics-Lakers Finals?
Atlantic
Celtics
|
Nets
|
Knicks
|
76ers
|
Raptors
Central
Bulls
|
Cavs
|
Pistons
|
Pacers
|
Bucks
Southeast
Hawks
|
Bobcats
|
Heat
|
Magic
|
Wizards
Northwest
Nuggets
|
Blazers
|
Wolves
|
Thunder
|
Jazz
Pacific
Warriors
|
Clippers
|
Lakers
|
Suns
|
Kings
Southwest
Mavs
|
Rockets
|
Grizzlies
|
Hornets
|
Spurs

MOST SENT STORIES ON ESPN.COM