Commentary
Blazers' Oden solid in preseason debut
Originally Published:
October 8, 2008
By
J.A. Adande
| ESPN.com
PORTLAND -- What a dazzling debut for the Trail Blazers rookie. Rudy Fernandez, that is.

Oh, you want to know about Greg Oden? He was OK. For a ravenous Portland fan base that has waited almost 16 months for this moment, his first game in an official Blazers uniform, that was just fine. Thirteen points, five rebounds and two blocked shots were enough to get him a standing ovation when he walked off the court at the Rose Garden with 6:36 remaining in the Trail Blazers' 110-81 exhibition-game romp over Sacramento, after he reached his predetermined limit of 20 minutes' playing time.

It's like the first time you go to see your friend's new baby. He just sits there and scrunches his face -- if he's even awake. And everybody smiles and giggles and calls it a successful day.

Oden grabbed a few rebounds and made a few dunks. But most important was that he was on the court.

Fernandez had the best highlights. He rose to throw down a lob from fellow Spaniard Sergio Rodriguez on an alley-oop, then threw a bounce pass between Jason Thompson's legs to LaMarcus Aldridge for a dunk. He topped that by catching another Rodriguez lob and spinning in a ridiculous, dipsy-do reverse layup off the glass. Then he dropped a couple of dimes to Martell Webster for two more dunks.

He stole the show and had the crowd chanting, "Ru-dy, Ru-dy." He picked up right where he left off in the Olympic gold-medal game.

All of the pregame attention was on Oden. The postgame buzz was about Fernandez.

For Oden, there were tempered expectations. There's no need to crank up the rookie of the year hype machine. If this game serves as a metaphor, it will be a while before Oden reaches top form. For much of the night, the operative word was "low."

He didn't elevate high or quickly. He released the ball early on his hook shot before he reached his peak. He was more likely to be around the offensive rim collecting missed shots and slamming them home than to be at the defensive rim swatting away shots. He used his size but didn't play bigger than he is. He might have made his greatest impact by drawing fouls -- including three on Spencer Hawes in the first three minutes.

His most memorable moment came in the second half when he rejected a shot by Hawes. On the other end, he dropped in a hook shot.

"I felt I did all right," Oden said. "I wanted to grow and get better from there."

But he rolled his ankle in the first half, setting him back even more. He was huffing and puffing five minutes into this game.

"The focus is on his conditioning," Blazers coach Nate McMillan said. "We feel once he gets into shape, it's going to be tough to play him."

He needs to play more games to get better, and we need to see more games so we can project how good his "better" can be. He's been on the national stage for 32 college games but spent most of that time dealing with a right wrist that was so messed up that he had to shoot his free throws left-handed. (Oden is right-handed.) After the Blazers took him with the top pick in the 2007 draft, he played two summer league games before he had his tonsils removed and missed the rest. Then came the worst news: He had microfracture knee surgery that sidelined him for the entire 2007-08 season.

That made Tuesday night's exhibition opener the longest-awaited debut for a No. 1 pick since David Robinson spent two years fulfilling his Navy commitment before he joined the Spurs in 1989. But for Blazers fans, this wasn't just about the wait for Oden. It's about the decades after decades that have passed since the franchise won its only championship in 1977. It's about the pent-up desire just to have a group of players worth investing the emotional energy.

Investments? It's as if Oden is supposed to rescue Wall Street. He was internalizing the pressure. Folks around the Blazers said he seemed more nervous of late. Finally, to relieve the tension in the pregame locker room, backup center Joel Przybilla told Oden just to take a breath and reminded him that it was only basketball.

Even then, Oden didn't settle into a groove right away. He was called for a defensive three-second violation for hanging out in the lane on Sacramento's first possession. He missed his first hook shot badly.

On a missed jumper, Oden got around Hawes for a tip attempt and drew a foul on Hawes. The crowd roared. The next offensive rebound Oden grabbed, he went back up and dunked.

"I thought he was effective," said former Portland center Wayne Cooper, who's now Sacramento's vice president of basketball operations. "He's so strong around the basket, it's really tough to stop him one-on-one. They've got some great shooters around him.

"You can tell he hadn't played in a year, but he looked good. He had a little difficulty with lateral movement. That's going to come with playing. And his timing's going to come."

Those were the observations of someone who didn't have to guard him. Mikki Moore was one of the Kings who had that task, and his description of Oden was: "Heavy. Very heavy.

"Once you play good individual defense on him, if he shoots the ball and he misses it, it ain't easy to go back and get it because you used all your energy just to keep him out of the paint. He's going to be a force. Everybody's going to have to adjust to him."

After he backed in and dunked enough times, the Kings adjusted by sending double-teams. Oden skillfully passed to the open shooters and picked up a couple of assists.

Those won't make the highlights. They weren't near as dazzling as Fernandez's performance.

But the Blazers didn't draft Oden for his passing. And the fans didn't come to the Rose Garden for a Rudy referendum. You still need big men to win in the NBA. And the Blazers are still waiting to see just how big their No. 1 pick from a year ago can be.

J.A. Adande joined ESPN.com as an NBA columnist in August 2007 after 10 years with the Los Angeles Times. Click here to e-mail J.A.
ESPN.com senior writer since 2007
Around The Horn panelist
Formerly at Los Angeles Times
SPONSORED HEADLINES
MORE NBA HEADLINES
MOST SENT STORIES ON ESPN.COM
2008 NBA Training Camp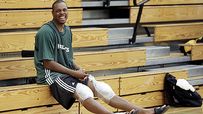 Camps have opened, and all 30 NBA teams are geared for a fresh start.
Training Camp Index
Celtics Camp

Reunited, and it feels so good. Especially after a summer spent basking in the glow of a title run. Now, the Celtics are back and eyeing another trophy.
•
Sheridan: Champs return for more
•
Insider: C's five camp questions
•
Watch: Can the Celtics win back-to-back titles?
Lakers Camp

Think the Lakers are soft after last season's Finals run-in with the C's? Have a look at Andrew Bynum, whose broad shoulders carry the weight of L.A.'s new title hopes.
•
Adande: Expectations for Bynum
•
Insider: Five camp observations
•
Watch: Lakers prepare to defend West
Heat Camp

His head coach is young, and so are his point guards. But is Heat shooting guard Dwyane Wade looking forward to a long and bright future in the Sunshine State?
•
Sheridan: Wade eyes Miami future
•
Insider: Five camp observations
•
Watch: Wade's gold standard
•
Watch: The Rookie, Episode 9
Hornets Camp

James Posey won titles at his previous two stops. New Orleans is counting on the versatile swingman to push it to similar territory.
•
Hollinger: Striking a Posey
•
Insider: Five camp observations
Blazers Camp

They're young, talented and a bunch of good guys. If you're looking for a team to love, these Trail Blazers might just be the right team.
•
Adande: Blazers in bloom
•
Insider: Five camp observations
Warriors Camp

John Hollinger checks out Warriors camp, where Golden State could trot out an impressive tall-ball lineup.
•
Insider: Five camp observations
Rockets Camp

Ron Artest doesn't want to be the No. 1 guy in Houston. He would be the sixth man if it meant the Rockets would make a title run.
•
Stein: Artest is worth the risk
•
Insider: Five camp observations
Suns Camp

You might think it's a shame the Suns are changing their approach. But Steve Nash and Co. aren't convinced it's such a bad idea.
•
Stein: Adjusting to new game plan
•
Insider: Five camp observations
•
Watch: O'Neal on the Suns
Cavs Camp

The Cavs didn't make any blockbuster moves this offseason, but LeBron & Co. could be better than you might think.
•
Windhorst: LeBron's outlook
•
Insider: Five camp observations
Bobcats Camp

Now that the Bobcats have Larry Brown at the helm are they finally ready to take that next step toward a playoff birth?
•
Bobcats' hopes hinge on May
Hollinger Team Forecasts

John Hollinger gives us a team-by-team rundown of all the offseason moves and predicts how each team will perform this season. Will it be another Celtics-Lakers Finals?
Atlantic
Celtics
|
Nets
|
Knicks
|
76ers
|
Raptors
Central
Bulls
|
Cavs
|
Pistons
|
Pacers
|
Bucks
Southeast
Hawks
|
Bobcats
|
Heat
|
Magic
|
Wizards
Northwest
Nuggets
|
Blazers
|
Wolves
|
Thunder
|
Jazz
Pacific
Warriors
|
Clippers
|
Lakers
|
Suns
|
Kings
Southwest
Mavs
|
Rockets
|
Grizzlies
|
Hornets
|
Spurs