Commentary
Hollinger's Team Forecast: New Jersey Nets
Originally Published:
September 30, 2008
By
John Hollinger
| ESPN.com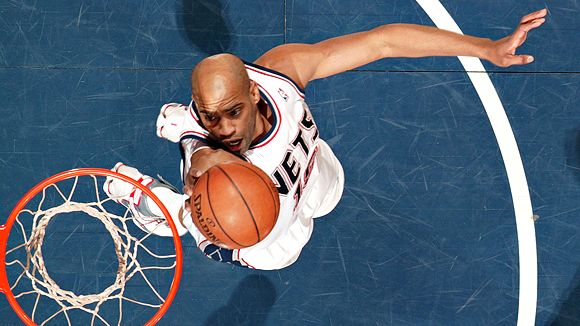 Ned Dishman/Getty ImagesWith Jason Kidd and Richard Jefferson gone, there is no doubt Vince Carter is the leader of the Nets.

GO TO: 2007-08 Recap Offseason Moves Biggest Strength/Weakness Outlook


2007-08 Recap
It's like they say in all those 12-step programs -- admitting you have a problem is the first step.
So after bravely clinging to the fiction that they were still Eastern Conference contenders for a year and a half, the Nets finally succumbed to reality midway through last season. Out went Jason Kidd and Jason Collins, with Richard Jefferson to follow over the summer, and the Nets' rebuilding project was finally underway.
HOLLINGER'S '07-08 STATS
W-L: 34-48 (Pythagorean W-L: 25-57)
Offensive Efficiency: 101.4 (25th)
Defensive Efficiency: 106.6 (21st)
Pace Factor: 93.9 (16th)
Highest PER: Vince Carter (18.87)
At first, it seemed the Nets might delay the inevitable dynamite job for another year, as an incredible string of good fortune in close games had them at 18-17 nearing midseason -- mainly because they were 14-3 in games decided by six points or less to that point.
Obviously that was unsustainable -- there's a reason they're called 50-50 games, and nobody wins 82 percent of them for long. Things quickly fell apart on the West Coast trip from hell in January -- one that gave them the final six of a nine-game losing streak, and one that made clear that regardless of whether the Nets were ready to move on without Kidd, he was more than ready to move on without the Nets.
With their destiny obvious, the Nets made themselves a heck of a deal to restart the rebuilding. Kidd, Malik Allen and Antoine Wright were sent to Dallas for Devin Harris, DeSagana Diop, first-round picks in 2008 and 2010, and $3 million in cash.
Harris is 10 years younger than Kidd, makes half as much and was arguably a better player even last season, so a Kidd-for-Harris swap alone would have been hugely in New Jersey's favor. The fact they got two firsts in the deal as well and the second has no lottery protection puts it way over the top into the victory category.
Around the same time the Nets traded Collins to Memphis for Stromile Swift, a deal that produced some marginal cap savings but otherwise served mostly as an added indicator of the rebuilding project ahead.
On the court, the Nets were increasingly a Carter-and-Jefferson offense, as even before the trade Kidd was hardly ever shooting. The two combined for nearly 44 points per game, but neither seemed to give as concerted an effort at the defensive end.
In fact, that had to be the most disappointing part of the season. Throughout the Kidd era, the Nets had won by being a top-10 defensive team or even top-5 defensive team; for all the wonder over Kidd's passing, the offense was mostly incidental to their success. But with Kidd and Collins fading, Jefferson and Carter slacking, and the bench troops largely inadequate, New Jersey slumped to 21st in defensive efficiency last season.
They would have been a middle-of-the-pack defense if not for the rampant fouling. While they weren't as bad as Utah (really, who is?), the Nets ranked 28th in opponent free-throw attempts per field-goal attempt. One can spin this as a positive and argue that at least they were still trying -- many bad defensive teams have low foul rates because they've essentially given up -- but it still killed New Jersey.
One can also argue that the poor defensive results pointed out the deficiencies of the second unit, and more generally of the Nets' youth contingent. While Josh Boone was a pleasant surprise and took over as the starting center, the others disappointed:
• Marcus Williams had another turnover-plagued, me-first, defensively flammable season as Kidd's backup at the point;
• Wright saw heavy playing time but proved to be extremely limited offensively;
• Nenad Krstic struggled mightily in his return from knee surgery;
• and Sean Williams showed promise as a shot blocker but couldn't remember offensive plays or defensive game plans well enough to stay on the floor.
Thanks to those failures, the Nets again had piddling bench production. Bostjan Nachbar was the only reserve to play well, and he was often competing as an undersized power forward and further exposing the team's defensive troubles.
At the offensive end New Jersey was even worse, ranking 25th in offensive efficiency. The Nets' offense was notable mostly for its lack of secondary players who could create their own shot. While Carter and Jefferson took most of the shots, the others would generally only get a bucket if Carter or Kidd set it up.
Percentage of Baskets Assisted, 2007-08 Leaders
| | |
| --- | --- |
| TEAM | % ASSISTED |
| New Jersey | 67.4 |
| Utah | 66.0 |
| Phoenix | 64.5 |
| Toronto | 62.0 |
| L.A. Lakers | 61.7 |
| League Average | 58.4 |
The proof is one big number -- the Nets had the highest rate of assisted baskets in the league, with more than two-thirds of their buckets earning a dime (see chart). One can take this as a positive, that the Nets were really good passers, but in this case it was indicative of weakness. The Nets needed assists to score because they lacked good one-on-one players.
And don't let that record fool you. The Nets finished 34-48, but had the league's most misleading record. As I mentioned above, the Nets had insanely good fortune in close games last season, and we know from past history that this isn't a trend that holds up from year to year -- in other words, it's basically dumb luck.
In fact, New Jersey had the point differential of a 25-win team, the NBA's largest differential between real and expected wins (see chart). In terms of point differential, the Nets had a lot more in common with the T'wolves and Grizzlies than with the Bulls and Pacers, and that's an important distinction going forward -- this is a major rebuilding job.
Real vs. Expected Wins: Biggest Positive Differentials
| | | | |
| --- | --- | --- | --- |
| TEAM | REAL WINS | EXPECTED WINS | DIFFERENCE |
| New Jersey | 34 | 24.6 | +9.4 |
| Milwaukee | 26 | 20.0 | +6.0 |
| Charlotte | 32 | 26.7 | +5.3 |
| Cleveland | 45 | 39.8 | +5.2 |
| L.A. Clippers | 23 | 18.5 | +4.5 |
So there's a lot of work to do. Lawrence Frank is still on hand, but he'll likely have to coach very differently than he has the past few years. No longer is he trying to squeeze a few extra victories out of a veteran crew; now it's a question of developing the young talent and letting them play through a few mistakes. Though he's one of the league's best-prepared and hardest-working coaches, he's already under fire given the Nets' underwhelming results the past two years. We'll see if he can make the adjustment.
---
Biggest Strength: Frontcourt depth
The Nets don't have any stars in the frontcourt, but they've amassed a lot of young talent at the two spots and in a couple of years could have a very strong rotation here. The surprise availability of Lopez on draft day gives them a strong building block at the center spot, as he can score in the post and hit midrange jumpers -- the two things Krstic provided before he wrecked his knee.
OFFSEASON MOVES

What roster moves did the Nets make over the summer? Were they the right moves? John Hollinger breaks it down. Insider

He'll have to beat out Josh Boone first, though. The third-year big man can't shoot, especially if it's a free throw, but he's great at rolling to the rim on pick-and-rolls and converting short shots around the basket, and he rebounds.
Lopez and Boone could start together, too, but Yi may scupper those plans. While cynics wonder if he was imported to capitalize on the New York area's large Asian population, he also showed a lot of skill in his rookie year before hitting the wall at midseason. The 7-footer has good quickness and can shoot, but he's still learning where his shots are coming from and how to defend NBA post players.
Williams, a 2007 first-rounder, also has some serious promise. He had one of the league's top shot-blocking rates and proved to be a force in transition. He only needs to improve his understanding in half-court situations on both ends of the floor to be a productive high-energy type off the pine.
Somewhere in all this lies Najera, whose defense, toughness and midrange shooting are likely to be highly prized by Frank -- witness his previous heavy use of the likes of Malik Allen and Clifford Robinson. The key will be spotting him minutes without impinging on the growth of the four kids.
And don't sleep on Swift, who despite his multitudinous mental errors remains a fairly productive NBA power forward. As a sixth quality big man he's a major luxury, and one wonders if he'll be traded for some more help on the wings.
Biggest Weakness: Small forward
You can almost hear Nets GM Rod Thorn yelling across to Cleveland, "C'mon LeBron, we're even leaving your position unfilled!" New Jersey enters the year with Simmons and Hayes battling for the starting small forward gig; whoever wins will immediately become one of the league's worst starters.
Simmons is the more likely of the two to triumph, as he's a better defender and his ability to shoot from the corners gives the Nets a threat that's largely absent from the rest of the roster. However, he's done little of note in the past three seasons and almost never scores in the paint.
Behind him there's Hayes, who is up and down as a shooter and brings little else to the table. Detroit gave up on him after a year because of his defensive shortcomings -- he's had multiple knee injuries and they appear to have compromised his movement some.
Also figuring in the picture is Douglas-Roberts, who can't shoot from deep but has a scorer's instincts, and Yi, whose perimeter skills may allow him to steal some minutes on the wing when the matchups are right.
But in crunch time, don't be surprised if Carter is playing here in a smaller lineup with Dooling and Harris at the guard slots. That's the arrangement which gives New Jersey its best five players on the floor.
Outlook
The Nets already know they aren't headed for glory these next two years, but they're hoping to establish enough of a nucleus with Harris and the young bigs that a major free agent -- I can't think of any names at the moment, can you? -- would be willing to join the program and put them over the top in 2010.
The goal in the meantime will be to challenge for a playoff spot and keep some hope alive for the 11 remaining fans at Izod Center. It's not going to be easy -- New Jersey looks undermanned at the offensive end and its wing depth is shaky at best, plus the young frontcourt may have to take its lumps for another year or two before it blossoms.
In fact, the biggest story this year for the Nets may be what they do with Carter, the lone remaining veteran star. He seemed to decline last year and has never dealt well with being in a leadership role, so it might be better for the Nets to trade him sooner rather than later. With any luck, sometime near the trade deadline a team will get just as desperate for him as the Mavs were for Kidd a year ago.
In the meantime, expect a long year. New Jersey won't be the worst team in the league, but it might be the worst in the East.
Prediction: 27-55, 5th in Atlantic Division, 15th in Eastern Conference
John Hollinger writes for ESPN Insider. To e-mail him, click here.
HOLLINGER'S TEAM FORECASTS
New Jersey Nets

TRAINING CAMP
Sept. 26: East Rutherford, N.J.
PRESEASON OPENER
Oct. 9: at Miami
SEASON OPENER
Oct. 29: at Washington
TRAINING CAMP INDEX
Team Forecasts