Commentary
Artest creates a title frenzy in Houston
Updated:
October 10, 2008, 6:41 PM ET
By
Marc Stein
| ESPN.com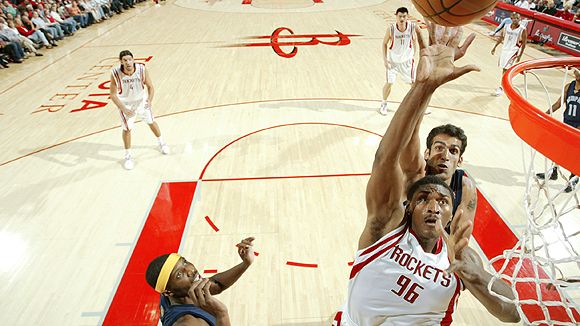 Bill Baptist/NBAE/Getty ImagesWhat does Ron Artest know about long playoff runs? In nine trips to the postseason he has advanced past the first round only once. Well, for T-Mac and Yao Ming, that is more than they can say.
HOUSTON -- As he lifts off the first No. 96 jersey in NBA history, smiling uncontrollably at his corner locker after playing his first game for the Houston Rockets, Ron Artest insists that he's really like a lot of you conservatives out there.
OK, OK. Let's clarify a little.
Giddy as he is about the chance to show off his numerical creativity in Houston and inspired by all the grandiose talk his arrival has generated, Artest insists that he's just like any of you who've been thinking that the Rockets shouldn't be hyped up too much just because of the new guy.
Don't those hype-machine operators know that Ron-Ron has had his own problems getting past the first round of the playoffs?
"That's true," Artest says. "That's very true. I think the same thing sometimes. I come here and I get this big welcome, 500 fans or something [at an August pep rally to greet Artest's arrival], and I'm like, wow, I haven't even won anything yet.''
You can look it up: Artest has advanced out of the first round just once in his first nine seasons, which is one time more than either Tracy McGrady or Yao Ming can claim. That sort of math makes it a bold leap to describe him as the Rockets' missing piece to snap in alongside Yao and T-Mac, especially since Artest hasn't exactly made a regular bid for a spot on the NBA's All-Reliable Team.
Rockets Camp

If everyone stays healthy can Houston work its deep 11-man rotation? Marc Stein makes five observations from Rockets camp. Insider



• Hollinger: Rockets add wild card

Yet you also had to know that trying to temper expectations in Houston would be futile, for Artest or anyone else, after the Rockets followed up a 22-game winning streak amid all of last season's injuries by swinging the trade of the summer in late July. You might recall that in each of the previous three offseasons -- when the newcomers ranged from
Stromile Swift
to
Bonzi Wells
to
Luis Scola
-- Houston was widely hailed as the West's proactive, rising force. A full-on frenzy, then, was the only conceivable outcome with a move of this magnitude.
''It's exciting," said guard Brent Barry, Houston's other chief offseason import. "It's amazing how many people sit on pins and needles when you bring up his name, but I think people who understand this game know exactly what kind of talent you're talking about.
"For the basketball people, they understand that this kind of [team] adding that kind of talent is something that could really be explosive. We'll see how it plays out."
We haven't been able to see too much yet of McGrady, who is still recovering from offseason knee and shoulder surgeries and is unsure how many exhibition games he'll be able to play after missing the first two. And veteran glue guy Shane Battier -- who could move to the bench to make room for Artest or retain his spot in the starting lineup if Artest becomes Houston's sixth man -- is expected to miss the entire month of October thanks to a slow-recovering foot injury. With Rockets coach Rick Adelman also working Yao back in slowly after a stress fracture that sidelined his 7-foot-6 center for last season's final 27 games as well as the playoffs, Artest doesn't have to do any fitting in right now.

More than anything, I'm here to be a complement. I'm not here to be the face. I ain't here to be the No. 1 name.
-- Ron Artest
The skeptic might describe that as a dangerous start for the Rockets, giving Artest so much off-the-bat prominence and then asking him to scale back when the games start counting or perhaps even move to the bench. But the Rockets aren't nearly that skittish, for all their attempts to speak modestly about what the Artest acquisition can do for them, because the risk is inarguably minimal no matter what you think of Houston's big-picture chances.
Artest, who turns 29 next month, is in the final year of his contract and obviously needs a successful season for his future. He's reuniting with his self-proclaimed favorite coach after a half-season of success under Adelman in Sacramento in 2006 and hooking up with two franchise players who hold Artest's respect, making it easier for the Rockets to establish the pecking order most top teams have. Determined to provide a support system for Artest and anyone else in the locker room who needs it, Houston recently hired former NBA guard Shawn Respert -- who gained a reputation as a player mentor while serving as director of basketball operations in the D-League -- as its new director of player programs.
If this gamble backfires and Artest's presence causes too much tension? Houston will have surrendered only rookie Donte Greene and another future first-round pick that figures to fall outside the lottery. The belief is that Artest can be the X factor to help the Rockets finally win a playoff series for the first time since 1997.
And if the dice roll does pay off? For a minimal cost, Houston general manager Daryl Morey -- nowadays regularly described as a whiz kid thanks to his acquisitions of Artest and Scola after being prematurely derided as an inexperienced numbers guy from the "Moneyball" school -- has furnished the heretofore soft Rockets with an enforcer who can play three positions as well as a broad-shouldered scorer to step in if Yao or T-Mac gets hurt.
So we wonder: Isn't there more to fear here in the health histories of Houston's two cornerstone players?
"I'm an evidence guy," Morey said. "And a look at the evidence [over Artest's career] says that there's some risk there. But I think we've mitigated any risk as well as we can."
It sounds as though Adelman has even less hesitation. Summoned to a meeting earlier this week with Rockets owner Les Alexander and Morey, Adelman was asked to assess Houston's odds of legit contention. He promptly told Alexander that he likes the Rockets' title chances as much as any other team's.
"He seems really at ease playing with these guys," Adelman said of Artest.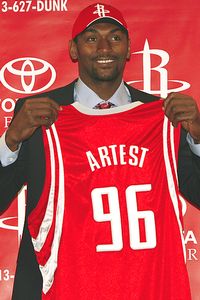 Bill Baptist/NBAE/Getty ImagesIs Ron-Ron really going to be able to deal with a sixth-man role?
Added Barry, who's hardly prone to hyperbole after four seasons with ever-humble San Antonio: "A lot of people say when things are going great, Ron is going great, and when things are going bad, then you have to watch out. We'll see if any of that crops up at any point this season, but … just physically he's such a presence. Even our own guys, walking in and seeing Ron for the first time in a jersey … this is a guy that should have a helmet on and shoulder pads out here, but then he's moving his feet and has the lateral quickness to be able to guard
Aaron Brooks
full court. Even in [the] slight bit of scrimmaging and up and down play we've done, he's just been unstoppable. He really is a guy you can't match up against."
He's also a guy trying hard not to say anything that gets him in trouble, knowing that folks are just waiting for the first big blowup.
Any seasoned Artest-watcher knows that, by the time you finish reading this sentence, something new and inflammatory from Artest's mouth might be dribbling into circulation. His go-to move remains the 180-degree spin … and he doesn't even deny it.
"That's one of my biggest problems," Artest says. "People always know what's on my mind. I always tell people how I'm feeling."
But he's been consistent with the restraint so far, rejecting every chance to do what he usually does and loudly guarantee a title run. (Throughout his final season as a King, many of Artest's e-mails ended with the sign-off: "2008 NBA Champions.")
If you're looking for Artest's wildest Houston act to date, it's probably his choice of jersey number, which he justifies by explaining that the 9 and the 6 are the digits that look most like a lower-case Q and lower-case B -- qb -- so he can pay tribute to his Queensbridge roots in Queens, New York.
"Some people want to hear bad things," Artest said. "If it's good, it's not a story.
"You can tell everybody I've been having a ball. More than anything, I'm here to be a complement. I'm not here to be the face. I ain't here to be the No. 1 name. I'm not here for none of that. I'm here to complement and I'm here because everybody's expectations [are] high.
"We have expectations here. You don't have to say what those expectations are all the time, but in the back of our minds, everybody knows what the expectations are. You gotta walk the walk. I can say [championship] all I want and I could keep saying it until I can't say it no more, but we gotta walk the walk."
Pressed for what he considers reasonable expectations for his new team, Artest added: "We need to get Tracy back and then you can ask that question." The only guarantee I heard from Artest during my brief visit in town, prompted by his early string of 3-pointers (6-for-10) in exhibition play: "I will not let teams double Yao and Tracy."
Said McGrady: "It's definitely the best team I've ever been a part of. We have a lot of stuff here. … [But] myself and Yao, even without the additions that we've [made], we've had some great runs in the regular season, but it's not even about that no more. It's about the second part of the season. And that's the playoffs, seeing what we do when we get there."
Marc Stein is the senior NBA writer for ESPN.com. To e-mail him, click here.
Senior Writer, ESPN.com
• Senior NBA writer for ESPN.com
• Began covering the NBA in 1993-94
• Also covered soccer, tennis and the Olympics
2008 NBA Training Camp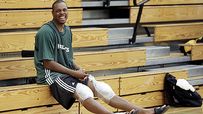 Camps have opened, and all 30 NBA teams are geared for a fresh start.
Training Camp Index
Celtics Camp

Reunited, and it feels so good. Especially after a summer spent basking in the glow of a title run. Now, the Celtics are back and eyeing another trophy.
•
Sheridan: Champs return for more
•
Insider: C's five camp questions
•
Watch: Can the Celtics win back-to-back titles?
Lakers Camp

Think the Lakers are soft after last season's Finals run-in with the C's? Have a look at Andrew Bynum, whose broad shoulders carry the weight of L.A.'s new title hopes.
•
Adande: Expectations for Bynum
•
Insider: Five camp observations
•
Watch: Lakers prepare to defend West
Heat Camp

His head coach is young, and so are his point guards. But is Heat shooting guard Dwyane Wade looking forward to a long and bright future in the Sunshine State?
•
Sheridan: Wade eyes Miami future
•
Insider: Five camp observations
•
Watch: Wade's gold standard
•
Watch: The Rookie, Episode 9
Hornets Camp

James Posey won titles at his previous two stops. New Orleans is counting on the versatile swingman to push it to similar territory.
•
Hollinger: Striking a Posey
•
Insider: Five camp observations
Blazers Camp

They're young, talented and a bunch of good guys. If you're looking for a team to love, these Trail Blazers might just be the right team.
•
Adande: Blazers in bloom
•
Insider: Five camp observations
Warriors Camp

John Hollinger checks out Warriors camp, where Golden State could trot out an impressive tall-ball lineup.
•
Insider: Five camp observations
Rockets Camp

Ron Artest doesn't want to be the No. 1 guy in Houston. He would be the sixth man if it meant the Rockets would make a title run.
•
Stein: Artest is worth the risk
•
Insider: Five camp observations
Suns Camp

You might think it's a shame the Suns are changing their approach. But Steve Nash and Co. aren't convinced it's such a bad idea.
•
Stein: Adjusting to new game plan
•
Insider: Five camp observations
•
Watch: O'Neal on the Suns
Cavs Camp

The Cavs didn't make any blockbuster moves this offseason, but LeBron & Co. could be better than you might think.
•
Windhorst: LeBron's outlook
•
Insider: Five camp observations
Bobcats Camp

Now that the Bobcats have Larry Brown at the helm are they finally ready to take that next step toward a playoff birth?
•
Bobcats' hopes hinge on May
Hollinger Team Forecasts

John Hollinger gives us a team-by-team rundown of all the offseason moves and predicts how each team will perform this season. Will it be another Celtics-Lakers Finals?
Atlantic
Celtics
|
Nets
|
Knicks
|
76ers
|
Raptors
Central
Bulls
|
Cavs
|
Pistons
|
Pacers
|
Bucks
Southeast
Hawks
|
Bobcats
|
Heat
|
Magic
|
Wizards
Northwest
Nuggets
|
Blazers
|
Wolves
|
Thunder
|
Jazz
Pacific
Warriors
|
Clippers
|
Lakers
|
Suns
|
Kings
Southwest
Mavs
|
Rockets
|
Grizzlies
|
Hornets
|
Spurs

MOST SENT STORIES ON ESPN.COM