kpelton

Kevin Pelton


Using a variety of stats to compare former GSW teammates Monta Ellis and Klay Thompson. Per Diem: http://t.co/PfadFemko0 ($)
2 minutes ago

TrueHoop

Henry Abbott


RT @talkhoops: 5 JJ Bareas MT @TrueHoop: It's early but NBA teams have not scored well against this surprising collection of players http:/…
9 minutes ago

ESPNSteinLine

Marc Stein


RT @BBROWNLAU: @ESPNSteinLine You missed a good game 2nite in China. 2 Fullerton Titans goin at it. Josh vs Bobby hahahahaha (I NEED VIDEO!)
13 minutes ago

kpelton

Kevin Pelton


My three 25 under 25 votes who didn't make the cut: Bradley Beal (21), Jimmy Butler (23), Terrence Jones (24).
19 minutes ago

TrueHoop

Henry Abbott


It's early yet, but NBA teams have not scored well against this surprising collection of players: http://t.co/AcA8SzjIuK
21 minutes ago

kevinarnovitz

Kevin Arnovitz


No disrespect to Willie Mays (the clause shouldn't even exist in English), but No. 8 is a cooler number than No. 24 all things being equal.
29 minutes ago

kpelton

Kevin Pelton


@AminESPN You can still claim to like 5 different fan bases their guy was next on your list.
33 minutes ago

kpelton

Kevin Pelton


Insider's Top 25 Under 25 returns w/a composite ranking from @AminESPN, @coachthorpe and me: http://t.co/ciuxjheVOs ($)
34 minutes ago

WallaceNBA_ESPN

Michael Wallace


RT @560WQAM: Missed @WallaceNBA_ESPN on the @AlexDonno show? Listen here: http://t.co/A1kbeuoJXC
34 minutes ago

ESPNNBA

NBA on ESPN


10 years ago today, Mike D'Antoni coached his first game for the @Suns, a loss to the Hornets. D'Antoni went 253-136 in 4+ seasons w/ PHX.
36 minutes ago

IzzyESPN

Israel Gutierrez


Watched Gators-KU on plane last night. Wish UF had one more shooter, but can't wait to see this team w/ Chris Walker.
about an hour ago

IzzyESPN

Israel Gutierrez


Good morning, Bay Area. Lookin forward to a rowdy Oracle tonight for Mavs-Warriors on ESPN w/ @DavePasch and Doug Collins.
about an hour ago

JustinVerrier

Justin Verrier


RT @tomhaberstroh: .@ZachLowe_NBA talks to Brad Stevens. Read: http://t.co/CrJtEYwSH5
about an hour ago

tomhaberstroh

Tom Haberstroh


.@ZachLowe_NBA talks to Brad Stevens. Read: http://t.co/GVUntzlbrG
about an hour ago

tomhaberstroh

Tom Haberstroh


It's Wednesday! @TrueHoopTV Live at 2 ET with @SherwoodStrauss, @AminESPN and yours truly. http://t.co/n0dHbgC5Ue
about an hour ago

ESPNNBA

NBA on ESPN


Happy Birthday! Former @ATLHawks All-Star Shareef Abdur-Rahim (37) and @Pacers center Roy Hibbert (@Hoya2apacer) (27).
about an hour ago

ESPNNBA

NBA on ESPN


After a .500 road trip, the Heat head home looking to unpack some answers, writes @WallaceNBA_ESPN: http://t.co/lWt2jOYaiQ
about 2 hours ago

NBARumorCentral

ESPN


Mike Woodson's seat getting hotter? Reggie Jackson's future with OKC. Omer Asik's new agent. Casey in no man's land http://t.co/wYMOC19Wv7
about 2 hours ago

ESPNNBA

NBA on ESPN


The Spurs got the win, but @IamAmirJohnson had a HUGE block on Kawhi Leonard for the Raptors: http://t.co/cujr9h0gf6
about 2 hours ago

WallaceNBA_ESPN

Michael Wallace


Wallace: Heat return from turbulent road trip looking to unpack some answers http://t.co/zMvpL5l1pu
about 2 hours ago
FANTASY
Prepare for your draft with mocks and more.
MUST READ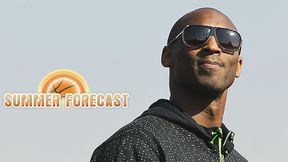 Who will be crowned NBA champs in 2010-11? MVP? Rookie of the Year? Our panel of NBA experts weighs in. Summer Forecast »
MEDIA
TV
NBA On ESPN

Wednesday, Dec. 11
Bulls at Knicks, 8 ET
Mavericks at Warriors, 10:30 ET

Radio
Frank Isola, NBA
Play Podcast The New York Daily News' Frank Isola discusses his experiences covering the Knicks, the team's reaction to media coverage, New York's struggles, Carmelo Anthony's future and more.
Opening Rant: 12/5
Play Podcast Colin Cowherd shares his thoughts about Carmelo Anthony's future with the Knicks and more.
Mark Jackson, Warriors HC
Play Podcast Warriors head coach Mark Jackson joins The Dan LeBatard Show to discuss George Karl's comments regarding his coaching style during last year's playoffs.
Podcasts
Fantasy Focus Basketball
Play Podcast Doug Kezirian chats with Dave McMenamin about how Kobe Bryant's return impacts the Lakers' role players. Plus, Tom Carpenter on Omer Asik, Rudy Gay and much more.
Keith Olbermann
Play Podcast Keith Olbermann discusses the NFL playoff picture, baseball's winter meetings and the Pacers' win over the Heat. Plus, he's joined by Tim Legler.
NBA Lockdown
Play Podcast Bruce Bowen and Israel Gutierrez break down Kobe Bryant's return to the floor, OKC's big win over the Pacers, preview Tuesday's big Heat-Pacers matchup and much more.