mcten

Dave McMenamin


New column up in the blog: As Wiggins rises, Cavs' Love choice works http://t.co/Whs5aH20dG
47 minutes ago

ESPNNBA

NBA on ESPN


Rockets expect Dwight Howard to be out at least a month. Superman's right knee has been his kryptonite so far. » http://t.co/wZvHsgFEUB
about an hour ago

ESPNNBA

NBA on ESPN


Stephen Curry with the nice 4th Quarter alley-oop pass to Andrew Bogut who flushes it home.» http://t.co/M4O5C3WhCV
about an hour ago

ESPNNBA

NBA on ESPN


Warriors golden! Stephen Curry cashes in 25 Pts & 7 Ast as Warriors beat Suns, 106-87. GSW ends its 2-game slide. http://t.co/9nfASjkEy4
about 2 hours ago

kpelton

Kevin Pelton


#pac12afterdark RT @JohnGasaway: Stanford's 1.34 PPP @ WSU was Cardinal's best offense in Pac-12/10 play in 8 years (2/17/07). Lost 89-88.
about 2 hours ago

ESPNNBA

NBA on ESPN


Under 9 minutes to go in the 4th Quarter... Warriors lead Suns by 9.
about 2 hours ago

ESPNSteinLine

Marc Stein


As Aussie Open final nears, I ask thee @PatrickMcEnroe: PLEASE ask your bro to convince Nike to BRING THESE BACK! http://t.co/dZa1XVJ2Hv
about 2 hours ago

APkrawczynski

Jon Krawczynski


Wiggins: "I felt like this is the better spot for me. I've grown a lot more here than I would have there."
about 3 hours ago

ESPNNBA

NBA on ESPN


Rout City! Blake Griffin drops 31 Pts as Clippers beat Spurs, 105-85. LAC wins its previous 7 games out of 8. http://t.co/gY0ZdmnjPG
about 3 hours ago

ESPNNBA

NBA on ESPN


Rout City! Blake Griffin drops 31 Pts as Clippers beat Spurs, 105-85. LAC wins its previous 7 games out of 8. http://t.co/BcAfombijX
about 3 hours ago

ESPNSteinLine

Marc Stein


ESPN sources say Rockets star center Dwight Howard likely to miss at least a month. Linkage ---> http://t.co/aOPgynzdi3
about 3 hours ago

ESPNNBA

NBA on ESPN


Bucks Giannis "Greek Freak" Antetokounmpo throws down the #SCtop10 Windmill Dunk with authority! » http://t.co/tTxHtPxaD9
about 3 hours ago

ESPNNBA

NBA on ESPN


Next time Tony Parker tries a lay up against DeAndre Jordan... it would be wise to think twice about it. #SCtop10 » http://t.co/Llcg1v3CsU
about 3 hours ago

ESPNNBA

NBA on ESPN


Nuggets a no show! Hornets dispatch Nuggets, 104-86. Charlotte uses balanced attack w/ 6 players in double figures. http://t.co/9I4jmwiky2
about 3 hours ago

ESPNNBA

NBA on ESPN


Bucks Giannis "Greak Freak" Antetokounmpo throws down the #SCtop10 Windmill Dunk with authority! » http://t.co/tTxHtPxaD9
about 3 hours ago

ESPNNBA

NBA on ESPN


Blazers off Trail. Despite 19 Pts from Damian Lillard & Wesley Matthews, Bucks defeat Blazers, 95-88. http://t.co/e9oroQQ3mY
about 4 hours ago

kpelton

Kevin Pelton


It's a completely intentional foul to stop a fast break, exactly what the rule is supposed to prevent, but as written it falls short.
about 4 hours ago

ESPNNBA

NBA on ESPN


Even though Kevin Love got the last laugh, it was not all happy in the beginning. » http://t.co/ytb13YIyD2
about 4 hours ago

kpelton

Kevin Pelton


Paul's foul is a perverse incentive of the clear-path rule as currently written: He had to foul Ginobili before he could pass ahead.
about 4 hours ago

kpelton

Kevin Pelton


@ESPNSteinLine They're worse than pushovers on the road!
about 4 hours ago
FANTASY
Prepare for your draft with mocks and more.
MUST READ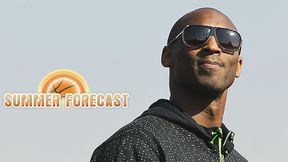 Who will be crowned NBA champs in 2010-11? MVP? Rookie of the Year? Our panel of NBA experts weighs in. Summer Forecast »
MEDIA
TV
NBA On ESPN

Wednesday, Feb. 4
Bulls-Rockets, 8 ET
Mavs-Warriors, 10:30 ET

Radio
Charles Barkley, NBA
Play Podcast Basketball Hall of Famer Charles Barkley discusses Deflategate, Klay Thompson's abilities, the success of the Warriors and the Hawks, AAU basketball and which team will win the NBA title.
Hassan Whiteside, Heat C
Play Podcast Heat C Hassan Whiteside discusses his basketball career in Lebanon, the culture of playing overseas, his success with Miami and more.
Paul Pierce, Wizards
Play Podcast Wizards F Paul Pierce shares his thoughts on what his young team is like, Washington's recent success, his time around Kevin Garnett and more.
Podcasts
NBA Lockdown - Stars 'N Snubs
Play Podcast Jorge Sedano, Amin Elhassan and Israel Gutierrez react to the All-Star reserves and delve into rumors that Kevin Durant may be interested in joining the Knicks in free agency.
NBA Lockdown - Villainous
Play Podcast Israel Gutierrez and Amin Elhassan debate who should fill out the All-Star rosters, discuss the NBA's biggest villains and weigh in on Cleveland's winning streak.
NBA Lockdown - What Kould Have Been?
Play Podcast Doug Kezirian and Jeff Goodman discuss what the Cavs have done right during their recent winning streak, how Mike Krzyzewski would have fared as an NBA head coach and more.