ESPNNBA

NBA on ESPN


Watch: Top 3 plays from Thursday night's action in the NBA -- http://t.co/py5ZMOsYfN
about an hour ago

mcten

Dave McMenamin


New story: LeBron obviously struggled, but Blatt and Irving both owned up to some of the blame Thursday also http://t.co/5EYYjsGwWQ
about an hour ago

TheGreat_Nate

Nate Feken


Picture of second metacarpal. Won't get too much accomplished on the court with that broken. #WestbrookInjury http://t.co/eQ1Zvj6n6a
about an hour ago

daldridgetnt

David Aldridge


Free agent PGs who played at least some during preseason: Ish Smith (late cut by Houston), Will Bynum (Celtics), John Lucas III (Wizards).
about 2 hours ago

kpelton

Kevin Pelton


We'll always have the first half in Portland.
about 2 hours ago

ESPNNBA

NBA on ESPN


Watch: Russell Westbrook injures hand, Thunder edged by Clippers despite career-high 32 from Perry Jones -- http://t.co/wgnIAG7U6C
about 2 hours ago

mcten

Dave McMenamin


This was my view for the Cavs pregame intro tonight. Gives you a feel for the scope of it http://t.co/EaNHWniRj5
about 2 hours ago

jadande

J.A. Adande


So, small fracture in second metacarpal in Russell Westbrook's right hand, per Scott Brooks.
about 2 hours ago

jadande

J.A. Adande


Russell Westbrook left the arena without talking to media. Brooks says he has small fracture in right hand.
about 2 hours ago

kevinarnovitz

Kevin Arnovitz


Russell Westbrook will be reevaluated tomorrow. Small fracture in hand is current diagnosis.
about 2 hours ago

kevinarnovitz

Kevin Arnovitz


Westbrook: small fracture in his hand, per Scott Brooks
about 2 hours ago

JohnMiddlekauff

John Middlekauff


Ballmer even scares his kid #hardcore https://t.co/V0MNJH2fJr
about 3 hours ago

ESPNNBA

NBA on ESPN


Serge Ibaka's 3-pointer falls short at the buzzer, Clippers hold on 93-90 against Thunder in L.A.'s season opener -- http://t.co/nbO2ULgc5G
about 3 hours ago

jadande

J.A. Adande


Can't wait to see the Ballmer reaction GIFs.
about 3 hours ago

kpelton

Kevin Pelton


Great intentional foul there. Collison facing away from basket so no risk of 4-point play, and no timeouts left.
about 3 hours ago

ESPNNBA

NBA on ESPN


RT @espn_macmahon: The Mavs present Run DMC -- Dirk/Monta/Chandler http://t.co/8rATAdnk7K
about 3 hours ago

coachthorpe

david b. thorpe


Memo to all you dad's out there who scream at your son/daughter when they miss clutch ft's: would you scream at Chris Paul?
about 3 hours ago

ESPNSteinLine

Marc Stein


RT @espn_macmahon: Mavs present the NEW Run DMC -- Dirk/Monta/Chandler definitely not listed in order of rap skiil: https://t.co/PXOFTKEtS3
about 3 hours ago

ESPNNBA

NBA on ESPN


RT @espn_macmahon: The Mavs present Run DMC -- Dirk/Monta/Chandler, definitely not listed in order of rap skill -- http://t.co/8rATAdnk7K
about 3 hours ago

kpelton

Kevin Pelton


Thunder was a braincramp. Their offensive struggles are easy enough to understand, obviously.
about 3 hours ago
FANTASY
Prepare for your draft with mocks and more.
MUST READ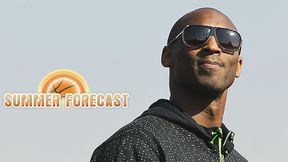 Who will be crowned NBA champs in 2010-11? MVP? Rookie of the Year? Our panel of NBA experts weighs in. Summer Forecast »
MEDIA
Radio
Avery Johnson & Chris Broussard, NBA
Play Podcast ESPN's Avery Johnson and Chris Broussard talk about challengers to the Bulls and the Cavaliers in the Eastern Conference, the state of the Lakers and contenders in the Western Conference.
Adam Silver, NBA
Play Podcast NBA commissioner Adam Silver dishes on the league's test of shorter games, maximum contracts and the exchange between Dwight Howard and Kobe Bryant during Rockets-Lakers.
Tom Haberstroh, NBA
Play Podcast ESPN NBA Insider Tom Haberstroh tells Dan Le Batard about his expectations for the new season, what comes next for Kobe Bryant and the Lakers and more.
Podcasts