FANTASY
Prepare for your draft with mocks and more.
MUST READ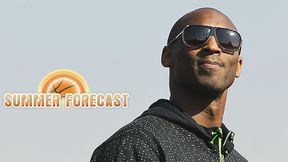 Who will be crowned NBA champs in 2010-11? MVP? Rookie of the Year? Our panel of NBA experts weighs in. Summer Forecast »
MEDIA
TV
NBA On ESPN

Wednesday, Nov. 26
Knicks-Mavs, 7:30 p.m. ET

Radio
Bill Simmons, NBA
Play Podcast Grantland's Bill Simmons shares his thoughts on the Cavaliers' slow start, the mindsets of LeBron James and Kevin Love, Kobe Bryant's contract and more.
Tim Legler, NBA
Play Podcast ESPN NBA analyst Tim Legler talks about the latest injury to Derrick Rose, the relationship between LeBron James and David Blatt and more.
Steve Kerr, Warriors
Play Podcast Warriors coach Steve Kerr dishes on the way his experience as a general manager has informed his coaching, Golden State's areas for improvement and how he handles changes to the squad's rotation.
Podcasts
NBA Lockdown - Giving Thanks
Play Podcast Israel Gutierrez, Cari Champion & Amin Elhassan discuss more health concerns for Derrick Rose, Steph Curry's hot streak and what they're most thankful for so far this season.
NBA Lockdown - Nobody Beats The Grizz
Play Podcast Doug Kezirian and Amin Elhassan talk about what's going so right for the Grizzlies and Warriors in the West and what's going so wrong for the Cavs in the East.
NBA Lockdown - On Point
Play Podcast Jorge Sedano and Amin Elhassan debate about the best point guards in the league. Plus, Jeff Goodman joins the show to talk about whether Kentucky could beat the Sixers.