AlZeidenfeld

Al Smizzle


One of my favorite commercials ever...Kobe, Lebron, KRS-One, Puppets, Basketball, Dunkin on dat Reindeer. http://t.co/OoUBwD5ruo
about an hour ago

jwquick

Jason Quick


Nicolas Batum tells me tonight that he suffered a torn ligament on the outside of his right wrist in the Dec. 17 fall against Milwaukee
about 5 hours ago

ESPNNBA

NBA on ESPN


Welcome back, L.A.! LaMarcus Aldridge drops game-high 26 points in his return as Blazers beat Wizards, 103-96. http://t.co/gphbGv2RKk
about 5 hours ago

kpelton

Kevin Pelton


Wizards let about 9 seconds run off the clock before John Wall realized the shot clock was off and he needed to foul.
about 5 hours ago

kpelton

Kevin Pelton


A lot of, let's say unorthodox calls late in this game.
about 5 hours ago

kpelton

Kevin Pelton


Make that 10-of-16.
about 5 hours ago

kpelton

Kevin Pelton


Wizards offense plays to what Blazers defense concedes. John Wall and Bradley Beal a combined 9-of-15 on long 2-pointers.
about 5 hours ago

kpelton

Kevin Pelton


Blazers with their biggest lead of the night after a Dorell Wright 3 unties the game. Up 3 with 8:08 to play.
about 6 hours ago

kpelton

Kevin Pelton


Blazers close to an over-and-back and instead get a Dorell Wright four-point play opportunity. Big in what was a 5-point game.
about 6 hours ago

kpelton

Kevin Pelton


That's career, not tonight, though it feels like that many. RT @Todd_Dybas: That's 2,000 career 3s made for Pierce.
about 6 hours ago

kpelton

Kevin Pelton


John Wall is a +21 in 16 minutes at halftime of a 12-point game.
about 6 hours ago

kpelton

Kevin Pelton


The testament to Meyers Leonard's 3-point shooting is they seem totally routine now.
about 7 hours ago

kpelton

Kevin Pelton


First time I've ever seen John Wall play a regular-season game in person. It's everything I hoped for and more.
about 7 hours ago

kpelton

Kevin Pelton


Hadn't considered how Aldridge's injury would hurt defensively but he can't swipe down and may be a bit reluctant to contest with LH.
about 7 hours ago

ByTimReynolds

Tim Reynolds


The Klay third-quarter official boxscore from last night. http://t.co/8Du1VLYL3N
about 7 hours ago

ESPNNBA

NBA on ESPN


Grizzlies continue their winning ways, beat 76ers, 101-83. Memphis has won 6 of its last 7 games. http://t.co/vDzFZ4CgVy
about 7 hours ago

kpelton

Kevin Pelton


Not at all the start expected with Aldridge's emotional return. Blazers missing some makeable shots, trail 13-2 four minutes in.
about 7 hours ago

kpelton

Kevin Pelton


Newser on LaMarcus Aldridge's unexpected return to the court tonight in Portland: http://t.co/ozqU488YFp
about 8 hours ago

TimBontemps

Tim Bontemps


The Nets still haven't equaled Klay Thompson's third quarter last night. There are over three minutes still left in the first half.
about 8 hours ago

ESPNNBA

NBA on ESPN


Bucks get their stride back! Milwaukee destroys Detroit, 101-86, and snap 2-game losing streak w/ win. http://t.co/VDRA2dT6Of
about 8 hours ago
FANTASY
Prepare for your draft with mocks and more.
MUST READ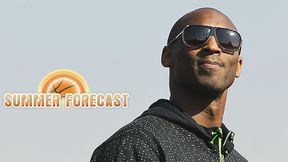 Who will be crowned NBA champs in 2010-11? MVP? Rookie of the Year? Our panel of NBA experts weighs in. Summer Forecast »
MEDIA
TV
NBA On ESPN

Sunday, Jan. 25
Heat-Bulls, 1 ET (ABC)
Thunder-Cavs, 3:30 ET (ABC)

Radio
Paul Pierce, Wizards
Play Podcast Wizards F Paul Pierce shares his thoughts on what his young team is like, Washington's recent success, his time around Kevin Garnett and more.
On Kobe's injury, 1/23
Play Podcast Mike Golic, Michael Smith and Jemele Hill share their thoughts on Kobe Bryant's torn rotator cuff, the outlook for the Lakers and Bryant's future.
Tim Legler, NBA
Play Podcast ESPN NBA analyst Tim Legler covers Stephen Curry's MVP candidacy, Derrick Rose's remarks to the media about the Bulls' slump and Phil Jackson's future with the Knicks.
Podcasts
NBA Lockdown - Are You Not Entertained?
Play Podcast Jorge Sedano, Amin Elhassan and Jeff Goodman discuss whether there are enough entertaining storylines in the NBA this season. Plus, analytics expert Ben Alamar joins the show to play a game of overrated or underrated.
NBA Lockdown - Thorny Rose
Play Podcast Doug Kezirian, Cari Champion, Jeff Goodman and Ramona Shelburne discuss Derrick Rose's frustrations, whether they believe in the Hawks, the Cavs' recent success and much more.
Outside The Lines
Play Podcast For the first time, Outside the Lines brings together the leaders of the professional baseball, basketball and football players' unions, all three of whom are African-American.