jadande

J.A. Adande


Clippers-Warriors wil reflect the changing role of point guards: http://t.co/DWQZNS57yC"
42 minutes ago

jadande

J.A. Adande


With the first names like today's jerseys RT @vgoodwill: Merry Christmas folks... Bad Boys Doc on ESPN2 http://t.co/FO6gsZIIKv
43 minutes ago

NBARumorCentral

ESPN


Will Golden State fill 15th roster spot? #Warriors http://t.co/R1fXjTR8kC
46 minutes ago

NBARumorCentral

ESPN


Phoenix a player in the trade market? #Suns http://t.co/E3mkJI4K3G
47 minutes ago

NBARumorCentral

ESPN


Why Houston needs to make a trade #Rockets http://t.co/Hp1xyNgVCZ
48 minutes ago

jadande

J.A. Adande


Their last 4 years together almost make you forget how good those LeBron vs. Wade matchups used to be: http://t.co/qEjqgVMXdG
about an hour ago

ESPNSteinLine

Marc Stein


Our friends at Elias say this is first Christmas in NBA history where both reigning Finals teams were No. 7 (or worse) in their conferences
about an hour ago

ESPNSteinLine

Marc Stein


RT @IAmDPick: Santa Cruz Warriors forward Joe Alexander is finalizing an agreement with Euro power-club Maccabi, according to source.
about an hour ago

ESPNSteinLine

Marc Stein


Christmas Day pre-game prep in the best press room in Miami. Need one of these in Dallas, too, please! http://t.co/VnW3r2wPSr
about 2 hours ago

jadande

J.A. Adande


If you can't magine Jim Caldwell speaking, let alone speaking Finnish, read this NY Times profile http://t.co/VutLJsdfIl
about 2 hours ago

ESPNSteinLine

Marc Stein


Didn't think I wanted one of these until I saw one of my all-time faves SUPER @Kevinhorlock6. Happy Holidays to all! http://t.co/iN0wagKi2U
about 2 hours ago

ESPNSteinLine

Marc Stein


Rockets were confident they'd find palatable deal soon to open roster spot for Smith. HOU preference is one more trade over waiving someone
about 11 hours ago

JoeGoodmanJr

Joseph Goodman


Wade just called LeBron Jr. his nephew, if that gives any insight into the relationship b/ween Wade and LeBron.
about 11 hours ago

ESPNSteinLine

Marc Stein


Apologies to ISAIAH Canaan. Make that Joey Dorsey, Tarik Black, ISAIAH Canaan, Nick Johnson and Clint Capela all available in Houston
about 12 hours ago

ESPNSteinLine

Marc Stein


Joey Dorsey, Tarik Black, Isaac Canaan, Nick Johnson, Clint Capela ... Rockets seeking taker on any of the above to make room for Josh Smith
about 12 hours ago

ESPNSteinLine

Marc Stein


Rockets are making the rounds on Christmas Eve, offering up anyone in the bottom third of their roster via trade to make room for Josh Smith
about 12 hours ago

mcten

Dave McMenamin


Good comp RT @SixersBlog For @bballbreakdown: 76ers wing K.J. McDaniels is playing similar to a young Gerald Wallace http://t.co/kZMy6txNI6
about 12 hours ago

bruce_arthur

Bruce Arthur


Best Christmas Eve column ever, far as I know. Cheers to all of you. Hope it's a happy time of year. http://t.co/GYcQR1NVWN
about 13 hours ago

ESPNNBA

NBA on ESPN


Check out the best dunks of the season so far --http://t.co/uuwXj2qTgX
about 13 hours ago

EkpeUdoh

Ekpe Udoh


Let me ask this randomly, why would Adnan commit this crime?? It's been bothering me. Are high schoolers that emotional??#Ekpesbookclub
about 14 hours ago
FANTASY
Prepare for your draft with mocks and more.
MUST READ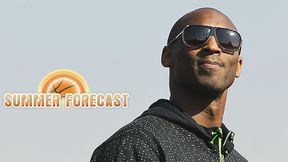 Who will be crowned NBA champs in 2010-11? MVP? Rookie of the Year? Our panel of NBA experts weighs in. Summer Forecast »
MEDIA
TV
NBA On ESPN

Thursday, Dec. 25
Wiz-Knicks, noon ET (ESPN)
Thunder-Spurs, 2:30 ET (ABC)
Cavs-Heat, 5 p.m. ET (ABC)

Radio
Steve Smith, NBA TV
Play Podcast NBA TV analyst Steve Smith discusses Russell Westbrook being a leader in Kevin Durant's absence, where he ranks the Pelicans' Anthony Davis, if the Spurs need a win-now mentality and the Pistons' releasing of Josh Smith.
George Karl, NBA
Play Podcast ESPN NBA analyst George Karl offers his insights on the Mavericks' acquisition of Rajon Rondo, Rondo's transition to Dallas and the development of Stephen Curry and Klay Thompson.
Stephen A. Smith, NBA
Play Podcast First Take's Stephen A. Smith weighs in on the Mavericks' acquisition of Rajon Rondo, Rondo's abilities and whether Dallas will be able to retain him after this season.
Podcasts
NBA Lockdown - Christmas Preview
Play Podcast Amin Elhassan discusses this Pistons' decision to waive Josh Smith and previews the Christmas games with Tom Haberstroh. Plus, Hall of Famer Bernard King and Dreamville president Ib Hamad.
Outside The Lines
Play Podcast NBA commissioner Adam Silver sits down with Andy Katz to discuss some of the most important issues facing the league and more.