FANTASY
Prepare for your draft with mocks and more.
MUST READ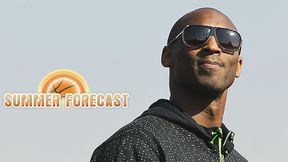 Who will be crowned NBA champs in 2010-11? MVP? Rookie of the Year? Our panel of NBA experts weighs in. Summer Forecast »
MEDIA
TV
NBA On ESPN

Wednesday, Dec. 11
Bulls at Knicks, 8 ET
Mavericks at Warriors, 10:30 ET

Radio
Frank Isola, NBA
Play Podcast The New York Daily News' Frank Isola discusses his experiences covering the Knicks, the team's reaction to media coverage, New York's struggles, Carmelo Anthony's future and more.
Opening Rant: 12/5
Play Podcast Colin Cowherd shares his thoughts about Carmelo Anthony's future with the Knicks and more.
Mark Jackson, Warriors HC
Play Podcast Warriors head coach Mark Jackson joins The Dan LeBatard Show to discuss George Karl's comments regarding his coaching style during last year's playoffs.
Podcasts
NBA Lockdown
Play Podcast Bruce Bowen and Israel Gutierrez discuss the lack of energy from the Heat, if the Nets have already quit on Jason Kidd and much more.
Fantasy Focus Basketball
Play Podcast Doug Kezirian and John Cregan break down how the use of non-conventional stats can help your fantasy roster. Plus, how much to give up for a premiere big man.
First Take
Play Podcast Skip Bayless and Stephen A. Smith debate which Big Apple team is more of a disappointment and how far Cam Newton can take the Panthers. plus BC running back Andre Williams joins the desk.