FANTASY
Prepare for your draft with mocks and more.
MUST READ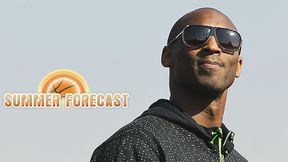 Who will be crowned NBA champs in 2010-11? MVP? Rookie of the Year? Our panel of NBA experts weighs in. Summer Forecast »
MEDIA
Radio
Danny Ferry, Hawks
Play Podcast Hawks GM Danny Ferry makes racial comments about Luol Deng in a conference call with team owners in audio obtained by ESPN's Darren Rovell and other media outlets.
Charles Barkley, NBA
Play Podcast TNT's Charles Barkley weighs in on Danny Ferry's comments about Luol Deng, whether football is more violent than other sports and the NFL's stance on domestic violence.
Mark Cuban, Mavericks
Play Podcast Mavericks owner Mark Cuban covers the benefits of social media, whether he wishes he had more privacy, his new app and advancements on the horizon in sports technology.
Podcasts
First Take
Play Podcast Skip Bayless and Stephen A. Smith debate if Cleveland is the best fit for Kevin Love, if the Patriots should have traded Logan Mankins and rank the NFL head coaches.
His and Hers - Paul George
Play Podcast Michael Smith and Jemele Hill discuss Paul George's severe leg injury, the physical and mental hurdles George must overcome and things that can't be "unseen."
Numbers Never Lie
Play Podcast Michael Smith and Jemele Hill discuss Paul George's gruesome injury during the USA scrimmage, Johnny Manziel taking snaps at practice, Tom Brady's resume and more.