WFNYScott

Scott @ WFNY


Me: "How you feeling, Trix?"Marion: "36."
24 minutes ago

mcten

Dave McMenamin


LeBron says the Wizards did "whatever they wanted to" in the Cavs loss to them last Friday. CLE gets chance at a rematch tonight
32 minutes ago

tomhaberstroh

Tom Haberstroh


Chris Paul: "I'm on Synergy all day, everyday." http://t.co/3fl3gJ4KTY [in]
36 minutes ago

tomhaberstroh

Tom Haberstroh


Two words: Speedy. Claxton. RT @Tim_Shot: .@tomhaberstroh I've never felt more compelled to pay for an insider account.
42 minutes ago

tomhaberstroh

Tom Haberstroh


I quizzed Chris Paul on the 18* guys that he's thrown an alley-oop to in his NBA career. http://t.co/3fl3gJ4KTY [in] http://t.co/WUYOanEu4P
50 minutes ago

tomhaberstroh

Tom Haberstroh


Inside Tyson Chandler's revival for the lob-crazy Mavericks, with words from Mark Cuban. http://t.co/dnklGSEaIb [in] http://t.co/IG2GekNyE3
about an hour ago

tomhaberstroh

Tom Haberstroh


BIG Number -- Episode 35: Tyson Chandler and the Dallas Mavericks are the new home of Lob City. http://t.co/lz5NjFZqLG
about an hour ago

ESPNNBA

NBA on ESPN


What are you still waiting to see this NBA season? Let us know and tune in to #KIANBACountdown at 7 p.m. ET on ESPN.
about an hour ago

NBARumorCentral

ESPN


#Pistons Stan Van Gundy's message to Tom Gores http://t.co/Fanp8ieuXE
about an hour ago

NBARumorCentral

ESPN


#Wizards When Bradley Beal should get his max deal http://t.co/QjTIfGzAEl
about an hour ago

ESPNNBA

NBA on ESPN


Check out the top 10 stories from last night. The Ten: http://t.co/D04bkFzT24
about an hour ago

kevinarnovitz

Kevin Arnovitz


Watching Valanciunas clips for 10:30a @TSN1050Radio appearance. JV is manhandling NBA. Footwork, strength, awareness make him Top 5 center.
about an hour ago

tomhaberstroh

Tom Haberstroh


Chris Bosh was so messed up by Steph Curry's 40 tonight that he was calling him "Seth" in the postgame interviews.
about 3 hours ago

ESPNNBA

NBA on ESPN


Watch: Tom Thibodeau discusses his decision to pull @drose early and insists Rose did not re-injure an injury: http://t.co/n27ZPDc9E7
about 10 hours ago

kpelton

Kevin Pelton


Enjoying Casey Jacobsen as a color analyst on @Pac12Networks. Sounds like he's done his homework.
about 10 hours ago

ESPNNBA

NBA on ESPN


Watch: With @drose watching the 2nd half, the @denvernuggets hand the @chicagobulls their 3rd loss in five games: http://t.co/ZdAXFZJYy0
about 11 hours ago

ESPNNBA

NBA on ESPN


Watch: A quick look at @JohnWall's impressive start to the season: http://t.co/eZuCxsnVh0
about 11 hours ago

ESPNNBA

NBA on ESPN


Watch: @boogiecousins explains why the @SacramentoKings beat the @PelicansNBA. http://t.co/u4hXFvwwnl
about 11 hours ago

ESPNNBA

NBA on ESPN


Watch: @NickFriedell discusses @drose leaving another game early with an injury, this time a tight left hamstring: http://t.co/G6WlgqT7Va
about 11 hours ago

ESPNNBA

NBA on ESPN


Meanwhile, @JimmyButler continues to shine for @chicagobulls with game-high 32 points, powered by 18-of-20 FT shooting, and 9 rebs. (2/2)
about 12 hours ago
FANTASY
Prepare for your draft with mocks and more.
MUST READ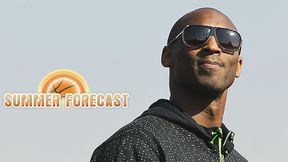 Who will be crowned NBA champs in 2010-11? MVP? Rookie of the Year? Our panel of NBA experts weighs in. Summer Forecast »
MEDIA
TV
NBA On ESPN

Wednesday, Nov. 26
Knicks-Mavs, 7:30 p.m. ET

Radio
Bill Simmons, NBA
Play Podcast Grantland's Bill Simmons comments on the state of the Cavaliers, the Lakers' struggles, whether the Raptors and Wizards are contenders, Derrick Rose's status and more.
Steve Kerr, Warriors
Play Podcast Warriors coach Steve Kerr dishes on the way his experience as a general manager has informed his coaching, Golden State's areas for improvement and how he handles changes to the squad's rotation.
Dan Le Batard & Stugotz - South Beach Sessions: Charles Barkley
Play Podcast In this episode of "South Beach Sessions," Basketball Hall of Famer Charles Barkley dishes on his tough childhood, his NBA career, the Dream Team, sports media and more.
Podcasts
NBA Lockdown - Nobody Beats The Grizz
Play Podcast Doug Kezirian and Amin Elhassan talk about what's going so right for the Grizzlies and Warriors in the West and what's going so wrong for the Cavs in the East.
NBA Lockdown - On Point
Play Podcast Jorge Sedano and Amin Elhassan debate about the best point guards in the league. Plus, Jeff Goodman joins the show to talk about whether Kentucky could beat the Sixers.
First Take
Play Podcast Skip Bayless and Stephen A. Smith debate LeBron James' impact in the Cavaliers' loss to the Spurs. Plus, Panthers TE Greg Olsen breaks down Carolina's struggles.