FANTASY
Prepare for your draft with mocks and more.
MUST READ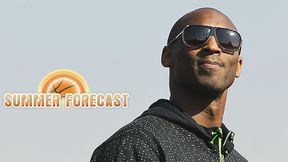 Who will be crowned NBA champs in 2010-11? MVP? Rookie of the Year? Our panel of NBA experts weighs in. Summer Forecast »
MEDIA
Radio
Mitch Kupchak, Lakers
Play Podcast Lakers GM Mitch Kupchak comments on L.A.'s hiring of Byron Scott, Kobe Bryant's importance to the team, expectations for Bryant and the squad's potential for 2014-15.
John Ireland, NBA
Play Podcast ESPN LA 710's John Ireland discusses the Lakers' hiring of Byron Scott, the squad's expectations for Kobe Bryant and whether the team will make the playoffs in the 2014-15 season.
Bill Simmons, NBA
Play Podcast Grantland's Bill Simmons gives his takes on the Cavaliers' pursuit of Kevin Love, LeBron James' return to Cleveland, the popularity of MLB and more.
Podcasts
Keith Olbermann
Play Podcast Max Bretos welcomes Marc Stein to the show. Plus, more on Tiger Woods' performance at the Open Championship and the Cavaliers' pursuit of Kevin Love.
Best of Mike and Mike
Play Podcast Ryan Ruocco and Jonathan Coachman discuss the possibility of the Cavaliers trading Andrew Wiggins for Kevin Love and preview every division in the NFL.
Numbers Never Lie
Play Podcast Michael Holley and Chris Broussard discuss Erik Spoelstra's comments about not keeping LeBron, is Kevin Durant leaving the Thunder, Kobe holding back the Lakers and the ESPYS.