kpelton

Kevin Pelton


@AminESPN @Ac4127Andrew Nobody even knows what almost hit them.
about 6 hours ago

ESPNNBA

NBA on ESPN


Check out @russwest44, @sergeibaka9 and @Teague0 in the Top Plays of the Night. http://t.co/pWEh8vJeDd
about 7 hours ago

ESPNNBA

NBA on ESPN


The Kings have called up 2012 1st-round pick Royce White (@Highway_30) from the D-League's Reno Bighorns. http://t.co/MeqnTosGhu
about 7 hours ago

ESPNNBA

NBA on ESPN


Check out how the top players on @chadfordinsider's big board did in conference tournament action Thursday. http://t.co/EEUUyRjPfS
about 7 hours ago

kpelton

Kevin Pelton


There was no under-4 minute timeout in Stanford-Arizona State. No dead balls in that span. You almost never see that.
about 7 hours ago

LarryCoon

Larry Coon


Yup. I'm better suited for table play than tourney. RT @suchaputz Can only see you as a mostly game theory, touch of feel, type of player
about 7 hours ago

ESPNNBA

NBA on ESPN


Thunder get 29 pts each from @russwest44, @KDTrey5 to beat Lakers.BOX SCORE: http://t.co/0x34fGS7ed http://t.co/R5MFO833Tj
about 8 hours ago

DimeUpdate

Dime Update


Biggest question left in this game: Will OKC hit 130? Probably. Thunder 124, Lakers 98.
about 8 hours ago

LarryCoon

Larry Coon


Yes, but not tonight. Slowly bled to death. RT @suchaputz Forgot about that thing. 10 mins from me. Take it down. Got game?
about 8 hours ago

bbdoolittle

Bradford Doolittle


RT @EricJacobs10: @SamSmithHoops @bbdoolittle Dwight usually is near tops in the NBA in TOs per touch. Hands of stone.
about 8 hours ago

DimeAlert

Dime Alert


RT @DarnellMayberry: Kevin Durant has now scored 25 or more in a career-best 30 straight games.
about 8 hours ago

DimeAlert

Dime Alert


Russell Westbrook has 29 points, 9 assists. The Lakers are still under 40 percent from the field: 28-for-72 as a team.
about 8 hours ago

DimeUpdate

Dime Update


End of the third: Thunder 101, Lakers 77.
about 8 hours ago

ESPNNBA

NBA on ESPN


The Thunder have opened up a 101-77 lead over the Lakers after 3. Russell Westbrook has 29 points and 9 assists for OKC.
about 8 hours ago

DimeAlert

Dime Alert


Ibaka is a PROBLEM for LA tonight. Swatting or altering a lot of shots around the rim. He has five blocks.
about 8 hours ago

ESPNNBA

NBA on ESPN


LaMarcus Aldridge will miss at least the next two games for the Blazers with a bruised back.http://t.co/3ZemdtdGZv
about 8 hours ago

DimeAlert

Dime Alert


Hey, weird, it's almost like OKC is better with Westbrook. He has 29 points, 4:55 left in the third.
about 8 hours ago

DimeUpdate

Dime Update


Westbrook banks in a 3-pointer and has the good grace to laugh about it. 83-60 Thunder, timeout Lakers.
about 8 hours ago

DimeUpdate

Dime Update


Big jumpers by Caron Butler and Serge Ibaka push OKC's lead from 11 to 16. 74-58 OKC.
about 8 hours ago

DimeSmash

Dime Smash!


Nice pass from Ryan Kelly to Wes Johnson for the alley-oop.
about 9 hours ago
FANTASY
Prepare for your draft with mocks and more.
MUST READ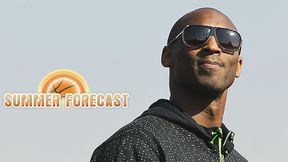 Who will be crowned NBA champs in 2010-11? MVP? Rookie of the Year? Our panel of NBA experts weighs in. Summer Forecast »
MEDIA
TV
NBA On ABC

Sunday, March 16
Rockets-Heat, 3:30 ET

Podcasts
NBA Lockdown
Play Podcast Bruce Bowen and Israel Gutierrez break down the dust up between Houston and OKC, explain why the Spurs are on a roll and react to Larry Bird's comments about the Pacers.
Fantasy Focus Basketball
Play Podcast Doug Kezirian and John Cregan weigh in on the impact Phil Jackson could have on keeper leagues, discuss waiver pickups that could help your playoff push and much more.
Numbers Never Lie
Play Podcast Michael Smith and Chris Broussard discuss Phil Jackson's possible future with the Knicks, the Rockets' chances to win the title, Barry Bonds' return to baseball and more.
Radio
P.J. Carlesimo, NBA
Play Podcast ESPN NBA analyst P.J. Carlesimo discusses the Spurs' management, whether Phil Jackson should focus on recruiting internationally or at the collegiate level, the Heat-Pacers matchup and more.
Avery Johnson, NBA
Play Podcast ESPN NBA analyst Avery Johnson talks about how Phil Jackson and James Dolan can coexist, whether well-known owners pose problems, the outlook for Joel Embiid and more.
Al Jefferson, Bobcats C
Play Podcast Charlotte Bobcats C Al Jefferson talks about his decision to with Charlotte, if he's surprised with how well the team has played, if he knew who Jan Veselư was before his time with the Bobcats, why Jordan can't afford better jeans and more.