Dwyane Wade, LeBron James sit out
MIAMI -- It is appearing more and more likely that the Heat's "big three" will hit opening night with just three minutes of court time together.
Dwyane Wade has left the team to go to Chicago, where he may have to testify in a custody hearing for his children on Monday. It's unlikely Wade will be cleared to do conditioning as he recovers from an injured hamstring until the middle of next week, making it likely he'll miss the team's final two preseason games Thursday and Friday.
Heat coach Erik Spoelstra said Friday that it might be tough to get Wade back for a game before the Oct. 26 season opener in Boston. But the team isn't giving up all hope.
[+] Enlarge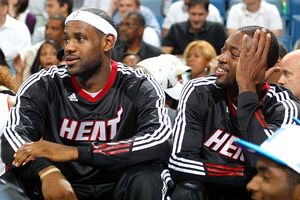 Chris Graythen/Getty ImagesLeBron James, left, and Dwyane Wade, right, have played together for just three minutes this preseason and with injuries limiting them, that may be all the time they get before the season opener.
"I'm really not sure," Spoelstra told ESPN.com. "He's getting better so it is a wait and see."
LeBron James missed practice Friday as he continued to recover from his own hamstring injury. The team expects that James will be ready to resume practice on Saturday.
"We don't play until Monday and we've got a long, long ways until the 26th," James said, referring to Miami's next preseason game against Charlotte on Monday and then the Heat regular-season opener in Boston on Oct. 26. "Don't want to rush it until I feel 100 percent."
James cramped up in the third quarter of Miami's preseason win over CSKA Moscow on Tuesday night, missing roughly the final third of that game and then the entire Heat preseason matchup in New Orleans the following night. Miami did not practice Thursday.
James has repeatedly said he'd like to have Wade back for at least one preseason game, but delays in Wade's custody battle could affect his timetable next week as much as his hamstring.
Wade acknowledged last week he might have to leave the team. He has missed practice time the past two seasons for court appearances during his divorce and custody hearings that have dragged on since the start of the 2008-09 season.
Wade is expected to continue testimony on Monday, though may resume on-court workouts as early as Tuesday.
The Heat did get guard Carlos Arroyo back at practice Friday after Arroyo missed several games with a groin injury. Meanwhile, guard Mario Chalmers, who tweaked an ankle injury on Tuesday, said he might sit out the final three preseason games.
Jamaal Magloire, Eddie House and Shavlik Randolph have also been dealing with some nagging injury issues in recent days.
"We still need to play five-on-five for continuity," Spoelstra said. "At the same time, this is a great time for us to regain our health. We need to get guys back feeling good. We have a lot of days to practice but also to get some rest. As long as we're efficient with it, guys are doing their part, spending a lot of time with our trainers and guys are starting to feel better."
Spoelstra said House "is real close" to making his preseason debut, after shoulder surgery this summer. House said he's aiming to get some minutes when Miami visits Atlanta in a preseason game Thursday.
"We're going by what the doctors say," House said. "I've been feeling good. It's just precautionary reasons. You want to be at 3½, four months [after surgery] before you actually start really taking contact. I'm right there, right there at that timeframe."
House knows the NBA season is a marathon, and he's been learning plenty about new teammates and the Heat system by watching practices and preseason games. That being said, he still thinks it's important to get some time before the games start counting in the standings.
"I just want to get out there and play," House said. "It's different when you're in a game [compared] to practice. I just want to get out there and be able to get up and down and just feel that. I haven't felt that in a long time."
In other news, Patrick Beverley (head laceration) said on his Twitter feed that he's dealing with some pain after needing four stitches to close a wound suffered in Miami's game at New Orleans. Spoelstra said he was able to practice Friday without any issues.
James will unveil his latest signature shoe from Nike, the "LeBron 8 South Beach," at a South Florida mall on Saturday afternoon.
The Associated Press contributed to this report.
ESPN.com
ESPN.com NBA writer since 2010
Covered Cleveland Cavs for seven years
Author of two books
ESPN.com
ESPN.com NBA reporter
Blogs regularly on the Miami Heat
14 years covering the ACC, SEC, NFL and NBA
EDITORS' PICKS
We're ranking every player. Here's Nos. 141-160. »
#NBArank »

The Pacers look ahead with lowered aims.
Brian Windhorst »

Reggie's future