LeBron James thinks defenses will star
MIAMI -- LeBron James had a bit of advice Saturday for fans who are expected an exciting, high-scoring, offensively efficient playoff series between his Miami Heat and the Chicago Bulls: watch the Western Conference finals instead.
"I can definitely see points in the game when it's not going to be fun for fans to watch if you love exciting basketball because it's going to be offensive struggles sometimes," James said Saturday as the Heat wrapped up preparations in Miami and traveled to Chicago for Game 1 of the Eastern Conference finals on Sunday. "It's going to be two great defensive teams [that] take pride defensively, [teams that] get more out of getting stops than they do in scoring."
With two of the league's top-rated defensive teams set to matchup for the right to advance to the NBA Finals, James knows that points will be at a premium. But he's not expecting a relative shutout, either.
"

"Someone has to score. I don't want it to be a Big Ten showdown out here. At some point, someone has to score.

"

-- LeBron James on expected offensive struggles in East finals
"Someone has to score," James said. "I don't want it to be a Big Ten showdown out here. At some point, someone has to score."
James, an Akron, Ohio native and avid Ohio State fan, was referring to the low-scoring, half-court style that often is associated at the collegiate level in Big Ten Conference basketball.
Despite the presence of three of the league's top stars in James, Dwyane Wade and Derrick Rose, the Heat and Bulls have most excelled at defensively making matters difficult on opponents. The Bulls rank first in in the league in defensive efficiency, while the Heat have been in the top five all season.
Chicago has allowed 91.3 points a game this season and Miami has given up 94.6. The Heat and Bulls have held opponents to 43 percent shooting from the floor and also rank among the league's best at forcing turnovers and scoring off the opposing team's miscues.
Chicago Bulls coach Tom Thibodeau agreed with James' early assessment, predicting the series would be "probably a slugfest."
"Hey, they're a good team. They didn't get here by accident," Thibodeau said Saturday. "When you look at the teams that have gone this far you have to be well-balanced. You have to be good on offense, good on defense, good rebounding, and you've got to take care of the ball."
The Bulls swept the Heat in three regular-season matchups, with the outcomes decided by a combined eight points. Only once did either team shoot as well as 48 percent from the field in the three games -- and that came from Miami in a losing effort.
James had a few other expectations for the series, including a view that the regular-season meetings won't come close to matching the intensity of their playoff matchup.
"In the regular season, you might be playing four [games] in five nights, or a team is on a back-to-back," James said in downplaying what impact the regular season results between the Heat and Bulls might have in the playoffs. "In the playoffs, you have three or four days when you can actually go through everything. I know this is the best time for me, because I get an opportunity to break down all the individual tendencies, all the dislikes of the player I'm looking to guard. So it's totally different."
The Heat ended Saturday's practice session with a film study of the Bulls, with Miami's post players and perimeter split into groups at opposite ends of the practice courts at AmericanAirlines Arena.
James was with the wing players. As he did during two of the previous meetings with the Bulls, James expects to spend time guarding league MVP Derrick Rose at the end of quarters or in the closing moments of close games.
James ran through the list of elite point guards he's had to defend during his career, and said Saturday that Rose might be the most difficult challenge of them all.
Eastern Conference Finals


The Bulls and Heat face off with the Eastern Conference title on the line. Follow the matchup from Day 1 on ESPN.com's series page.
• Bulls blog | ESPNChicago.com
• Heat Index | TrueHoop
• NBA playoffs | Schedule
"He's very, very high," James said when asked where Rose ranks among his top defensive assignments. "Very high. I've guarded Chris Paul when he was second in MVP voting. I've guarded Allen Iverson when he was a point guard in Philly when I first came in [the league]. Baron Davis. Those are tough matchups. Steve Nash. I've guarded all the great point guards this league has to offer. And Derrick Rose ranks right up there. His speed, explosiveness and his uncanny ability to live in the moment -- he loves the moment -- you have to respect that."
James insists the Heat are in tune with the task at hand. He even offered his hunch on how the Bulls might handle one of the more pivotal matchups in the series at power forward, where Chris Bosh and Carlos Boozer are considered the X factors for their respective teams.
"I don't see them putting Boozer on Bosh," James said. "I see them starting Joakim [Noah] on [Bosh] and allowing Boozer to guard Joel [Anthony] and kind of be a roamer. That's what I'm thinking. If I was a coach, that's what I'll do. So we'll see tomorrow."
Thibodeau, however, wasn't tipping his hand.
"They have some guys they can play off of and if your help is not ready to recover, then you're going to pay the price with giving them open shots," Thibodeau said. "The big key is to have a multiple effort mentality and a mindset that you have to finish your defense. ... This is a team you can't stand and stare [at] because they're so athletic and quick to the ball, often times they can miss a shot and they follow real quick and they make you pay that way. They pose a number of different challenges."
Michael Wallace covers the NBA for ESPN.com. ESPNChicago.com's Nick Friedell contributed to this report.
ESPN.com
ESPN.com NBA reporter
Blogs regularly on the Miami Heat
14 years covering the ACC, SEC, NFL and NBA
SPONSORED HEADLINES
MORE NBA HEADLINES
MOST SENT STORIES ON ESPN.COM
2011 NBA FINALS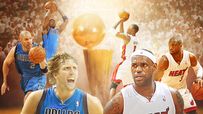 Follow the NBA on ESPN: Twitter / Facebook
LATEST CONTENT
MUST-READ
FEATURES
SERIES PAGES
tomhaberstroh

Tom Haberstroh


The goodbye hugs from Bill Hader and the SNL crew. Man.
about an hour ago

WallaceNBA_ESPN

Michael Wallace


Pacers should've added a consistent 3pt shooter this yr. That's pretty much all they're missing to really haunt Heat.
about 3 hours ago

RoyceWebb

Royce Webb, ESPN NBA


Danny Granger is the Rudy Gay of the Eastern Conference playoffs.
about 3 hours ago

WallaceNBA_ESPN

Michael Wallace


Pacers, people, Pacers. My bad. Both Heat and Pacers are better than they were when they met last season in playoffs.
about 3 hours ago

ESPNNBA

The NBA on ESPN


RT @ESPNStatsInfo: Lance Stephenson - huge game for @Pacers, did all his damage inside. Here's his shot chart http://t.co/jOg6xR92Fh
about 3 hours ago

WallaceNBA_ESPN

Michael Wallace


David West said earlier this season Indy will be much more prepared for Heat's small ball adjustments this time.
about 3 hours ago

ESPNNBA

The NBA on ESPN


RT @ReggieMillerTNT: Biggest play of this game, Hibbert's block.. Only fitting Knicks get done in by a city kid (Stephenson)!!!!
about 3 hours ago

WallaceNBA_ESPN

Michael Wallace


Heat and Knicks both better than they were when they met last year. Should be a great Eastern Conference Finals.
about 3 hours ago

ESPNNBA

The NBA on ESPN


Pacers are off to the Eastern Conference finals after 106-99 win over the Knicks. Lance Stephenson with team-high 25 points for Indiana.
about 4 hours ago

WallaceNBA_ESPN

Michael Wallace


RT @MikeWellsNBA: The "Beat the Heat" chants have started at the fieldhouse
about 4 hours ago

tomhaberstroh

Tom Haberstroh


Have the Knicks fouled yet?
about 4 hours ago

truehooptv

TrueHoop TV


RT @MrEddieHuang: Knicks threw this game away... We had this. Woodson need to take control of team. Melo/JR are inmates running asylum @Tru…
about 4 hours ago

DimeUpdate

Dime Update


The Pacers will eliminate the Knicks with a 106-99 win in the Fieldhouse. Thanks for following @TimDonahue8p9s tonight.
about 4 hours ago

DimeUpdate

Dime Update


Shumpert fouls Hill after allowing 10 seconds to run off the clock. Two Hill FTS make it a 6 pt lead with 39 *****. eft.
about 4 hours ago

DimeUpdate

Dime Update


Melo gets an easy dunk to cut it to 4. Only 6 seconds run off the clock. Near best case scenario for NYK on that possession.
about 4 hours ago

DimeUpdate

Dime Update


Hill hits two freebies to make Indy +6 with 56 seconds left. Knick timeout.
about 4 hours ago

DimeUpdate

Dime Update


Pacers milk the clock, get an iffy shot, but Kenyon Martin bails them out with a foul. Martin is gone.
about 4 hours ago

DimeUpdate

Dime Update


JR Smith cuts Indy's lead to 4 with an And-1. 1:15 left in the Fieldhouse.
about 4 hours ago

DimeUpdate

Dime Update


Lance Stephenson is trying to carry the Pacers home. Just abused Melo in the post to give Indy a 7 point lead with under 2 mins left.
about 4 hours ago

DimeUpdate

Dime Update


Foul situation: NYK: Chandler 6 (DQ), Martin 5, Shumpert 4, Anthony 4. No Pacers with more than 3.
about 4 hours ago
MORE FROM ESPN CHICAGO

Check out the new ESPN Chicago, the place for your local Chicago sports coverage.
ESPN.COM PARTNER: NBA.COM