LeBron James: Game 5 my 'biggest'
DALLAS -- After spending a sleepless night reading columns about his struggles in Game 4, LeBron James is fully aware of the gravity of Thursday night's Game 5 of the NBA Finals. It's the biggest game of his life to this point.
The Incredible Shrinking Man?

Great players perform in the fourth quarter of playoff games, particularly in the NBA Finals. Four games into this series, LeBron James has disappeared in the fourth, writes Michael Wilbon. Story

More on ESPN Radio
• Tim Legler

| Brian Windhorst

"I understand what is at stake," James said Thursday morning. "This is a big game, probably the biggest game of my life. I'm approaching it that way. Not probably, it is."
James scored a career playoff-low eight points in the Miami Heat's Game 4 loss to the Dallas Mavericks, setting up a pivotal Game 5 with the series tied 2-2.
Instead of avoiding reactions from his letdown game, James chose to watch TV and look up what columnists had said about it on the Internet.
"I'm my own critic," James said. "You've got to go out and do it yourself."
James has promised to be more aggressive in Game 5 after spending most of Game 4 on the perimeter. Heat coach Erik Spoelstra hinted he'd try to call more plays that put James in control of the ball.
"We're always at our best in attack mode," James said. "It starts with me. I'm a big believer in my ability."
Early Thursday morning, the following message was posted on James' Twitter page: "Now or Never!!"
"That's just how I was feeling at the time, honestly," James said of the tweet. "It was just a personal message to myself. It has nothing to do with anyone else besides myself. I was just in the zone at that point."
James also briefly responded to Mavericks guard DeShawn Stevenson, who said James had "checked out" in the fourth quarter of Game 4.
"He has a right to say what he wants to say," James said. "I'll be on the court for 45 minutes, we'll see what happens."
Brian Windhorst covers the Miami Heat for ESPN.com. Information from The Associated Press was used in this report.
ESPN.com
ESPN.com NBA writer since 2010
Covered Cleveland Cavs for seven years
Author of two books
2011 NBA FINALS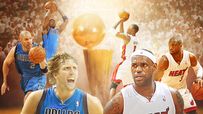 Follow the NBA on ESPN: Twitter / Facebook
LATEST CONTENT
MUST-READ
FEATURES
SERIES PAGES
MORE FROM ESPN DALLAS

Check out ESPN Dallas, the place for your local Dallas sports coverage.
MOST SENT STORIES ON ESPN.COM