LeBron James clarifies comments
MIAMI -- After two days to reflect, LeBron James clarified his comments following the Miami Heat's loss to the Dallas Mavericks in the NBA Finals on Sunday night.
James had received some criticism for making a blanket statement that seemed to belittle fans who cheered against him and the Heat.
The Herd with Colin Cowherd
ESPN the Magazine's Ric Bucher says watching LeBron in the clutch was a tragedy. The friendship between LeBron and Dwyane Wade might be getting in the way of competition.
"All the people that was rooting on me to fail, at the end of the day they have to wake up tomorrow and have the same life that they had before they woke up today," James said Sunday.
"They have the same personal problems they had today. I'm going to continue to live the way I want to live and continue to do the things that I want to do with me and my family and be happy with that. They can get a few days or a few months or whatever the case may be on being happy about not only myself, but the Miami Heat not accomplishing their goal, but they have to get back to the real world at some point."
Tuesday, James backed down from those statements and said they were misinterpreted.
"Basically I was saying at the end of the day this season is over and -- with all hatred -- everyone else has to move on with their lives, good or bad. I do too," James said.
"It wasn't saying I'm superior or better than anyone else, any man or woman on this planet, I'm not. I would never ever look at myself bigger than anyone who watched our game. It may have come off wrong but that wasn't my intent."
The Heat are far from over their Finals loss to the Mavericks and were just beginning to put things in perspective as they cleaned out their lockers and went through final meetings on Tuesday. Dwyane Wade said he was in a state of depression. James said he was the definition of the word "low."
Two days after their Game 6 defeat, James said he was especially upset because he felt he let his teammates down with a poor performance. James averaged just 17.8 points and had several poor late-game efforts during the series as the Mavs won the final three games to take the title.
"I put a lot of pressure on myself not to let my teammates down, maybe to a fault at times," James said. "I didn't play up to my own standards. Did that cost us the Finals? I don't know. I'm not satisfied with my performance."
Wilbon: Lessons Learned In Losing

LeBron James is finding out the hard way what losing can do to a man. Now maybe he can also learn what losing can do for a man, writes Michael Wilbon. Story

James was also asked if he had any regrets over the events of the last year, especially his decision to leave the Cleveland Cavaliers.
"You can't live your life going back and saying 'if I could do it again,' life doesn't run its course like that," James said. "There are times when you feel like if you did have another opportunity you would change it but you can't move on in life thinking about the past."
On a day when the Heat hoped to be playing a Game 7, Wade said he thought this season would be easier. The team came within two victories of a title but struggled at times as James, Wade and Chris Bosh had some issues meshing their roles. Wade admitted getting three All-Stars to fit was more challenging than it first appeared when they all signed with the Heat last summer.
"You come into a season and see the talent on your roster and you immediately think the game is going to be easier for you; you expect certain things to happen," Wade said. "You have to work the game, no one can come in and automatically be great at something."
Brian Windhorst covers the NBA for ESPN.com.
ESPN.com
ESPN.com NBA writer since 2010
Covered Cleveland Cavs for seven years
Author of two books
SPONSORED HEADLINES
MORE NBA HEADLINES
MOST SENT STORIES ON ESPN.COM
2011 NBA FINALS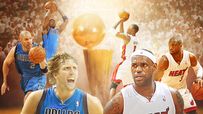 Follow the NBA on ESPN: Twitter / Facebook
LATEST CONTENT
MUST-READ
FEATURES
SERIES PAGES
chadfordinsider

Chad Ford


Spurs, Jazz, Hawks were only 3 teams to interview him @ combine RT @BrockOchoGOAT: Muscala has Spurs steal of the draft written all over him
14 minutes ago

LarryCoon

Larry Coon


My chat is going to start a few minutes late today (meeting running long): http://t.co/B1Y7FEXotj
14 minutes ago

truehooptv

TrueHoop TV


RT @TrueHoop: Talking MVP of the playoffs with @CoachThorpe on @TrueHoopTV http://t.co/hWZAbHQ4gw Is there a Thorpe curse, and does Marc Ga…
21 minutes ago

ESPNNBA

The NBA on ESPN


Michael Jordan was better at playing basketball than scouting LeBron, as @tomhaberstroh explains: http://t.co/Fv33kwPlfR
36 minutes ago

RoyceWebb

Royce Webb, ESPN NBA


RT @BeckleyMason: Defense is not half the game *for an individual* if you guard a weak player and dominate the ball on offense.
40 minutes ago

tomhaberstroh

Tom Haberstroh


In his own words, Roy Hibbert explains why guarding the Heat is "a conundrum," unlike the Knicks. http://t.co/i2nTWzqHPg
43 minutes ago

WallaceNBA_ESPN

Michael Wallace


5-on-5: Pacers-Heat Game 2 http://t.co/dmn93BkTT7
46 minutes ago

TrueHoop

Henry Abbott


RT @ShandelRich: For what it's worth, Shane Battier last year ranked 13th on http://t.co/lCtPYO6cpW list of NBA's dirtiest players: http://…
50 minutes ago

LarryCoon

Larry Coon


I'll be chatting at 3 PM Eastern, Noon PT. Grab a sandwich and ask me some questions: http://t.co/B1Y7FEXotj
about an hour ago

WallaceNBA_ESPN

Michael Wallace


These are Georgetown (Hibbert) & Duke (Battier) guys. Not Pac & Biggie. This ain't legit beef. It's tofu. They'll be running country 1 day.
about an hour ago

TrueHoop

Henry Abbott


Shane Battier is accused of dirty play and isn't talking. But he discussed this exact thing a while back: http://t.co/Ev1VKw65lh
about an hour ago

NBARumorCentral

ESPN


Why #Pistons might target #UNLV's Anthony Bennett in #NBADraft and turn him into a SF: http://t.co/RXxVHOqViW
about an hour ago

IzzyESPN

Israel Gutierrez


RT @Bowen12: #NBALockdown: Find out what makes me and @IzzyESPN in the same class of bball players (spoiler: ASG appearances): http://t.co/…
about an hour ago

kpelton

Kevin Pelton


Time for my weekly chat on http://t.co/zurWCSFkTq: http://t.co/vNp4vSu35B
about 2 hours ago

tomhaberstroh

Tom Haberstroh


Hibbert: "You don't shoot with your knee by your ***** unless you're trying to do something." He should speak for himself.
about 2 hours ago

kpelton

Kevin Pelton


Curious to see if the current Roy Hibbert lovefest translates into him finishing higher than 10th in next year's DPOY voting.
about 2 hours ago

tomhaberstroh

Tom Haberstroh


.@parksandrecnbc star Roy Hibbert says, in the NYK series, he was approached by a movie director abt a role. It wasn't Space Jam 2. I asked.
about 2 hours ago

ESPNNBA

The NBA on ESPN


Why Michael Jordan was completely wrong about LeBron James, by @tomhaberstroh (Insider): http://t.co/Fv33kwPlfR
about 2 hours ago

chadfordinsider

Chad Ford


Carter-Williams shot looking better. Shot around 55% NBA 3. 65% college 3. 80% mid range during workout.
about 2 hours ago

tomhaberstroh

Tom Haberstroh


Where did Shane Battier's knee get Roy Hibbert? "It wasn't in my family jewels," Hibbert said, "but it still hurt."
about 2 hours ago
MORE FROM ESPN DALLAS

Check out the new ESPN Dallas, the place for your local Dallas sports coverage.