LeBron James clarifies comments
MIAMI -- After two days to reflect, LeBron James clarified his comments following the Miami Heat's loss to the Dallas Mavericks in the NBA Finals on Sunday night.
James had received some criticism for making a blanket statement that seemed to belittle fans who cheered against him and the Heat.
"All the people that was rooting on me to fail, at the end of the day they have to wake up tomorrow and have the same life that they had before they woke up today," James said Sunday.
"They have the same personal problems they had today. I'm going to continue to live the way I want to live and continue to do the things that I want to do with me and my family and be happy with that. They can get a few days or a few months or whatever the case may be on being happy about not only myself, but the Miami Heat not accomplishing their goal, but they have to get back to the real world at some point."
Tuesday, James backed down from those statements and said they were misinterpreted.
"Basically I was saying at the end of the day this season is over and -- with all hatred -- everyone else has to move on with their lives, good or bad. I do too," James said.
"It wasn't saying I'm superior or better than anyone else, any man or woman on this planet, I'm not. I would never ever look at myself bigger than anyone who watched our game. It may have come off wrong but that wasn't my intent."
The Heat are far from over their Finals loss to the Mavericks and were just beginning to put things in perspective as they cleaned out their lockers and went through final meetings on Tuesday. Dwyane Wade said he was in a state of depression. James said he was the definition of the word "low."
Two days after their Game 6 defeat, James said he was especially upset because he felt he let his teammates down with a poor performance. James averaged just 17.8 points and had several poor late-game efforts during the series as the Mavs won the final three games to take the title.
"I put a lot of pressure on myself not to let my teammates down, maybe to a fault at times," James said. "I didn't play up to my own standards. Did that cost us the Finals? I don't know. I'm not satisfied with my performance."
Wilbon: Lessons Learned In Losing

LeBron James is finding out the hard way what losing can do to a man. Now maybe he can also learn what losing can do for a man, writes Michael Wilbon. Story

James was also asked if he had any regrets over the events of the last year, especially his decision to leave the Cleveland Cavaliers.
"You can't live your life going back and saying 'if I could do it again,' life doesn't run its course like that," James said. "There are times when you feel like if you did have another opportunity you would change it but you can't move on in life thinking about the past."
On a day when the Heat hoped to be playing a Game 7, Wade said he thought this season would be easier. The team came within two victories of a title but struggled at times as James, Wade and Chris Bosh had some issues meshing their roles. Wade admitted getting three All-Stars to fit was more challenging than it first appeared when they all signed with the Heat last summer.
"You come into a season and see the talent on your roster and you immediately think the game is going to be easier for you; you expect certain things to happen," Wade said. "You have to work the game, no one can come in and automatically be great at something."
Brian Windhorst covers the NBA for ESPN.com.
ESPN.com
ESPN.com NBA writer since 2010
Covered Cleveland Cavs for seven years
Author of two books
2011 NBA FINALS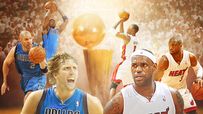 Follow the NBA on ESPN: Twitter / Facebook
LATEST CONTENT
MUST-READ
FEATURES
SERIES PAGES
royceyoung

Royce Young


It was a gut-check kind of night in Phoenix, and Russell Westbrook and the Thunder rose to the occasion: http://t.co/8VUXFc83el
21 minutes ago

royceyoung

Royce Young


Kyle Singler with a nice summary of the game: "Defense was, you know, on the sh---y end. Whatever we weren't doing, we turned it around."
43 minutes ago

ArashMarkazi

Arash Markazi


The Clippers have won seven straight and now have their sights set on a top three playoff seed. http://t.co/dTfBgUnEGC
about an hour ago

espn_macmahon

Tim MacMahon


Parsons passes test, but Pacers top Mavs: INDIANAPOLIS -- Can Chandler Parsons be a primary focal point of the... http://t.co/8Xy9Z7uzFt
about an hour ago

royceyoung

Royce Young


Westbrook on McGary's celebration level: "Nah, nah I don't do that. I don't do all that. I get ready for the game. I'll let him do that."
about an hour ago

MazzESPN

Mike Mazzeo


Matteau (cheap, skilled youth) needs to crack #Devils lineup next year. Team needs a good 50-60 more goals to be even average offensively.
about an hour ago

royceyoung

Royce Young


Walked in the locker room to Westbrook telling Kanter, "If you want that, you got to get up higher than that!"
about 2 hours ago

royceyoung

Royce Young


First time in the OKC era the Thunder have come back from 20 or more down to win. Last time: 4/7/2007, Sonics beat Utah after being down 22.
about 2 hours ago

kpelton

Kevin Pelton


Gonzaga had 3 games all season with 3 or fewer 3-pointers. 2 of the 3 came this weekend in Houston.
about 2 hours ago

royceyoung

Royce Young


Suns scored 62 points in the first half. And 35 in the second half.
about 2 hours ago

royceyoung

Royce Young


It wasn't an eye-popping line, but Russell Westbrook played a wonderful game. Super assertive in the first half, pulled back in the second.
about 2 hours ago

ESPNNBA

NBA on ESPN


Thunder comeback! Down by 20, OKC thumps Phoenix in the 2nd half to win 109-97.Westbrook: 33 Pts, 9 Reb, 7 Ast http://t.co/941IRPBo3Q
about 2 hours ago

royceyoung

Royce Young


Huge win for the Thunder. Drops the Suns four games behind them, and hands OKC the tiebreaker. Pelicans 2.5 back.
about 2 hours ago

royceyoung

Royce Young


Thunder beat the Suns 109-97. Westbrook 33-9-7, Augustin 19 (4-5 from 3) Waiters 18, Adams 13 and 16 rebounds, Kanter 11 and 9, Morrow 11.
about 2 hours ago

royceyoung

Royce Young


Large contingent of Thunder fans in Phoenix have a pretty robust M-V-P chant going for Russell Westbrook.
about 2 hours ago

kpelton

Kevin Pelton


Did not realize D.J. Augustin had the sweeping hook in his arsenal.
about 2 hours ago

PhilJackson11

Phil Jackson


We will rebuild a team that fits together-guys that want to compete and play the way bball gods approve.#groundup
about 2 hours ago

royceyoung

Royce Young


D.J. Augustin with 17 off the bench tonight (4-5 from 3).
about 2 hours ago

royceyoung

Royce Young


Kanter in for Adams. Brooks probably going a little offense-defense here.
about 2 hours ago

royceyoung

Royce Young


Suns went Hack-an-Adams (Haka Adams?), and he missed both. Don't think you can take him off the floor, though. Too important defensively.
about 2 hours ago
Adidas Youth Cleveland Cavaliers Lebron James #23 Home White Replica Jersey Shop »
MORE FROM ESPN DALLAS

Check out ESPN Dallas, the place for your local Dallas sports coverage.
MOST SENT STORIES ON ESPN.COM