You are signed into Insider
and have access to the exclusive draft content below.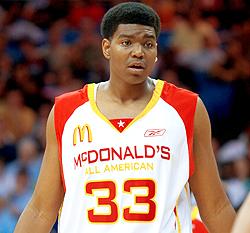 (C) Andrew Bynum - St. Joseph HS (NJ)

Chad Ford's Analysis: So much for instant impact. Is Bynum the next Shaq? Bynum has the size and ability to be a dominant big man in the league. But he's a ways away. A few months ago he wasn't even on the radar screen. But he was good enough at the McDonald's All-American game that he intrigued everyone. He was awesome in a workout for the Lakers and they were sold. He's an intelligent kid who is pretty skilled, but I doubt Phil Jackson is going to use him for a while.

Draft Projection: No. 10 to 20 overall

Notes: A native of Metuchen, New Jersey. Played his high school ball at St. Joseph High School in Plainsboro. Averaged 21 ppg, 12 rpg and 5 bpg his senior season. Had 13 points and 5 rebounds in 15 minutes at the Jordan Capital Classic. Had 9 points, 5 rebounds, 1 block in 11 minutes at the McDonald's All-American game. Hasn't hired an agent, maintaining his college eligibility. Is committed to UConn.

Positives: After all the talk about how there's no size in the high school Class of 2005, how did scouts miss the gigantic Bynum? Standing a legit seven feet and weighing 300 pounds, Bynum is huge. He has long arms and is athletic and very mobile for a guy of that size. Best of all, he's not afraid to get a little dirty in the paint. Get him on an NBA weight regimen and he could be an absolute monster.

Negatives: He's still very raw offensively and really could use a few years at a top program like UConn. Weight has been an issue in the past. He could stand to lose 20 pounds. Some scouts wonder if he's the second coming of Desagana Diop.

Summary: The big kid is raw, but he's stunned teams with his skills and size in workouts. Rumors abound that the Lakers have made him a promise at No. 10.