Andy Ellis
POWER FORWARD | (6-11, 225) | TEXAS TECH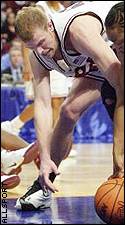 Notes: Ellis finished 12th on Tech's career scoring list with 1,431 points. Named secodn team All-Big 12 and to the all-tournament team at the Portsmouth Invitational, averaging 12.3 points and 6.3 rebounds.

Led Tech in rebounding as a senior and 3-point field goal percentage. Was second in scoring, scoring 20 or more points in 10 games. Also had six double-digit rebounding games.

Positives: Ellis shined under Bob Knight's coaching this past season. He developed a deep range and could score essentially all over the court. NBA teams love a big man who can take his game outside. Ellis has got more of a European game and that bodes well for his draft status. He's also savvy with the ball and he'll be viewed as extremely coachable.

Negatives: The defense and quickness issues will dog Ellis when judging where he should be picked. He's still got to prove he can consistently score in the post if pressed. But hes got the hands and feet to be a success as a shooting forward in the league.

Summary: Ellis is one of those players who could sneak into the bottom of the first round if a team takes a liking to him late in the draft process. He's more likely a second-round pick with a chance to move up in Chicago.