Pitching steals spotlight on Day 1 of WCWS
Originally Published:
May 31, 2007
By
Graham Hays
| ESPN.com
OKLAHOMA CITY -- Records fared no better against Monica Abbott on Thursday night than hitters have fared for the last four years, falling by the wayside with remarkable frequency as Tennessee played Texas A&M in the opening game of the evening session at the Women's College World Series. What remains to be seen is whether those marks will ultimately be footnotes in the record book or the preface to a championship.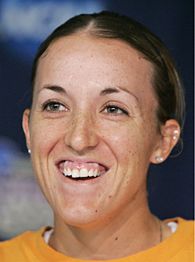 AP PhotoUSA softball collegiate player of the year Monica Abbott shook off a rocky start to post yet another no-hitter for her career.
Abbott broke the single-season strikeout record, fanning 16 Texas A&M hitters to pass former Southern Miss star Courtney Blades' record of 663. Her final strikeout of the night, in addition to setting a new standard for total strikeouts by two teams in a World Series game (28), closed out the day's second no-hitter, marking the first time two no-hitters were thrown in the opening three games. (Struggling to convert their own numerous hits into runs in support of their ace, the Lady Vols set another record by stealing five bases in the game).
But for all the history on display from Abbott and those around her, the most important strike the newly crowned Player of the Year threw to home plate produced a less common kind of putout for catcher Shannon Doepking. That play in the first inning, a blip on the radar by the end of the night, set the stage for both the records to come and for teammate India Chiles, playing on a torn ACL, to come up with the eventual go-ahead hit in the seventh.
During the bottom of the first inning, Abbott appeared to be on her way to setting records of a more ignominious nature. Interspersed between seven visits to the mound from combinations of pitching coaches, infielders, and in one instance, the entire outfield, Abbott walked the bases loaded without the Aggies taking a single full swing at the ball. And after being called for her second delay of game, resulting in an automatic ball that pushed the count to 1-1 against Jami Lobpries, she appeared in danger of a meltdown.
"I think the first inning I just kind of forgot to breathe," Abbott laughed after the game. "So when you forget to breathe, you kind of tense up and it ended up affecting my pitching and everything was going a little bit high. So I just settled down and all my teammates supported me and told me, 'Take a deep breath, Monica, you're all right.'"
After the count ran to 2-1, Lobpries chopped a pitch right back to Abbott, who calmly threw home for the force that kept the Aggies from pushing across a first-inning run. Abbott then got freshman Alex Reynolds to chase a rise ball for the third out of the inning and the Aggies wouldn't threaten again in the game.
"That was huge," coach Karen Weekly said of the play at the plate. "We got ourselves into a pretty tough jam there, and she got us out of it getting that ground ball and getting a strikeout somewhere in there. But that was a really critical moment in the game."
Having missed that opportunity to get to Abbott early, Texas A&M began to find itself on the defensive as Abbott gained command of both her breathing and her pitches, most notably her rise ball.
WCWS Hit List

Hitter of the Day
Dena Tyson: Various body parts wrapped in ice to ward off a season's worth of wear and tear, Tyson was the last Washington player to make it to the dais for the team's press conference following a 3-1 win against DePaul. Then again, she had earned the right to spend the rest of the day moving at a home-run trot after coming up with the hit that launched the Huskies on the path to victory.

Tyson hadn't hit a home run since April 29 when she came to the plate with one runner on base and two outs in the bottom of the third on Thursday. DePaul, despite not having a hit at the time, led 1-0 and still possessed the positive vibes from last week's win against Oklahoma and an unearned run against the Huskies in the second inning. All of which changed when Tyson deposited an inside pitch several feet beyond the fence in left field for a two-run home run.

The team's leading hitter during the regular season, Tyson did what sluggers are supposed to do. And in the World Series, that's no small feat.

Play of the Day
India Chiles: It seemed almost scripted. India Chiles, playing on a torn ACL little more than two weeks after sustaining the injury, came to the plate with one out in the top of the seventh and Kenora Posey on third base in a scoreless tie. But sometimes Hollywood endings happen in places like Oklahoma City, and so it was that Chiles lofted a soft looping liner just beyond the reach of retreating shortstop Macie Morrow, driving in Posey with the only run the Lady Vols would need in what eventually expanded into a 2-0 win.

Originally expected to be little more than a pinch hitter, at best, this week, Chiles was in the starting lineup for the World Series opener.

"That was India's decision, and being a senior, there is no time left for her," coach Karen Weekly said. "All week long, we knew she wanted to play, but there was no way we were going to put her out there without the doctors feeling that it was an OK situation for her. We would never put her in a position where she might get hurt worse."
"I thought our kids did a really nice job in the first two innings of staying off that up pitch," Texas A&M coach Jo Evans said. "That was our game plan, to make sure we didn't chase the pitch up. And [we] had an opportunity early where to get a timely hit really changes the whole game. And she shot it down like the great pitcher she is. Then she started throwing strikes early, and that's where I was a little frustrated with our hitters that we weren't more aggressive."
While Abbott claimed the top spot with Thursday's performance, she already owned four of the top 10 single-season strikeout marks, in addition to the career strikeout record. She has possessed the stuff of an all-time ace from the moment she set foot on campus in Knoxville. But it's the mental side of the game, on display as she struggled to gain command of the game in the first inning that, that most marks Abbott's progress.
"Having a routine, sticking to her routine, not letting anything that happens on the field disrupt that or phase her," Weekly explained of Abbott's growth.
Whether she keeps that up as the pressure builds and the games get even bigger this weekend may well determine whether Thursday was just another night of numbers or the start of something special for the Lady Vols.
Northwestern 2, Arizona State 0
It wouldn't have gone into the record books as a perfect game, even if Arizona State's Michelle Smith hadn't legged out a bunt single in the sixth inning for her team's only hit, but Eileen Canney put together a perfectly pitched game in Northwestern's 2-0 win against Arizona State in Game 2 of the Women's College World Series.
The Wildcats blanked the Sun Devils on the strength of Canney's one-hitter but also on the strength of three strategic walks to Kaitlin Cochran. Free passes, or lack thereof, have been a consistent barometer of Canney's success in her senior season, but the balls thrown to Cochran in what could best be described as intentional walks without the pomp and circumstance had less to do with missing her spots than sacrificing ego.
"We didn't want Cochran to beat us today," coach Kate Drohan said simply.
Cochran is as close to the unquestioned most dangerous hitter in college softball as we're likely to see this decade. Teams pitched around her all season and she was still hitting .496 with an .896 slugging percentage entering Thursday's game. Her teammates, while far more productive at the plate than last season, remain an average offensive group with good power and a penchant for timely hitting but also a mediocre batting average.
Logic pointed to one clear choice when Cochran came to the plate. Pride made it a tougher sell to Canney, a senior who showed for seven innings why she's right there with Monica Abbott and Katie Burkhart, her counterpart in Thursday's game, in the discussion as the nation's best college pitcher.
"Being competitive, I didn't really want to have to do that," Canney admitted "But it's definitely the smart move, because she's a really good hitter."
Her coach, who admitted with a laugh that she first had to quell her own fighter's instincts in embracing the idea, eventually prevailed on the better angels of Canney's competitive nature.
"We talked to her about it for the last couple of days," Drohan said. "At first, she was like, 'I can beat her; give me the ball. But we really talked about our game plan and she was on board. I think she's throwing with a lot of confidence right now, so to put a runner on, she felt comfortable with that."
And so with a runner on first and one out after Smith's bunt in the top of the sixth, Canney carefully threw four balls to Cochran to put the tying run in scoring position and then proceeded to retire the next two batters on a strikeout and a pop-up.
It's one thing to have an ego that tells you that you can get the best of anyone; it's another to have the poise to know when proving that is a fool's errand.
Arizona 2, Baylor 1 (9 innings)
On a day when pitchers ruled the field, Arizona shortstop Kristie Fox showed why position players still matter at the Women's College World Series.
Fox provided her most obvious statement at the plate against Baylor, setting up Arizona's first run with a double in the bottom of the fourth and scoring on an RBI ground out by Laine Roth and then ending a game that was heading rapidly toward dawn with a walk-off home run in the bottom of the ninth that gave the Wildcats a 2-1 victory.
For an All-American who now has 48 career home runs, the offensive production is hardly something new or unusual. But Fox also led the way in the field for Arizona, making one memorable snag to save at least a run and countless other fundamental plays that will fade from memory precisely because they were made.
"I tell kids regularly that you win championships with defense," coach Mike Candrea said. "If you don't play defense at this level, it's going to cost you. There have been a few years I remember where it did cost us. We put a lot of emphasis on defense."
The defensive highlight came with two outs in the top of the fifth and Baylor threatening with runners on first and third. The Bears had already scored a run to tie the game after two passed balls, the second of which Arizona players and coaches felt was a foul tip, and seemed destined to take the lead when Courtney Oberg lined a 2-2 pitch just to the shortstop side of second base. But moving quickly to her left and backward, Fox reached out at full extension and snow-coned the ball as it rushed past.
"Honestly, from my angle, I thought it got by her," Baylor coach Glenn Moore said. "She made an outstanding play. That might have saved the game for them."
Arizona is known for a lot of things, including its signature small-ball attack and a legacy of dominant aces in the circle, but consistently excellent defense has also been a staple of Candrea's teams.
"Our practices are over half defense," Fox said. "We work on defense all the time. He says great pitching, great defense and timely hitting. You're not going to be hitting all the time, but if you're playing great defense, you're going to be keeping yourself in the game."
Candrea admitted after the game that he called Fox's shot to the players in the dugout as his star slugger was walking to the plate. It's the kind of confidence it's easy to have in a pure hitter, but the other side of her game has taken more work.
"I think it's something that I've actually had to put a lot of time and effort into," Fox said. "I've had to work really hard on it. Shortstop is a hard position. You've got to be in charge, you've got to be talking and you've got to have everyone into the game and focused, as well as yourself. So I think it's really something that I've had to develop since I was a freshman. It just wasn't natural."
Fox's blast won the game because her glove saved it five innings earlier.
Graham Hays is a regular contributor to ESPN.com's softball coverage. E-mail him at Graham.Hays@espn3.com.
espnW.com
Graham Hays covers college sports for espnW, including softball and soccer. Hays began with ESPN in 1999.
SPONSORED HEADLINES
MORE COLLEGE SPORTS HEADLINES
MOST SENT STORIES ON ESPN.COM