Arizona's second consecutive title has much different feel than first
Originally Published:
June 7, 2007
By
Graham Hays
| ESPN.com
OKLAHOMA CITY -- Dusk descended on Oklahoma City as Arizona came to bat in the bottom of the fifth inning on Wednesday night, sending a slide show of secondary colors across the sky from right field to left field. Blithely ignoring the Technicolor hint, the Wildcats calmly fought off the twilight of their own excellence for another year.
Facing Tennessee ace Monica Abbott for the fourth time in six days and facing elimination with a loss for the fifth time in the same span, Arizona broke loose for five runs in the bottom of the fifth inning and held on for a 5-0 win to claim the national championship for the second year in a row and the eighth time overall.
With every improbable escape from pitcher Taryne Mowatt, who stranded 26 runners in the final two games to earn the tournament's Most Outstanding Player award, and every clutch catch from Caitlin Lowe and RBI hit from Jenae Leles, the Wildcats not only wrote a place for themselves in Arizona history but kept their story front and center in a new chapter of the game's history.
"This was, by far, one of the most memorable College World Series that I've been through in a long time," an almost giddy Mike Candrea said.
All right, giddy by the standards of a man who tips his emotions less frequently than Mowatt tips her changeup.
The game may be growing at a pace so rapid as to produce a World Series without a participant from California for the first time. Its borders may be expanding enough to allow a team from the other side of the softball tracks, i.e. the Mississippi River, to play for the national championship for the third year in a row. Eventually that change may wind up at Candrea's doorstep. But the empire he has carved out of the desert in Tucson isn't in imminent danger of being sacked by pillaging Gauls, Vols or anyone else.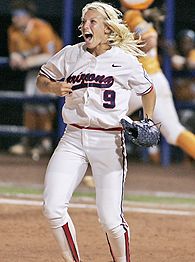 AP PhotoTaryne Mowatt's gutsy performance in the circle earned her a place in Arizona softball lore.
"There are different eras," Candrea said of his eight titles. "Obviously the '90s, I mean '91, walking in here with a team predominantly of Arizona kids, that was kind of what allowed us to get in the door. And then in the mid-'90s, I thought we had some very good recruiting classes back to back and had some really dominant players and came in here and really played well.
"But the sport has grown so much now that in this era, it really takes special weeks and special moments to do it. So I think the process becomes more important in this era than it used to be."
Like any empire, Arizona has faced equal parts internal and external challenges as one era reaches an invisible end point and a new one begins. It's a different world facing championship-caliber teams emerging from conferences like the Big Ten and SEC, as Arizona did the last two seasons against Northwestern and Tennessee. It's also a different world for Candrea stocking his own team with a new generation of players.
"Our freshman class really took a lot of energy out of me," Candrea said of a group that had lost two key members to off-field problems by the time the team reached the World Series. "I don't know how to describe it, other than it's called taking care of business. And if that's the future, we've got problems with young kids."
Even as the talent pool available to college coaches increases in both depth and refinement, those same players arrive on campus with far different mind-sets than their predecessors. As the game grows, so do the potential headaches.
"They're different," Candrea said. "I think as coaches, you have to change with the times, and I'm not so sure I'm one that has really thought about that until just now. I think our freshmen need to be coddled a lot more than maybe I do. And the trouble that we have is that in the fall we have one month of practices, so there is a lot of downtime for them. And I need to absorb some of that, because I think sometimes that's where we lose them."
But the Wildcats who remained were on the field on Wednesday night, celebrating another national championship precisely because for all the challenges and obstacles of the brave new softball world, the program continues to find enough of the kind of players capable of living up to the Arizona legacy.
Players like seniors Lowe, Kristie Fox and Chelsie Mesa leave as two-time national champions (four-time champion in Mesa's case, counting two junior-college titles). Ace Mowatt, who played an important offensive role on last year's championship, emerged as a national star this week through guts, guile and that world-class changeup.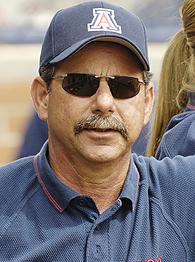 Ben Rider/Arizona AthleticsMike Candrea has found different ways to win as times have changed.
"I feel really grateful to even be a part of it," Fox said. "So many amazing players have come through the Arizona program, and I'm just happy that I could be one of them. And to leave with two national championships is more than I ever could have imagined."
There is a sense that somewhere time is ticking down on Arizona's run, just as it must inevitably be for Tennessee and Connecticut women's basketball and North Carolina women's soccer. As women's sports grow and parity increases, dynasties must end.
And for a brief moment after Wednesday's win, Candrea sounded like a man who knows the clock always wins in the end.
"I enjoy the moment," Candrea said. "And especially at my age and where I'm at in my career, you don't know how many more times you're going to get to be in there. And just to kind of observe it is kind of fun."
The man who has performed arguably his two most impressive coaching jobs the last two seasons will step away next season to concentrate on his other job as coach of the United States national team as it prepares for the Olympics in Beijing. But before anyone could surmise that the sunset in the fifth inning might have been his last with the Wildcats, the coach quickly made it clear he'd rather try to stay on top than go out on top.
"I do want to clarify something real quick," Candrea said in response to rumors he might step away after the 2008 Olympics. "And that is this is not my last game at Arizona. I don't know who is jumping the gun, but that is far from the truth."
It turns out the emperor has no plans to abdicate his throne. And that's good news for fans in Tucson and for every program that wants to measure itself against the best.
Graham Hays is a regular contributor to ESPN.com's softball coverage. E-mail him at Graham.Hays@espn3.com.
espnW.com
Graham Hays covers college sports for espnW, including softball and soccer. Hays began with ESPN in 1999.
SPONSORED HEADLINES
MORE COLLEGE SPORTS HEADLINES
MOST SENT STORIES ON ESPN.COM