Lawrie, Salling among top collegiate players vying for an Olympic spot
Originally Published:
July 20, 2007
By
Graham Hays
| ESPN.com
OKLAHOMA CITY -- Danielle Lawrie and Jenn Salling are prepared to stand on guard for thee, Canada. After all, the Great White North is their home and native land.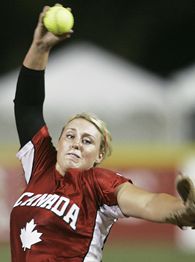 AP PhotoDanielle Lawrie took Washington to the Women's College World Series in 2007.
Oklahoma City has long been Pac-10 territory in softball's postseason, but some of the conference's stars recently went the extra mile to get time in ASA Hall of Fame Stadium, the traditional home of the Women's College World Series. Playing the unfamiliar role of underdogs in the third annual World Cup of Softball against the heavily favored American entry, itself composed largely of Pac-10 products, Washington's Lawrie and Oregon's Salling suited up for Canada, while Stanford pitcher Missy Penna played under the flag of the Dominican Republic. In the cases of Lawrie and Salling, the World Cup may have been the last time fans in the Sooner State and fans of college softball will see them for quite some time. Despite having a combined five years of college eligibility remaining between them, Lawrie and Salling won't be taking the field for the Huskies and Ducks, respectively, next season if they make the final cut this fall for Canada's Olympic roster. And considering Salling has been a regular at shortstop for Canada this summer, both during the recent Canada Cup and the World Cup, and Lawrie is one of only two pitchers in the last five years to defeat the United States, making the cut seems like something of a foregone conclusion for both. With what projects as a young roster no matter who makes the cut, and facing the prospects of softball's swan song as an Olympic sport, Canadian coach and former Canadian Olympian Lori Sippel is taking no chances with team chemistry. "All I've asked is that anybody who is in college who makes the Olympic team will redshirt, so we can travel together in the spring," Sippel said. "It's not a done deal until everybody makes the team, but the letter has gone out that if you're in college and you do make the Olympic team, you're going to be required to take the spring semester off so she can travel with the team."
Summer session
Lawrie and Salling weren't the only current college players on the field at the World Cup. • Fresno State ace Robin Mackin, who will be in the same boat next season as her Canadian teammates should she make the Olympic roster, got the start against the United States in the World Cup and pitched well despite giving up a pair of two-run home runs to Crystal Bustos and Natasha Watley. University of Detroit star slugger Kaleigh Rafter also suited up for Canada. • Like Mackin, Penna took her lumps against the United States in Oklahoma City, allowing nine runs and 12 hits in 1.2 innings. That assignment left United States assistant coach John Rittman, who is also the head coach at Stanford, in the uncomfortable position of coaching against a player who may hold the key to his team's hopes of getting back to the College World Series. "It's like playing against family, it's never easy to do," Rittman said. "Missy is definitely part of our Stanford family, and I want to see her do well. … I'm very proud of Missy, and the way she's handled herself in international softball." Baylor infielder Maritza Martinez and Loyola Marymount catcher Chelsie Tysdal joined Penna on the Dominican team.
For Lawrie, that would mean an extra year to stew over the disappointment of coming so close to a national championship with the Huskies in the season just completed. If not for a couple of bad innings against Arizona in a must-win game for the Wildcats, it might have been the right-hander from British Columbia, who beat the United States in the 2005 World Cup before ever pitching in a college game, winning an ESPY after an awe-inspiring individual effort in the circle in the World Series. Juggling a college career with a role as the ace of a national team leaves little time for introspection, but Lawrie succumbed to a bit of déjà vu upon arriving in Oklahoma City for the World Cup. "It was sad, getting here that first night and going to the same hotel and everything like that -- I even think we were on the same floor," Lawrie said. "To me, that was kind of sad, just because it happened a little while ago. But at the same times, it kind of got me pumped up, getting here with the new team, new experiences and kind of getting that rolling." While the 2008 college season will end months before the Olympics in Beijing, even for the teams lucky enough to keep playing into early June, Lawrie sees the benefit of taking the season off. Or perhaps more accurately, she feels the benefit after pitching 278 innings for Washington this season (up from 257.2 as a freshman). "There are so many benefits, when I sit down and do the pros and cons," Lawrie said. "Just kind of looking at my college season last year and how many innings I threw, and everything like that, compared to getting to work out with this team and maybe not throw as many innings but be a lot fresher for the summer." Fans didn't get a chance to see Salling play on a national stage in Oklahoma City after Oregon lost in disappointing fashion in the Columbia Regional in the NCAA Tournament, but the redshirt freshman earned a lot of attention, if not a lot of airtime, by hitting .481 with 14 home runs and 1.463 OPS during her first season in uniform for a team that plays in the toughest conference in the country. No less a talent evaluator than Arizona head coach Mike Candrea gave Salling his unstated seal of approval, walking her six times in seven plate appearances during a two-game series in Tucson. "I think she knows who her best self is, and she knows how to prepare for that person to be out on the field," Sippel said of the difference between Salling this year and last year, when she went hitless in the World Cup. "She got so many at-bats and so many opportunities to play defense [at Oregon], that she's looked a lot more comfortable out at shortstop this year than she did last year. She was out there thinking how to play the game and this year she's just out playing the game." Salling, who speaks with the same directness and focus she displays in the field and at the plate, redshirted her first year in Eugene more to adjust to life away from home than to rehabilitate any physical malady. Despite the lumps the Ducks invariably took in finishing last in the league that season, coach Kathy Arendsen's patience was rewarded. "My teammates from Canada say it's like night and day from when they last saw me, or when they met me the first time, to ever since I've been at college," Salling said. "It's scary how much you grow up. Leaving home was one of the hardest things I've ever done. It was really tough for me at the beginning, and then I found out a lot about myself and what was best for me and stuck through it. And luckily, I'm here now."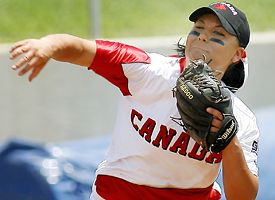 AP Photo/Ty RussellJennifer Salling is hoping to help Canada win an Olympic gold medal.
That redshirt season does present something of a problem, though, when it comes to Salling's potential Olympic sojourn. Having used that season, the clock is ticking on her remaining three years of eligibility. In order to avoid simply forfeiting a season of college softball, she must obtain a special waiver from the NCAA that allows Olympic athletes to retain the year of eligibility lost to training. Either way, if Sippel asks, Salling will be out there at shortstop, signature towel tucked in the back of her shorts, in Canadian red and white instead of Oregon green and yellow. For Salling and Lawrie, their passion to excel at the highest level will both necessitate the year away from campus and make them likely All-Americans when they do return. "They're real competitive, and they're closing the gap on the elite part of the game," Sippel said. "What they're doing is they're real sponges to the information that they get, and they're very competitive. So it's about kind of taking that competitiveness and adding a little bit of smarts to it, and kind of directing them in the direction we need to go." In other words, Salling and Lawrie will still be doing plenty of learning next year, even if it doesn't involve papers or blue books.
Graham Hays is a regular contributor to ESPN.com's softball coverage. E-mail him at Graham.Hays@espn3.com.
espnW.com
Graham Hays covers college sports for espnW, including softball and soccer. Hays began with ESPN in 1999.
SPONSORED HEADLINES
MORE COLLEGE SPORTS HEADLINES
MOST SENT STORIES ON ESPN.COM