Commentary
Michigan's Shaw shows legacy potential
Slugger's three home runs against Baylor ties Michigan's single-game record
Originally Published:
May 23, 2009
By
Graham Hays
| ESPN.com
ANN ARBOR, Mich. -- Evidence of the most important home run in the history of Michigan softball is hardly in short supply at Alumni Stadium in Ann Arbor, where massive murals of Samantha Findlay's game-winning blast in the 2005 Women's College World Series and the ensuing championship celebration adorn the stadium's brick façade.
As good a start as Dorian Shaw is off to through her first two seasons in the maize and blue, she is going to have a difficult time hitting any ball over the fence that leaves a more lasting impression.
[+] Enlarge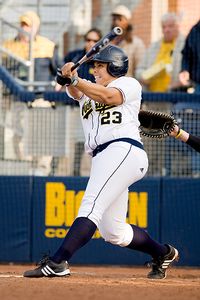 Scott Galvin/U-M Photo Services Dorian Shaw's three homers against Baylor tied Michigan's single-game home run record.
One dented building or upset bird's nest at a time, she's giving it her best shot.
Powered by three long home runs from Shaw, tying a program single-game record, Michigan beat Baylor 8-1 in the first game of the Ann Arbor super regional Friday. With the win, the Wolverines moved within a game of the Women's College World Series, as has been the case in each of the past four seasons for a program still looking for its first trip back to Oklahoma City since 2005, when Michigan won the first title by a school east of the Mississippi.
But if ghosts of super regionals past were floating in the vicinity Friday night, they might well have perished for a second time, felled missiles off the bat of a sophomore slugger making the transition from batting-practice novelty to full-fledged stardom.
Shaw's three home runs cleared the fence with room to spare and put five runs on the scoreboard; yet the loudest initial reaction she drew all night came on a titanic blast that hooked well foul in the bottom of the third inning and bounced off the wall of an indoor track building beyond left field.
The Michigan bullpen and batting cages sit just behind the fence down the left-field line. Behind those is a wide walkway, which in turn gives way to a few trees and a couple of sheds. Only after passing all of those landmarks do you reach the building that rises like the warehouse at Camden Yards. There's no official measurement, but the unofficial tally puts the building 260 feet from home plate.
Shaw is making a habit of slamming balls off the building on the fly, impressing even herself. Despite the three actual home runs she hit against the Bears, she listed the long foul as her favorite hit of the night.
Always a power hitter (her three home runs Friday matched a personal best from a high school game in her home state of Virginia), her tape-measure feats have nonetheless grown since she arrived in Ann Arbor two years ago.
2009 NCAA tournament
Take a look back at the 2009 NCAA softball tournament.
"Ever since I got here I've just been hitting them farther than I ever have in my life," Shaw offered with her trademark grin after the game. "And it's awesome because we have those pine trees behind [left-center] field that lead onto the baseball field. So it's always fun to hit them onto the baseball field. I don't think I've done it in a game yet, but I have hit the track building a few times."
When Baylor ace Whitney Canion left the next pitch after the foul blast well off the plate for a bases-loaded walk that gave the slugger another RBI, it seemed clear that fair or foul, Shaw's blasts border on psychological softball warfare.
"She has Bustos-type power," Wolverines associate coach Bonnie Tholl said, referring to Crystal Bustos, the standard by which all other power hitters are measured when it comes to tape-measure shots. "When you have that type of hitter in the box for you, it's an imposing figure to the opponent. We want to make Dorian an imposing figure [for] every single pitcher she faces, every single at-bat. And I think that's the step you see her taking right now emotionally."
As Michigan's recruiting coordinator, Tholl knew from the first moment she saw Shaw that the 5-foot-11 first baseman had the potential to be something special. Between hitters such as Findlay and Jessica Merchant, Michigan has had sluggers before who could hold their own in the field. But Shaw may yet create her own mold as much as fitting that one.
"This is a kid who, when you see her, the physical specimen that she is, you know she has God-given power," Tholl said. "You watched her, and she has extremely soft hands and great feet for a kid of her size. You don't often see that, and she was just smooth on the field.
"And this is even before I had seen her hit. And then when she picks up a bat, it's just like a small stick in her hand. … She's a powerful kid but has just a great athletic sense and athleticism about her that usually kids of her size and stature do not have."
Friday night could have ended with questions about the kind of history the Wolverines would rather leave to grow dusty and unread -- unpleasant memories, such as losing a super regional at Baylor two years ago or losing two games at home on the final day of last year's super regional against Virginia Tech. Instead, on a night when Baylor coach Glenn Moore half-joked in frustration that with the way the Wolverines played, they would have beaten the Detroit Tigers, the history in the air seemed to be traveling in the wake created by Shaw's blasts.
Might the crowd of nearly 2,000 at Alumni Field have witnessed the game that launches Shaw on an ascent as impressive as the arc of the home runs that sailed high into the darkened sky? It's a long way from two solid seasons and one memorable night to the pantheon of all-time greats, but it's also a long way to the track building.
"I've always looked up to all of those hitters -- the Jessica Mendozas, the Crystal Bustoses, the Stacey Nuvemans," Shaw said. "I've always looked up to them, but at the same time, I hold myself to my own standard, and knowing that I'm physically capable of doing what they did is just really important for me and my confidence. Because these are the kind of games they had, and I'm following in those footsteps.
"I think it's really big to write your own history. It's really cool to do that yourself. But at the same time, they made me know that it was possible for a female to hit the ball 350 feet and that kind of thing. And if you just work hard, have fast hands, be patient in the box, you can be an amazing hitter."
Most of what Shaw said is accompanied by the wide grin that suggests she has just as much fun hitting the ball as fans have oohing and aahing over its trajectory. One can only imagine how much she would enjoy sending a ball sailing out of Hall of Fame Stadium next week at the World Series.
Michigan still has work to do against a Baylor team that got this far by picking itself up whenever a loss or an injury knocked it down. But it doesn't hurt to have Shaw on your side.
"I just think she's getting better and better, and her confidence is getting better," Michigan coach Carol Hutchins said. "The most important aspect of any hitter is their confidence. When you have a confident Dorian, that's the best Dorian."
Graham Hays covers softball for ESPN.com. E-mail him at Graham.Hays@espn3.com.
espnW.com
Graham Hays covers college sports for espnW, including softball and soccer. Hays began with ESPN in 1999.
SPONSORED HEADLINES
MORE COLLEGE SPORTS HEADLINES
MOST SENT STORIES ON ESPN.COM