Brackman, Wieters among top pro prospects
Updated:
March 6, 2007, 11:27 AM ET
By
Keith Law
| Scouts Inc.
Editor's note: Scouts Inc.'s Keith Law takes a first look at the 2007 Major League Baseball draft class. He will update this list periodically throughout the season. For the complete list and analysis, click here.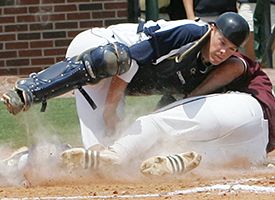 AP Photo/John Amis, FileMatt Wieters' talent isn't an issue; his durability is.
1. Andrew Brackman
, RHP (North Carolina State)
2. Matt Harvey
, RHP (Fitch High School, Groton, Conn.)
3. Matt Wieters
, C (Georgia Tech)
4. Josh Vitters
, 3B (Cypress (Calif.) High School)
5. David Price
, LHP (Vanderbilt)
6. Rick Porcello
, RHP (Seton Hall Prep, West Orange, N.J.)
7. Daniel Moskos
, LHP (Clemson)
8. Michael Burgess
, OF (Hillsborough High School, Tampa, Fla.)
9. Justin Jackson
, SS (Roberson High School, Asheville, N.C.)
10. Matt Dominguez
, 3B (Chatsworth (Calif.) High School)
11. Matt Mangini
, 3B (Oklahoma State)
12. Blake Beavan
, RHP (Irving (Texas) High School)
13. Jason Heyward
, OF/1B (Henry County High School, McDonough, Ga.)
14. J.P. Arencibia
, C (Tennessee)
15. Neil Ramirez
, RHP (Kempsville (Va.) High School)
16. Julio Borbon
, OF (Tennessee)
17. Tanner Robles
, LHP (Cottonwood High School, Salt Lake City)
18. Madison Bumgarner
, LHP (South Caldwell High School, Hudson N.C.)
19. Jake Arrieta
, RHP (TCU)
20. Mitch Canham
, C (Oregon State)
21. Michael Main
, RHP (Deland (Fla.) High School)
22. Josh Fields
, RHP (Georgia)
23. Jack McGeary
, LHP/1B (Roxbury (Mass.) Latin High School)
24. Phillippe Aumont
, RHP (Ecole Secondary Du Versant, Gatineau, Quebec)
25. Eric Eiland
, OF (Lamar High School, Houston, Texas)
26. Casey Weathers
, RHP (Vanderbilt)
27. Josh Smoker
, LHP (Calhoun (Ga.) High School)
28. Greg Peavey
, RHP (Hudson's Bay High School, Vancouver, Wash.)
29. Ross Detwiler
, LHP (Missouri State)
30. John Tolisano
, SS/2B (Estero (Fla.) High School)
The next 30 (alphabetically):
James Adkins, LHP (Tennessee)
Kevin Ahrens, 3B (Memorial HS, Houston)
Tim Alderson, RHP (Horizon HS, Scottsdale, Ariz.)
Brett Cecil, LHP (Maryland)
Christian Colon, SS (Canyon HS, Anaheim, Calif.)
Zach Cozart, SS (Ole Miss)
Drew Cumberland, SS (Pace HS, Milton, Fla.)
Kentrail Davis, OF (Theodore (Ala.) HS)
Ryan Dent, IF (Long Beach Wilson HS, Calif.)
Josh Donaldson, C (Auburn)
Sean Doolittle, LHP/1B (Virginia)
Todd Frazier, SS/OF (Rutgers)
Yasmani Grandal, C (Miami Springs HS, Hialeah, Fla.)
Jonathan Kaskow, 1B (Coppell (Texas) HS)
Peter Kozma, SS (Owasso, Okla.)
Eddie Kunz, RHP (Oregon State)
Matt LaPorta, 1B (Florida)
Beau Mills, 3B/1B (Lewis-Clark (Idaho) State)
Hunter Morris, OF (Grissom High School (Huntsville, Ala.)
Mike Moustakas, 3B/C (Chatsworth (Calif.) HS)
Nick Noonan, SS (Francis Parker HS, San Diego)
Jarrod Parker, RHP (Norwell (Ind.) HS)
Kevin Patterson, 1B (Oak Mountain HS, Birmingham, Ala.)
Danny Rams, C (Gulliver Prep, Miami)
Wes Roemer, RHP (Cal State Fullerton)
Joe Savery, LHP (Rice)
Nick Schmidt, LHP (Arkansas)
James Simmons, RHP (UC Riverside)
Matt Spencer, OF (Arizona State)
Chris Withrow, LHP (Midland Christian, Odessa, Texas)

The best of the rest (alphabetically):
Bryan Augenstein, RHP (Florida)
Darwin Barney, SS (Oregon State)
Bobby Bell, SP (Rice)
Mike Bianucci, DH (Auburn), DES*
Kyle Blair, RHP (Los Gatos High School, Monte Sereno, Calif.)
Seth Blair, RHP (Rock Falls, Ill.)
Steven Brooks, OF (Seton Hall Prep, West Orange, N.J.)
Corey Brown, OF (Oklahoma State)
Andrew Carignan, RHP (North Carolina)
Nathan Carter, SS (De La Salle, Concord, Calif.)
Brad Chalk, OF (Clemson)
Kelvin Clark, OF (Redan HS, Ellenwood, Ga.)
Preston Clark, C (Texas ), DES*
Cole Cook, RHP (Los Angeles Palisades HS)
Casey Crosby, LHP (Maple Park, Ill.)
Matt Cusick, 3B (USC)
Evan Danieli, RHP (Seton Hall Prep, West Orange, N.J.)
Travis D'Arnaud, C (Lakewood, Long Beach, Calif.)
Sam Demel, RHP (TCU)
Paul Demny, RHP (East Bernard, Texas)
Derek Dietrich, SS/P (St. Ignatius HS, Parma, Ohio)
David Duncan, LHP (Georgia Tech)
Brian Dupra, RHP (Rochester, N.Y.)
John Ely, RHP (Miami - Ohio)
Michael Fisher, SS (Georgia Tech)
Chad Flack, 1B/DH (North Carolina)
John Flanagan, LHP (Belleville West HS, Ill.)
Freddie Freeman, RF (El Modena, Villa Park, Calif.)
David Freitas, C (Elk Grove, Wilton, Calif.)
Charlie Furbush, LHP (LSU)
Nolan Gallagher, RHP (Stanford)
Jon Gilmore, 3B/P (Iowa City)
Brandon Glover, OF (Texas A&M)
Erik Goeddel,RHP (Bellarmine Prep, San Jose, Calif.)
Phil Gosselin, IF (Malvern Prep, Pa.)
Connor Graham, RHP (Miami - Ohio)
Cole Green, P (Coppell HS, Dallas area)
Taylor Harbin, 2B (Clemson)
Darin Holcomb, 3B (Gonzaga)
Derek Hooker, RHP (Mira Mesa HS, San Diego)
Josh Horton,SS (North Carolina)
Tommy Hunter, RHP (Alabama)
Glen Johnson, IF/PF (Southfork, Hobe Sound, Fla.)
Chad Jones, OF (Southern Lab, Baton Rouge)
Kevin Keyes, OF (Connally, Austin)
Brett Krill, OF (Aliso Niguel HS, Calif.)
Kellen Kulbacki, DH (James Madison)
Travis Lawler, RHP (College Station, Texas A&M Prep, Texas)
D.J. LeMahieu, IF (Brother Rice, Bloomfield Hills, Mich.)
Cole Leonida, C (Aurora, Colo.)
Scott Maine, LHP (Miami)
Tim Matthews, RHP (Baylor)
Danny McDonald, RHP (Seton Hall)
Warren McFadden, OF (Tulane)
Dan Merklinger, LHP (Seton Hall)
Brad Meyers, RHP (Loyola Marymount)
Sean Morgan, RHP (Tulane)
Scott Moviel, RHP (St Edward, Berea, Ohio)
Luke Murton, RF (Georgia Tech)
Garrett Nash, OF (Jordan HS, Draper, Utah)
Sean O'Brien, 1B (Virginia Tech) R-JR*
Kyle O'Campo, RHP (Riverside Poly HS, Calif.)
Wynn Pelzer, RHP (South Carolina)
Aaron Poreda, LHP (San Francisco)
Jared Prince, (DES) OF/P (Washington State)
Addison Reed, 1B (Los Osos, Etiwanda, Calif.)
Anthony Rizzo, 1B (Douglas HS, Parkland, Fla.)
Matt Rizzotti, 1B (Manhattan)
Andrew Romine, SS (Arizona State)
Sam Runion, RHP (Reynolds HS, Asheville, N.C.)
Cameron Rupp, C (Prestwood Christian, Plano, Texas)
Brant Rustich, RHP (UCLA) R-JR*
Shaun Seibert, SP (Arkansas)
Ryan Sharpley, RHP (Marshall HS, Mich.)
Greg Sherry, SS (Mendham HS, N.J.)
Joshua Slaats, RHP (California HS, San Ramon, Calif.)
Jake Smolinski, CF (Boylan, Rockford, Ill.)
Cole St. Clair, LHP (Rice)
Mike Stanton, 1b (Notre Dame HS, Sherman Oaks, Calif.)
Mike Stutes, RHP (Oregon State)
Michael Taylor, OF (Stanford)
Stephen Triolo, RHP (Patrick Henry HS, San Diego)
Nathan Vineyard, LHP (Woodland HS, Emerson, Ga.)
Andrew Walker, C (TCU)
Michael Watt, LHP (Capistrano Valley HS, Calif.)
Ryan Wehrle, SS/3B (Nebraska)
Steven Widmann, SS (Clemson)
Mark Willinsky, RHP (Santa Clara)
Ethan Wilson, SS (Pendleton Heights HS, Pendleton, Ind.)

DES = Draft-eligible sophomore (the player might be a tough sign)
R-JR = Redshirt junior (will almost certainly sign, rather than become a fifth-year senior)
Keith Law, formerly the special assistant to the general manager for the Toronto Blue Jays, is the senior baseball analyst for Scouts Inc.
MORE COLLEGE SPORTS HEADLINES
MOST SENT STORIES ON ESPN.COM