Commentary
First national title is all that's missing from Martin's résumé
TALLAHASSEE, Fla. -- Imagine Penn State's Joe Paterno coaching football for more than four decades and never winning a national championship.
[+] Enlarge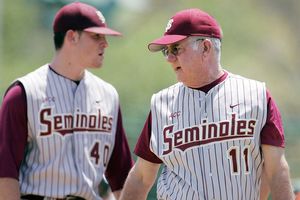 Richard C. Lewis/WireImageMike Martin, right, has guided Florida State to 13 College World Series appearances.
What if Mike Krzyzewski coached nearly 30 years at Duke and was never able to cut down the nets at the end of an NCAA men's basketball tournament? Florida State baseball coach Mike Martin carries that burden this week to the College World Series, which begins Saturday at Rosenblatt Stadium in Omaha, Neb. The No. 4 seed Seminoles, which had to win six elimination games during the first two weeks of the NCAA tournament, open CWS play against Stanford on Saturday (
ESPN, 2 p.m. ET
). Martin, 64, has long been regarded among the best coaches in college baseball history, winning more than 1,500 games and reaching the NCAA tournament in each of his 29 seasons in Tallahassee. Martin has guided FSU to 16 conference championships and 13 trips to the College World Series, where the Seminoles have come up agonizingly short each time before. "I never want to minimize the importance of winning a national championship," Martin said. "But I've done a lot of changing in the 29 years since I first went out there. It's all about the players; it's not about me." Martin has coached dozens of All-American players, including current Boston Red Sox outfielder J.D. Drew. None of them have experienced the ecstasy of winning it all in Omaha. "I want them to experience the competition," Martin said. "I want them to be the ones to win a national championship. If I'm a part of it, it would be great. If I'm not, sure, there would be something missing, just like there's something missing in a player's career. But I'm just not as [fixated] where I've got to win one. I don't gotta win one. I want to win one -- that's our goal every year." Winning a national championship is certainly Florida State's goal throughout the next 12 days. The Seminoles won 54 games this season, hitting .354 with 101 home runs, which ranked first and fourth among NCAA Division I teams, respectively. Led by All-America catcher Buster Posey, who hit .460 with 26 homers and 92 RBIs, the Seminoles averaged 9.9 runs per game. Senior first baseman Dennis Guinn hit 18 homers and sophomore second baseman Jason Stidham hit 10.

They say the second one is easier than the first one. I'd sure like to find out.
-- FSU coach Mike Martin, on winning his first championship
Once again, the Seminoles will go to Omaha relying heavily on their bats, which is fine with Martin. "We're going to try to play the same way that we've played all year," Martin said. "If we're first and second, and Posey's at the plate, we're not bunting. … We're not going out there and start bunting more, not when you have players like we have. Tiger Woods ain't going to hit a 5-iron on a 550-yard hole. He's going to hit driver. So will we." But Woods has fared better than Florida State on his sport's biggest stage. Under Martin, FSU is 17-24 in College World Series games. Martin's teams have twice finished second in Omaha, losing to Arizona 10-2 in the 1986 championship game and Miami 6-5 in the 1999 CWS. "I think it's just been a combination of things," Martin said. "Basically, it's the sport of baseball. It's just so unpredictable. There have been teams go out there that I didn't think were very good that ended up playing for the national championship. There have been others, where I was just astounded at how good they were, and they couldn't get it done. A lot of things can come into play." At least the Seminoles have another chance to win Martin's first national championship. For a long time, trips to Omaha were pretty much routine for FSU. The Seminoles advanced to the College World Series six times from 1994-2000, only missing the field in 1997. But after FSU was eliminated by eventual national champion LSU in 2000, the Seminoles failed to make it to Omaha each of the next seven seasons. Before beating Wichita State in two games last weekend to end an eight-year drought, FSU had lost seven consecutive games in NCAA super regionals and failed to advance past the regional round in each of the previous two seasons. Getting back to Omaha is a relief for FSU. After beating Wichita State 11-4 in the championship game of the Tallahassee Super Regional, which punched FSU's ticket to Omaha, Posey said the Seminole program "was back where it belonged." FSU third baseman Stuart Tapley said it's time to put Martin where he belongs -- on top of the college baseball world. "It would be amazing and would mean a lot to everybody," Tapley said. "I guarantee you it would mean more to him than anything." During much of his early career at FSU, Martin watched Seminoles football coach Bobby Bowden come close to winning national titles throughout the late 1980s. Bowden finally won a national championship in 1993 and again in 1999. Martin has waited long enough, too. "They say the second one is easier than the first one," Martin said. "I'd sure like to find out."
Mark Schlabach covers college football and men's college basketball for ESPN.com. You can contact him at schlabachma@yahoo.com.
College Football and Basketball
College football writer for ESPN.com
Author of seven books on college football
Formerly at the Washington Post and the Atlanta Journal-Constitution