Commentary
Terps advance in dramatic fashion
As an attack-minded defender, Maryland sophomore Taylor Kemp knew sooner or later he was going to score his first goal in college. But his timing turned out to be exquisite.
[+] Enlarge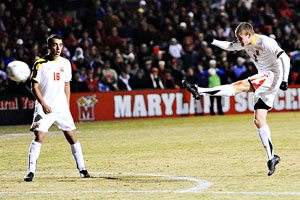 Maryland Media Relations Taylor Kemp's first collegiate goal couldn't have come at a better moment.
With just 2 minutes left in the No. 2 seed Terps' third-round match with No. 15 Penn State on Sunday, it looked as if overtime was a definite possibility. As good as the Nittany Lions' offense is -- Penn State's Corey Hertzog scored a Division I-best 20 goals this season -- Maryland had to be very pleased with its defense.
However, the Terps had taken 20 shots to that point but were locked in a scoreless tie.
And that's when Kemp made his big play. After the Lions had twice tried to head the ball out of the penalty box, Kemp was able to take it on the fly with his left foot. He placed it perfectly high in the corner, pretty much an impossible shot for Penn State keeper Brendan Birmingham to reach.
"It took long enough," Kemp joked of getting his first goal as a Terp. "But I couldn't have picked a better time for it to come. We needed to put that game away, and it felt amazing. I've been getting forward and getting assists, but to get a goal really meant a lot to me."
Maryland closed out the match from there, 1-0, and now is one victory away from the College Cup. The Terps will host No. 10 seed Michigan on Saturday.
Maryland has won three NCAA titles, including in 2005 and 2008. The program's legacy of success was what drew Kemp there from his home in Highlands Ranch, Colo. He went to College Park, Md., having a very good idea what life in the ACC was like.
That's because his older sister, Kristen, played soccer at Wake Forest from 2003-07, and Taylor had a chance to come to the East Coast and watch several of her matches.
"For a while, my dream was to play at Wake, too," Kemp said. "But then I fell in love with Maryland when I visited here. I always knew the ACC was the league I was going to play in.
"I like the East Coast a lot, and I'm enjoying the opportunity to live in a different part of the country. I'm glad I got the chance to live far from home; I think it's been a good experience for me personally. I've grown up a lot through it."
Actually, though, Kemp was better prepared than many athletes when he started college. He said having an older sibling go through a Division I athletic career was a big aid for him.
"She could tell me what to expect," he said. "And even with her forewarning of what was coming, it was still more time-consuming than what I realistically imagined. A lot of people go into college athletics not knowing how big a commitment it really is. But Kristen completely told me, 'It's going to run your life, it will become your life.'
Capital One Cup

The Capital One Cup rewards the best Division I men's and women's programs in the country for their on-field performance throughout the year. For more information about the Cup, visit capitalonecup.com.
• Capital One Cup standings | Fan page
• Championship Central
"It was amazing having her to help me out. And even when I got here, and there were times it was hard, to just be able to call her and know she went through the same things really was beneficial to me."
Kristen is a physical therapist and earlier this year married former Wake men's soccer player Julian Valentin. It so happens that Valentin's younger brother, Zarek, is a sophomore defender who starts for No. 3 seed Akron.
Meaning Kristen and Julian could be watching their respective little brothers go head-to-head in the College Cup semifinals Dec. 10. That's if the Terps defeat the Wolverines and the Zips beat No. 6 seed Cal.
Kemp's father, John, an orthopedic surgeon who specializes in sports medicine, and his mother, Franny, were both in attendance at Sunday's victory over Penn State. So they got to see Taylor's first goal in person.
"My family has been amazing about getting to games," Kemp said. "My mom and both my sisters will be here this weekend. And they'll all go to the Final Four if we get that far."
Nick of time
Last week, we featured Dartmouth keeper Lyman Missimer, who had a terrific finish to his senior season after going through a lot of adversity. But Sunday, his career came to an end after an epic battle at UCLA.
The No. 8 seed Bruins eliminated unseeded Dartmouth 2-1 in double overtime. The game nearly went to penalty kicks, but UCLA midfielder Eder Arreola scored with just 8 seconds remaining in the second OT.
"We got a long throw-in on our right side, and we got a lucky flick from one of their defenders," Arreola said of the game-winner. "It was over their goalie's head; I was at the back post and just tapped it in. It was a weird play. A lucky play."
It was much more than luck, though, that won the game for the Bruins. Joe Sofia had a strong, well-placed throw-in to set up that final goal. Arreola's first goal came after passes from Reed Williams and Chandler Hoffman, and he buried the shot left-footed despite being closely defended. The Bruins also had a very solid performance in goal by Brian Rowe, who had six saves.
"We created a lot of opportunities we weren't able to finish," Arreola said. "Luckily, we got that last chance and put it in."
Arreola, of Chino Hills, Calif., is a junior but just turned 19 in November. He started college when he was only 16. He had finished high school early in Florida while training with the under-17 U.S. national team.
"And luckily, I got a chance to come to my all-time favorite school, UCLA," he said. "It's been a good experience here."
Next up for the Bruins, though, is a tall order: No. 1 seed Louisville, 18-0-3, on the Cardinals' home field Saturday. If UCLA can pull the upset, the Bruins come home for the College Cup just up the coast in Santa Barbara.
Enzo the magnificent
The other quarterfinal pits No. 4 North Carolina against visiting No. 5 SMU. Sophomore forward Enzo Martinez saved the Tar Heels' season Sunday in dramatic fashion -- it was just that kind of day throughout the NCAA bracket, folks -- scoring the equalizing goal with just 9 seconds left in regulation and then hitting the winning penalty kick after two scoreless overtimes.
The Spartans looked to have the game-winner in the first OT, when Garret Back got behind the Tar Heels' defense. But his shot, which bounced off UNC keeper Scott Goodwin, rolled wide.
The 5-4 shootout victory gives the Tar Heels a chance to advance to their third consecutive College Cup; they lost to Maryland in the 2008 title match and to Akron in the semifinals last season.
The Mustangs are looking to make their third College Cup appearance, and the last time they did it -- in 2005 -- the path was also through North Carolina; SMU beat the Tar Heels 3-2 in double overtime in the NCAA quarterfinals.
Mechelle Voepel is a columnist for ESPN.com. She can be reached at mvoepel123@yahoo.com.
For more coverage of college sports, follow us on Twitter (@ESPNUcom) and check us out on Facebook (search: ESPNU.com).
espnW.com
Mechelle Voepel joined ESPN.com in 1996 and covers women's college hoops, the WNBA, the LPGA, and additional collegiate sports for espnW.
MORE COLLEGE SPORTS HEADLINES
MOST SENT STORIES ON ESPN.COM